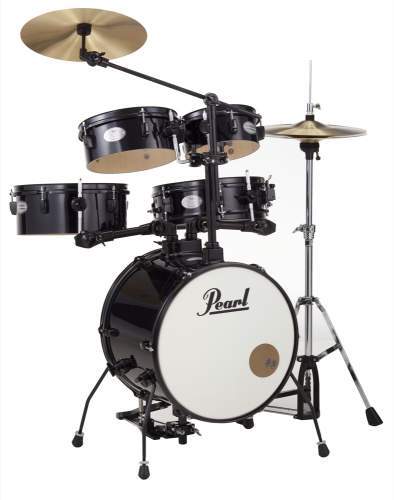 Pearl branded drum kits are some of the most popular drum kits in the world. Having been producing high quality, wooden drum kits since the 1950s, this Japanese firm creates a huge range of drum kits and snare drums< that are accessible to all regardless of ability level. Pearl produce everything from the standard five piece drum kits designed to be simple for beginners to pick up as well as professional and more complex models that have been seen on stage with some of the world's biggest bands, including the Red Hot Chilli Peppers and Motley Crue.
Reasons to Buy a Used Pearl Drum Kit
Many buyers looking to purchase a Pearl drum kit will automatically look in music stores or online for a brand new product, but in doing so, they are severely limiting their options. Pearl's range of current models sold as new is constantly changing as new models are added and older models are upgraded. By expanding the search and looking for used and pre-owned models, aspiring drummers open up their options, and they could end up with a model more suited to personal requirements than can be offered from the new, current models.
Pearl have continuously produced excellent drum kits, some of which have now been discontinued in favour of newer models which meet the demands of the masses. These models include drum kits made from different materials and with different setups which alter the sound of the drums. Pearl have also manufactured a number of limited edition drum kits which are very unique both in look and tone and very sought after. Limited editions are difficult to get hold of even during their sale period, and even more so afterwards. For many drummers who want to own a piece of Pearl history, purchasing a used drum kit is often the only way to do so.
Choosing a Used Pearl Drum Kit
With so many options available, choosing a used Pearl drum kit can seem overwhelming, but each used product available offers something different. By examining the different styles and sounds of each model, buyers can easily find a used model that is capable of meeting all requirements, whether that be a limited edition, discontinued, or current Pearl product.
Limited Edition Pearl Drum Kits
Limited edition Pearl drum kits are produced very sporadically, and only a low volume are created, meaning these are very sought after products. Purchasing new isn't possible for many due to excessively high costs and rare availability, but can sometimes be found for sale in used condition.
| | |
| --- | --- |
| Redline | The 2008 Redline kit was based on the popular Reference model but finished in either solid white or black with vibrant, standout red drum claws. Redline was designed to attract the rock market specifically. |
| 50th Anniversary | Pearl created this limited edition to celebrate 50 years in the business. Based on the Masters models, this drum kit came complete with 24 carat gold lugs. Only 30 drum kits were made, making them one of the most sought after kits in the world. |
| Chad Smith and Joey Jordison | Two kinds of drum kit were made, one with a bass setup and one with a rock setup, each with the characteristic snare drum of either Slipknot's Joey Jordison or Red Hot Chilli Peppers' Chad Smith. The design was the inspiration for the later Forum model. |
| African Mahogany | Pearl drums are usually constructed from maple or birch, but limited edition African mahogany has been used in the past. This dark, warm wood produces a very rich tone that is unlike that created from other materials. |
Discontinued Pearl Drum Kits
A discontinued Pearl drum kit may be the perfect setup in both look and tone for some drummers, but once a product is discontinued, it is often difficult to purchase in a new condition as Pearl have ceased production. However, there are many used discontinued Pearl drum kits available, usually online through third party sellers.
| | |
| --- | --- |
| Forum | Forum drum kits were an industry standard when released but have since undergone numerous upgrades and have been replaced with newer models, namely the Export EXX in 2013. |
| Export | The range of drum kits in the Export series proved to be Pearl's most popular sellers. Made from maple, they underwent various upgrades, transforming into the newer Vision range and later to the 2013 Export EXX. |
| Session | Session drum kits were made from maple or birch interiors as well as exteriors, creating one of the most raw and clear sounds imaginable. For this reason, the series was very popular, but also especially costly. Session was discontinued in 2008. |
| Masters | Made from either maple, birch, or mahogany, as is standard with Pearl drum kits, the Masters model was the predecessor to the Masters Premium range. It is a more basic, almost experimental prequel to the newer models. |
| MX | The MX was a drum kit made from either maple or birch that came before the Masters. Although two very different drum kits, aspects of the Masters can be seen in the MX, which paved the way to the later model. |
| DX | The DX series was a drum kit made from a combination of birch and mahogany, both internally and externally, giving a very clear-cut sound and tone. This was developed further and eventually became the high quality Session series. |
| World Series | The World Series models were produced between 1986 and 1991 and were a typically mid-range drum kit with the industry standard five piece drum and three piece cymbal setup. There were a range of different finishes. |
| Custom Z | The Custom Z models are a very back-to-basics drum kit. These old school kits are heavy, clunky, and not as convenient as some of the later models, but they're also authentic and retro, and appeal to more traditional musicians. |
Handmade Pearl Drum Kits
There are a number of Pearl drum kits that are partially or fully customisable, meaning each kit is made to order. There can be very lengthy lead times for these products, which isn't ideal for drummers who want a kit quickly. In these cases, it is worth looking at used models that meet requirements and can be obtained much more easily and speedily.
| | |
| --- | --- |
| Reference | Reference drum kits are Pearl's highest quality offerings, and they are widely available in a red wine colour finish. Other options are available, but these are custom made in Taiwan and can take up to six months to make. |
| Masterworks | The Masterworks drum kit is Pearl's only fully customisable kit. No ready-made drum kits are produced by Pearl; each is made to order exactly to the buyer's specifications. For this reason, drum kits can take up to one year to manufacture. |
Considerations When Buying Used Pearl Drum Kits
As with all used items, there are some considerations to make that aren't necessary when buying a new< product. Unless a Pearl drum kit has been played just once or twice, a used product is unlikely to be in immaculate condition, and usual wear and tear is normal. What buyers should look for is wear and tear that goes beyond what can be expected from normal usage. Any damage to the wooden shells could have significant effects on the sound quality of the drum kit, and the shells should be in as good a condition as possible. Also be sure to buy a drum kit that has all the necessary hardware, including five drums and three cymbals as a minimum to be sure to get what is considered to be a complete and standard drum kit. If possible, personally inspect the used Pearl drum kit before committing to the purchase.
Find Used Pearl Drum Kits on eBay
eBay is the go-to place when looking to buy used Pearl drum kits. Sellers can list their unwanted or unused items, meaning there is often a greater and more varied selection of products than is available in store. Discontinued and limited edition Pearl drum kits can be found on eBay when no dedicated music store is selling such valuable and sought after items. From eBay's Musical Instruments< shop, click Percussion<, followed by Drums & Drum Kits< and then select only Pearl< branded products from the left hand menu. Results can be filtered so that only used< products are listed. It may also be beneficial to check out refurbished< kits. If the listings are overwhelming, don't hesitate to narrow down the results further, perhaps based on personal budget, size, or location of the item.
Conclusion
There are many advantages to buying a used Pearl drum kit over a new Pearl drum kit, including greater options, wider availability of rare products, speed of purchase, and lower cost. As dedicated music stores tend to focus more on new products, it is worth checking out websites that allow for third party sales such as eBay, where sellers can list their pre-owned products that they no longer need. Pearl are considered to be a world leader in the drum kit world, and it certainly pays off to consider a Pearl branded product for both amateur and professional use.