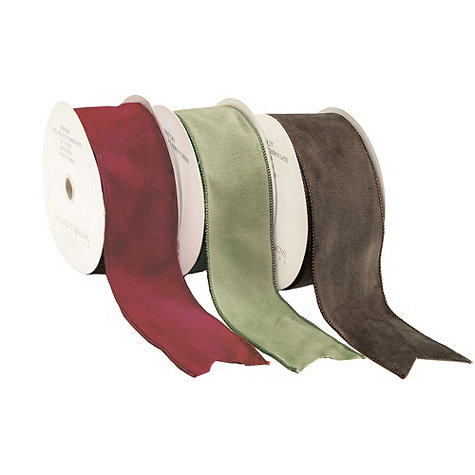 Velvet is a smooth napped fabric with a unique luxurious feel. Velvet is often used to make luxury ribbons for crafts, dressmaking, bookmarks, and more. Most buyers need to decide what type of velvet they are looking for, a colour and style of velvet, and importantly, how long and wide the ribbon should be. Velvet ribbons are available in many sizes, styles, and colours, so buyers should look into the style of ribbon they need for their craft projects before making a purchase.
Most people should also decide where they want to purchase the ribbon and how much they want to spend. Velvet ribbon is sold in short lengths of a metre or less as well as long lengths or spools that can be fifty metres or more in length. Many craft shops carry velvet ribbon but some people do prefer online purchases, which might have a wider variety of options, or better prices. Buyers can decide on which velvet ribbon to purchase based on the following information.
Velvet Ribbon Length
The length of the ribbon is important to the project it is being used for. Most people find that for practicality reasons, it is usually better to purchase more ribbon than is needed for the project. Depending on the type and size of the project, buyers might find themselves needing completely different lengths and sizes of ribbon. Anyone with a single project should estimate how much ribbon they need and then double it just in case they need more. Anyone with multiple projects, such as wedding bows or favours, should use a string to tie a practice bow and then measure the string to see how much was used. Multiplying the length of the string by the number of favours or projects reveals the amount of ribbon necessary. For example, anyone who is trying to line ten bridesmaid dresses with velvet ribbon could use this method to determine that they need 90 centimetres per dress, and that they need 9 metres of velvet ribbon to complete the project. Anyone who is not accustomed to working with velvet ribbon should consider purchasing a little extra in order to cover any potential mistakes.
Velvet Ribbon Width
Velvet ribbons come in a variety of sizes and widths but most buyers should be able to easily make a decision based on what they need the ribbon for. Ribbon ranges in width from about 3 millimetres to over 70 millimetres so it is important to choose a ribbon size that suits the project at hand. Very wide velvet ribbon is excellent for large bows, hat bands, hair bands, and other similar projects. Medium velvet ribbon is appropriate for most uses and is available in many shops. Very slim ribbon is useful for edging, for creating very small bows, for adding stripes to a fabric, for creating necklaces, and for decorating small objects. Most ribbon sellers list the size of the ribbon on the package or the online listing so buyers can easily check to see exactly how wide the ribbon is.
Velvet Ribbon Colour
Colour is an important thing to keep in mind when purchasing velvet ribbon because it can affect the appearance of the project. Velvet ribbons are sold in every colour and often in hundreds of different shades so buyers can select a colour and shade that suits their project. Most ribbons should either match or contrast the colour of the projects. For example, a white package paired with a red ribbon would offer excellent contrast. A black hat paired with a purple ribbon would also offer contrast. On the other hand, a black velvet dress would be complimented by a matching black velvet ribbon. In general, buyers should choose colours carefully so that they look good with what they are being used on.
Velvet Ribbon Types
There are many different types of velvet used to make velvet ribbon, although not all velvets are sold as ribbon. Anyone who is buying velvet ribbon to use on a velvet project should attempt to match the ribbon for a good effect. The following chart is an overview of the types of velvet available on the market, most of them used to make velvet ribbon.
| Type of Velvet | Description |
| --- | --- |
| Devore Velvet | Sheer patterned velvet |
| Crushed Velvet | Pressed velvet, very thick and lustrous |
| Plain Velvet | Can be made of silk, cotton, or viscose |
| Velveteen | Very heavy cotton velvet |
| Embossed Velvet | Stamped or embroidered velvet |
| Hammered Velvet | Semi-crushed velvet |
In general, velvet ribbons are made of plain velvet although the material used can vary. Silk velvet is very shiny and soft but more expensive than other types of velvet. Cotton velvet is versatile and cheap. Viscose velvet is one of the most popular due to being very soft and cheap. Usually, choosing a type of velvet ribbon is influenced by what is available in local stores, but buyers can use online sites to search for specific types of velvet ribbons that are not available locally.
Custom Velvet Ribbons
Custom velvet ribbons are very popular, especially for wedding and birthday projects. A customised ribbon is anything with a logo, name, date, or symbol embroidered on it. In general, custom ribbons are made of embossed velvet, which can be stamped, burned, embroidered, or scraped onto. Some velvet can be stamped with many different materials so buyers can stamp a short message in almost any colour. Customised velvet ribbons make great gifts, decorations, and party favours but are more difficult to find than standard velvet ribbons. Most must be ordered from shops that offer custom ribbons. Many online shops offer customised ribbon that can typically be tailored with the name and date of the buyer's choice.
Buyers should consider the exact date and any chance of that date being moved before ordering custom ribbon. Velvet ribbon should usually be medium or wide in thickness in order to properly display symbols and words. Choices often include names, dates, monograms, various shapes, initials, and more although the exact customisation choices depend on the seller. In general, sellers usually feature one or two different patterns that can be tailored to include a specific name or date.
Purchasing Velvet Ribbon Online
Making an online purchase is a great way to save time and money, but does have its advantages and disadvantages. Many people choose online sites because it is possible to search for any type of velvet ribbon without spending money on gas, driving from store to store, or searching through different stores. Online stores are often cheaper as well because the online seller does not have to spend money displaying the ribbon. Usually, online stores are easier to purchase bulk items. However, purchasing online does mean waiting for items to be delivered by mail, which can take much longer than going to go pick up an item from a local store.
Purchasing Velvet Ribbon in Bulk
Many crafters can save time and money by purchasing velvet ribbon in bulk. For example, for anyone who plans on doing crafts for long periods of time, who needs a great deal of ribbon for a single project such as a wedding, or who can use velvet ribbon on a variety of projects, buying velvet ribbon in bulk is probably the cheaper way to go. Most of the time, a bulk purchase is considered to be any purchase larger than one or two spools of ribbon or more than one hundred metres at a time. For most crafters, this amount of ribbon can be used quite quickly, especially on large projects.
Buying Velvet Ribbon on eBay
Velvet ribbon can be purchased on eBay from anywhere in the world, which gives buyers many options. Velvet ribbon on eBay can be purchased in a range of lengths, styles, widths and colours, with some buyers having entire shops dedicated to different styles and cuts of ribbon. It is also possible to purchase customised and stamped velvet ribbon on eBay.

Search for the velvet ribbon of your choice and try to specify the colour. If you are looking for a specific type of velvet, you can search for the specific material. Remember to read the description of the item, check the condition, length, and exact colour of the velvet, and then decide how much to purchase based on your needs. Purchasing from local eBay sellers is a good idea for anyone who needs their ribbon quickly although prices might be cheaper from international sellers.
Conclusion
Anyone who is buying velvet ribbon should first decide what the ribbon is for, how much ribbon is needed, and in what colour and material they want. Most sewing projects require slightly more ribbon than needed for the project in case of a mistake or mishap. Buyers can generally do a test run with a simple piece of string and then measure that string to get the length of ribbon. Anyone who is making bows should factor in wrap and bow length, and it is always important to do a test first.
Checking the amount of ribbon, considering a bulk purchase, and considering any special requirements such as customisation can help most buyers to find what they are looking for more quickly. Considering the project and checking the proper width of the ribbon is also important for purchasing velvet ribbon. Finally, buyers can decide if they want to purchase their ribbon in crafts stores or at online stores like eBay..