Sizing Instructions:
Before selecting your required wheel trim, ensure that you have checked your vehicle's wheel size.
To determine the correct size your vehicle tyre will contain a number where the last 2 digits indicate the wheel size. (See Fig. 1)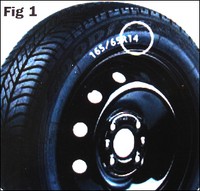 Fitting Instructions:
To ensure the trim is securely fitted to your vehicles wheel the retaining ring needs to be fitted to the inside of the trim, clip the retaining ring onto each of the lugs located on the trim. (See Fig. 2)

Locate the tyre valve on the wheel and position the wheel trim so that the valve cap passes through one of the apertures on the wheel trim.
Press the trim firmly into the wheel ensuring that each of the lugs lock in the wheel trim, until the trim is firmly in position.
Any wheel trim that does not fit snugly to the wheel can be adjusted using the metal retaining ring, insert the retaining ring into the holes on the appropriate lug on the trim according to the size of your wheel. (See Fig. 3)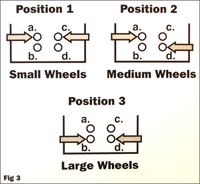 To remove the wheel trim gently pull the trim outwards around the full circumference of the rim.
Do not use excessive force.
Do not use sharp objects to remove the trim as this can damage the trim and the tyre.


Caution: Always use proper tools and wear suitable eye protection whilst installing or removing any wheel covers.