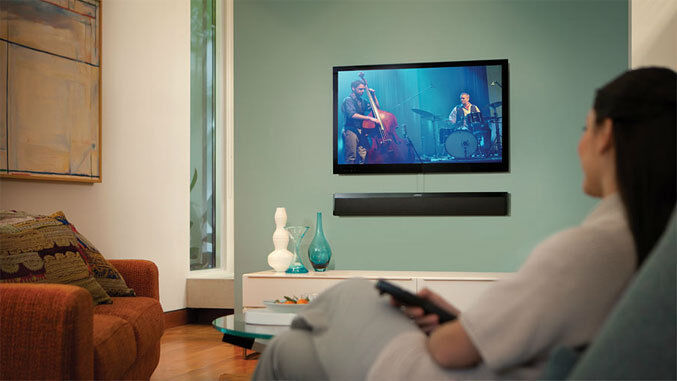 If you're looking for some high-end speakers to improve your home entertainment set-up, Bose offers audiophile-quality sound without breaking the bank. The German manufacturer offers a wide range of solutions, from wired surround-sound systems, to
iPod docks
,
wireless Wi-Fi and Bluetooth speakers
to sleek soundbars for your television set. Here's a guide to what's on offer.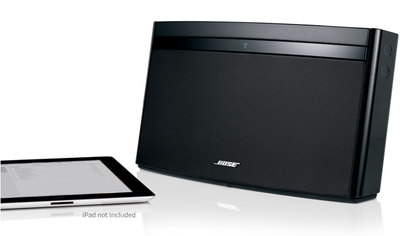 Bose SoundLink Air Digital Music System

If you use an iPad or an iPhone you can beam tunes from your device to the very affordable, great-sounding Bose SoundLink Air Digital Music System via the clever AirPlay technology built into your device.

Just turn on AirPlay on your iOS device and select the speaker when playing music. If you purchase multiple SoundLink devices you can network them together to enjoy multi-room sound. It also has a rechargeable battery that allows you to play in any room unplugged.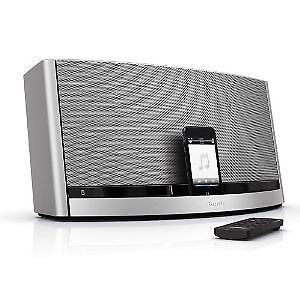 Bose SoundDocks
If you like to physically dock your Apple iPhone or iPod device while playing music, or wish to use it where there is no wireless connection, these Made for iPod Bose speaker docks may be up your street.
The SoundDock
Portable Music system is designed for travel with its carry handle and fold away dock.
It runs off a battery and can also be plugged into the wall. For the best performance, the larger Bose SoundDock 10 Bluetooth is your best bet. With performance rivalling a much larger system, you can also connect Apple and Android smartphones and tablets via Bluetooth and stream music that way. All SoundDocks have an auxiliary out allowing you to connect any device with a 3.5mm jack.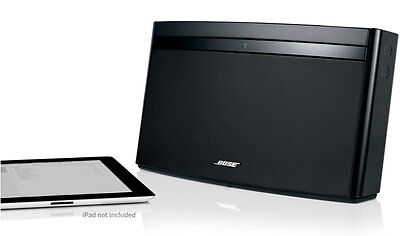 Bose SoundLink Bluetooth Speakers
Bluetooth allows you to sync your in-range portable device, like a smartphone or an iPad, with the speaker in order to play music wirelessly.
The
Bose SoundLink Mini Bluetooth
speaker offers an affordable, sleek, lightweight approach while the SoundLink III (pictured left) has a rechargeable battery that lasts 14 hours.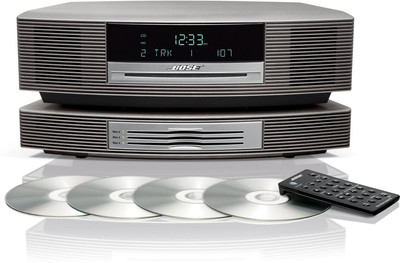 Bose Wave Music Systems

These ultra-compact, great-sounding stereo systems are extremely versatile. They have a CD player, built in FM radio and accessories that allow you to play your MP3s from a portable device via Wi-Fi or docks and access internet radio stations too. There's also a headphone jack for private listening.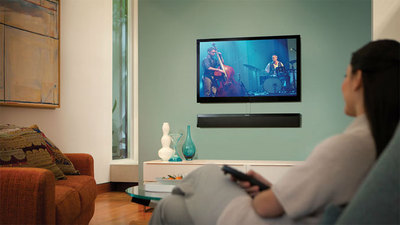 Bose TV and Home Speaker Systems

If you like to enjoy movies with booming lifelike sound, rather than through your TV's puny built-in speakers then these dedicated home theatre systems from Bose are for you.


Bose Solo TV Surround System
This powerful speaker sits underneath your television set, offering wide, even sound throughout the room. As one single unit, it benefits from a simple set-up with just one connection to the television and one to the wall. The Solo TV promises you'll pick up the dialogue and subtle effects you've been missing.


Bose CineMate Series II Home Theatre System
This 2.1 surround sound system promises to bring out the full power of your HD TV. The larger Acoustimass module connects up with two additional compact speaker arrays that sit next to the television set, enhancing your audiovisual experience.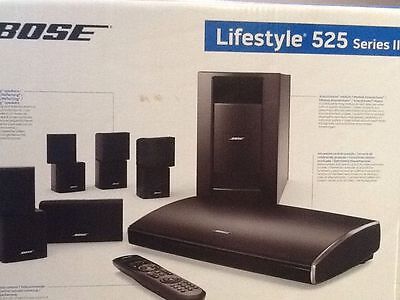 Bose 5-Speaker Systems

If you're looking for a true surround sound experience for your HDTV then the Bose Lifestyle 525/535 series systems are for you.

You can hook up six music and video sources via the central console (cable box, Blu-ray player, TV, music system, etc). These premium, easy-to-use speakers are the best Bose has to offer.


Bose Computer Speakers

If you listen to a lot of music, play a lot of games or watch a lot of films on your computer the tinny, built-in speakers probably aren't going to cut it. Bose makes affordable speakers than can considerably boost your experience. The Companion Series III speakers plug directly into the 3.5mm jack and offer a considerable upgrade.

If you're willing to spend a bit more, the Companion 20 is Bose's best two-piece speaker, projecting full, deep sound across the room. It also has a control dock allowing you to plug in a second device like a phone or tablet.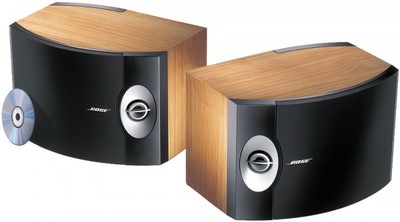 Bose Stereo Speakers

If you're hoping to hook up your existing music system, such as a turntable or traditional stereo system then Bose has plenty of options for that too. One of the best on offer is the Bose 301 Direct/Reflecting system, which aims to create that live concert feeling.

They're small enough to fit on a shelf or can easily be paired with in an entertainment centre. For true luxury, the 901 Direct/Reflecting system has been Bose's flagship speaker since 1968 and has been improved in 350 different ways since.


Bose In-Wall/Ceiling Speakers

If you're looking for a truly minimalist solution, you can buy Bose speakers that can be fitted directly into your wall or ceiling without protruding. The Bose Virtually Invisible 791 speakers are designed for in-ceiling use, while the 191 speakers are designed for in-wall use. Installation is easier than you'd think, but you'll probably need some help.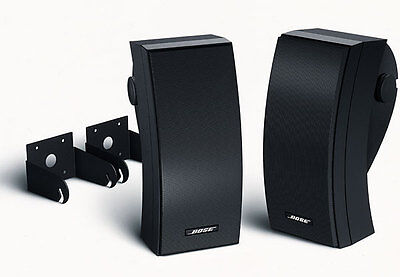 Bose Outdoor Speakers

If you're planning a BBQ this summer come rain or shine, then a quality pair of outdoor speakers can go a long way towards the success of your shindig. Keep the tunes coming with the Bose 251 Environmental speakers.

They can be mounted to a wall and can survive severe weather conditions. Alternatively the FreeSpace 51 solution can be installed in the ground.