Yamaha Magicstomp Guitar Multi Effects Pedal - model UB99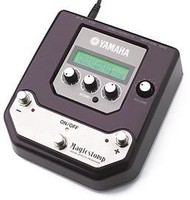 The Magicstomp ( GUITAR VERSION ) was introduced around 2004, followed by Acoustic and Bass types. Sales outside UK and US were slow and it was discontinued by Yamaha in 2006/7.
This is a great pedal for players who want everything in a small unit.
It is now getting to be the must have collectible stomp pedal. Quite rare.
There were three models made, Guitar (PURPLE), Acoustic (GOLD) and Bass (BLACK) . All three are the same inside with just minor changes to Firmwear for each type. Interestingly the USER ( non Factory) patches, can be used to mix guitar, acoustic and bass sounds from any of the three pedals. Effectively making it a universal device in USER settings.
You get 99 presets from factory, and 99 USER presets to store your sounds.
The system comprises a box housing processor with three buttons on front to allow on/off up and down patch changes. There are also 3 assignable rotary controls, for Gain, Vol, and Tone for example, many other variations are possible. Also a master volume to control output to amp, headphones, mixer etc.
There is a back light display showing patch name, and some communication messages. The pedal includes a very functional digital tuner shown on digital display.
At rear of pedal there is Input for guitar, or jack signal from other instrument , Output left (mono) and right, (also headphone on MKII versions), a USB communications port, and input for 12 VAC power.
( Note
AC
power, from a 100mA AC Yamaha model AC-10 device).
First models were the purple guitar type, and had no headphone facility at rear. MK II effectivly the same with headphone output and a revision of operating software. Lastest good version is 2.1 Version, which allows editing of sounds via front pannel ( without need for software, although software makes it very much faster). This 2.1 version of software can be upgraded to any older MKI pedal, a great upgrade using a simple midi systems exclusive dump using USB and computer.
These originally sold for around £200, some outlets offering discounted prices.
The system was not well understood by many owners, and shops had a problem selling them because nobody was very good at programming the sounds within them.
The factory settings are just a taste of what can be done with time and effort, and were largely unusable without getting to grips with the Yamaha Sound Editor software, via USB.
With editing the Magicstomp can produce some of the most stunning echo and reverb effects ever found on any digital device. Even complex echo effect like those favoured by Hank Marvin fans can be obtained with great authenticity.
Features such as, Amplifier type, Chorus, Flanging, Harmoniser, Delay, Reverb, Compressor, Pitch Shifting are all programmable in this pedal. There is a limitation to what effects can be used simultaneously, but with careful selection, a very good range of sounds can be obtained.
In comparison to other effects pedals like Line 6, Korg, Zoom, Digitech etc, this Yamaha device does sound much more like real amplifiers with effects. The biggest advantage is the the way the signal cleans up as you back off volume from guitar just like a valve amp in real life.
Amplifier modelling from this device is just about as good as you can expect to find, with Fender, Marshall, Vox, Boogie and others all available with deep editing via software.
In conclusion, I think this pedal should have been improved by Yamaha, with optional midi control, to allow for patch selection and maybe tap tempo for delay. Yamaha removed it from the market with little regard to any further deveolpment in this field which is a great shame.
If you can find one then buy one, get to grips with the programming and you will have the perfect all sounds in one box .
This is ideal for guitarists who needs to remove the requirement for large amps and cabinets.
I use mine direct to PA system via mixer, and get sounds as good and many expensive amp setups.
Recommended to anybody who likes good guitar sounds. Far more information available, but no space to include it.
Good luck hunting for one,
Dave.