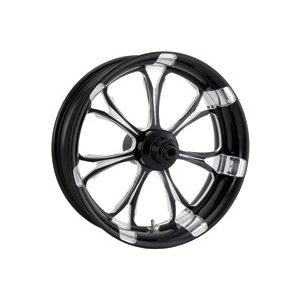 Like most motorcycle owners, Yamaha riders love to display and upgrade their bikes through new and better parts designed to suit their tastes and riding style. There are many ways that enhancing one's bike can add not only to its performance, but also to the personal expression it offers to onlookers. As bikers, many people find that the personal expression of their motorcycles is just as important as their performance.
Buying new wheels and rims is a popular way to do just that. In addition, wheels and rims are essential parts to purchase when rebuilding bikes, either following an accident or as a hobby. However, rather than going to a dealer or mechanic for this upgrade/repair, Yamaha motorcycle owners can save a lot of money by purchasing and replacing the wheels and rims themselves. But before undertaking this task, a bit of information about the Yamaha brand and the types of wheels available is needed. This includes the basic options for new wheels as well as specialised options. Finally, buyers need to consider where and how to buy Yamaha motorcycle wheels and rims affordably. This includes a review of the benefits of shopping with eBay for all kinds of motorcycle parts and accessories.
About Yamaha Motorcycles
Unlike many other motorcycle manufacturers, such as Harley-Davidson, Yamaha is not a one hat operation. In fact, its products range from pianos to industrial robots. Its inception in the auto industry in 1955 as a manufacturer of motorcycles and scooters, Yamaha Motor Company has a distinct edge. The company is located in Iwata, Shizouka, Japan.
Over the years, its many departments in all manner of electronics and mechanical fields have allowed Yamaha to develop an intimate knowledge of the use of metal alloys in construction, particularly as it pertains to musical instruments. This knowledge has thus influenced its distinct brand of lightweight, yet sturdy bikes which have been especially popular on the racing circuit.
Today, Yamaha produces a series of bikes with engines that range from 50 to 1900 cc in all motorcycle classes, including sport, sport-touring, cruiser, off-road, and dual-sport motorcycles. All told, Yamaha motorcycles are available in hundreds of different models and most popular are sports bikes built for speed and manoeuvrability.
Replacing the Wheels and Rims on a Yamaha Motorcycle
When operated in ideal circumstances, the need to replace the wheels and rims on a Yamaha motorcycle is minimal. Generally, most problems with a motorcycle occur along the bearings and tyres, not the wheels themselves. However, many riders find that the nature of their bikes and their riding style dictate an upgrade of the wheels and rims at some point during the lifespan of their motorcycles. For one thing, changing out the wheels and rims on bikes adds character to the motorcycles, allowing riders to better express themselves as well as meet their riding needs.
Types of Motorcycle Wheels
Buying Yamaha motorcycle wheels and rims is usually an exercise in balancing the needs of the bike with the needs of the rider. Yamahas, by and large, are sport bikes built for speed, yet, for this same reason they have an increased need for both stability and durability.
To meet these needs, there are really only two types of motorcycle wheels that buyers have to choose from: cast motorcycle wheels, also called solid wheels, and spoked motorcycle wheels. Both types are made through a distinct process with specific materials which describes their physical appearance. They also possess defining characteristics which hint at who is best suited to use each type of wheel. These points are summarised in the table below.
Wheel Type

Construction

Material

Characteristics

Cast or Solid Wheels

Either die-cast or machine cut from one piece of material

Aluminium or magnesium alloy

Strong and rigid; can bear high load capacity

Used with tubeless tyres

Relatively maintenance-free

Solid rim is laced with spokes which act as support

Aluminium alloy or a combination of steel outer and alloy inner

Lightweight, allowing for better control

Smooth surface, extreme detail

High maintenance, individual spokes must often be replaced
Choosing whether to buy cast wheels or spoked wheels for a Yamaha motorcycle depends entirely upon the owner's goals and riding style. Each wheel has specific positives and negatives that must be carefully considered. In general, however, those looking for performance usually opt for spoked wheels while those looking for reliability and minimal maintenance are better off with cast wheels.
Special Types of Wheels and Rims
In addition to the basic options of cast or spoked wheels, motorcycle owners can also consider the pros and cons of two special options: vintage wheels and rims, and custom wheels and rims. Both of these choices are likely to cost more than the conventional options. However, there are some distinct benefits, particularly in terms of personal style, to be gained through each choice.
Considering Vintage Wheels and Rims
Because Yamaha is a relatively old name in the motorcycle market, finding vintage wheels and rims from bike models produced in the 1950s, 1960s, and 1970s is a clear option. These rims, if in good condition, can be used to rebuild an old bike or add a distinct layer of character to a modern model. However, purchasing vintage wheels and rims also comes with the additional responsibility of checking their authenticity and ensuring their safety on the 21st century road.
In general, the only people who are likely to consider buying vintage wheels and rims are collectors looking for authentic replicas from older bikes. In this case, careful consideration of safety as well as cost is still important. Buyers looking to sell restored vintage Yamaha motorcycles benefit more from the authentic wheels and rims whereas those just using the bike for personal rides may be able to get replicas of the vintage models for a lower price.
Considering Custom Wheels and Rims
The other special option available to buyers is custom wheels and rims. This is a much more popular option as compared to vintage wheels and rims, since custom options are newly manufactured and more about personality than exact replication. Cast wheels are far more popularly customised since in the process of cutting the wheels, details such as lightning bolts can be added.
The major issue with buying custom wheels and rims, however, is the cost. Getting the wheels made to one's exact specifications requires commissioning the work and dealing with the artisan who produces them. Alternatively, however, custom wheels and rims made for others or produced without exact specifications may be available as well.
Buying Yamaha Motorcycle Wheels and Rims on eBay
Buyers ready to commit to the purchase of new Yamaha motorcycle wheels and rims have a lot of options in terms of retailers including dealers, parts stores, and online. However, eBay, with a worldwide supply chain offers some of the best selection and prices for motorcycle parts anywhere. All the buyers need is a few key buying strategies.
Searching eBay
Searching eBay for motorcycle parts is pretty easy. In addition to the helpful tools found on eBay Motors, buyers can initiate a search on any page of the site by using the general search bar. Always try to be specific, especially when dealing with motorcycle parts, since very few items are in the one-size-fits-all category. Therefore, include the make, and if possible, model number in your search term: "Yamaha SR125 wheels" is therefore better than "Yamaha wheels" alone.
Assessing Sellers
In addition to finding the proper parts, buyers also need to be able to assess the sellers who are offering them. Unlike typical Web stores, eBay is a marketplace which serves as a third party between buyers and sellers. Sellers are not endorsed by eBay, making it the buyer's responsibility to assess them on his or her own. Luckily, eBay makes this process easy through the feedback stars as well as detailed feedback comments, which helps a buyer to learn about the sellers offering particular motorcycle parts.
Conclusion
As the owner of a Yamaha motorcycle, you likely take a lot of pride in the name and quality for which Yamaha stands. In the business since 1955, Yamaha is a respected name in motorcycle manufacturing that is particularly known for its lightweight, high-performance vehicles. Because of its quality and popularity, many Yamaha owners like to take the time to personalise their bikes through the upgrade of features such as rims and wheels. However, doing this means taking into consideration the many options that this company presents.
There are two main types of wheels that buyers may consider: cast wheels and spoke wheels. Each of these options presents certain features and pros and cons that must be weighed against the rider and the bike itself. In addition, some Yamaha owners may want to consider vintage or custom wheel and rim options. Once ready to buy Yamaha motorcycle wheels and rims, there are many places to look, however, the world marketplace offered by eBay is one of the best options for saving time and money through the purchase process.