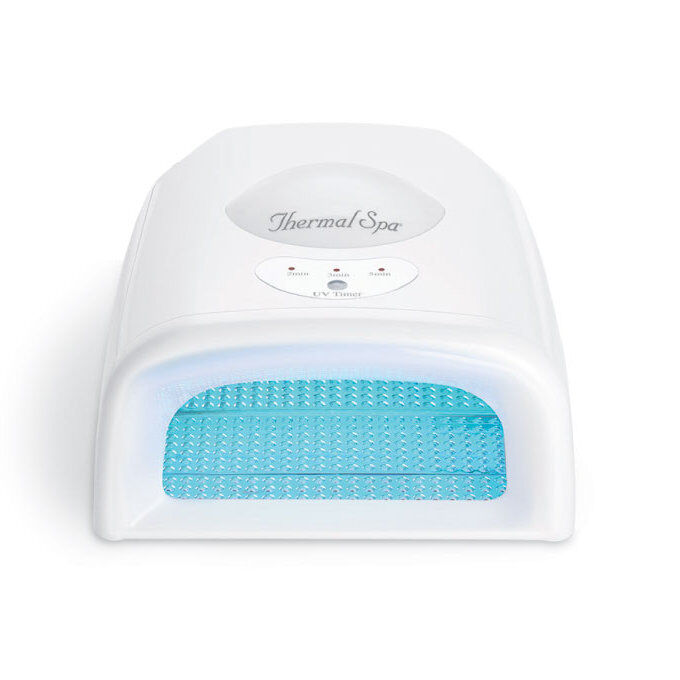 Wet nails can take a long time to dry, which can be a tedious process, leaving nails vulnerable to smearing, smudging and being spoiled. Hours of hard work creating the perfect manicure can be ruined in an instant. Nail polish has to be removed and the whole process started over again.
But by using a nail dryer to quickly and efficiently dry nails, smudges and smears can be prevented and the time waiting for nails to dry is greatly reduced. Nails can be dry in a matter of minutes, which is ideal for those applying several layers or decorative nail art. Nail salons rely on dryers to speed up appointment times, providing a quicker service to clients and allowing them to book more appointments per day. Professional nail dryers and those suitable for home use can be found online on websites such as eBay for an affordable price.
Types of Nail Dryers Available
There are several types of nail dryer available on the market today, depending on whether the dryer will be used for personal or professional use. Here are the main types of nail dryer as well as their benefits:
| Type of Nail Dryer | Use | Benefits |
| --- | --- | --- |
| Portable Nail Dryer | Home use | Cool air dryer, which is ideal for personal use. Portable nail dryers are usually constructed from plastic and are light and easy to use. These dryers are generally battery operated and work by blowing cool air onto nails to gently dry them. Travel dryers are available which are even more portable and perfect for drying nails on the go. It is easy to find a range of portable nail dryers for sale on websites such as eBay. |
| UV Lamp Light Gel Nail Dryers | Professional use | These UV dryers are used in nail salons and are available in a variety of wattages (or power levels) depending on what is desired. The higher the wattage, the more power the unit will have. UV dryers utilise hot air or UV rays (black light) to dry wet nails quickly – UV rays enable the nails to dry far quicker than using hot air alone. They can usually be adjusted to output cool air when applying a natural manicure and hot air for false nails. It is possible to buy either single or double hand UV nail dryers. |
| LED Nail Dryers | Professional or home use | LED nail dryers are general the most expensive type of nail dryer, but they are more efficient and better for the environment. Each dryer is expected to last for 50,000 hours, so bulbs don't need to be replaced. However, LED dryers usually need to be used with LED cured gel nail polish, which can be expensive and usually comes in a smaller range of colours than normal gel polish. |
The Benefits of Using a Nail Dryer
There are many benefits to using a nail dryer over allowing nails to dry naturally by themselves. These include:
Quicker drying time – no waiting around for nails to dry naturally, which can take a long time.
Faster finish – if applying multiple coats of polish (such as a base coat and top coat), each layer dries faster allowing for the nails to be finished more quickly.
More efficient for salon use – salons can fit more clients into their day and complete their appointments more quickly and efficiently.
The ability to dry Shellac nail polish using a UV dryer.
Less risk of smearing, smudging and spoiling nails. Because a nail dryer will ensure nails dry quickly, there is no risk of an impatient client spoiling their nails whilst waiting for them to dry.
Nail Dryers for Home Use
Many people like to use nail dryers for use at home rather than waiting around for nails to dry naturally, which can be time consuming, particularly when in a hurry. Nail dryers designed for home use are usually cool air dryers, which work by blasting a jet of cool air onto the nail, eliminating moisture from the polish and drying the nails quickly and efficiently. Depending on budget, it is possible to purchase either a nail dryer which dries nails one at a time, or a whole hand dryer. The most portable dryers are those which are designed to dry nails singly – these are easy to find on websites such as eBay.
Nail dryers designed for personal use usually have a low wattage and come powered by batteries – whilst this makes them ideal for travel they will cost more over time than using a professional nail dryer as the batteries will need replacing frequently. However portable and personal nail dryers are very popular due to their low cost – they can be found online on sites such as eBay for a very reasonable price.
Nail Dryers for Professional Use
Nail salons looking for a quick and efficient way to dry their customer's nails usually invest in a UV dryer, which generally has the option to switch between cool or warm air and UV rays, which dries nails far faster than using air alone. UV nail dryers are ideal for curing gel nails and drying shellac nail polish, particularly dryers with a higher wattage.
There are a number of leading brands on the market used by professional salons and many of these can be found on eBay – these include:
Nail Doctor Dryers
Mastex Professional Dryers
Automatic Gel UV Light Nail Dryers
Belson Spa UV Nail Dryers
USpice UV Nail Dryers
Salons can choose any of these nail dryers depending on their budget and the volume of clients they expect to have. UV nail dryers are available in one or two handed options – the two hand dryers are ideal for busy salons with high footfall.
Salons may also opt to invest a bit more money in an LED nail dryer – these cure nails in half the time of a UV dryer but are harder to find and much more expensive. Bulbs never need to be replaced in an LED dryer, saving salons money in the long run. LED dryers are also more environmentally friendly.
How UV Nail Dryers Work
UV lamp light gel nail dryers are ideal for drying both natural and gel nails. They work by emitting UV (black light) rays onto the nail, killing bacteria and drying the nail much quicker than using air alone. UV nail dryers are ideal for drying artificial nails, such as gel nails, which would otherwise take a long time to set. Some professionals claim that using a UV dryer actually hardens the polish or artificial nail and makes nails less prone to chipping, so a manicure will last longer.
How to Choose the Perfect Nail Dryer
Choosing the right nail dryer depends on what it will be used for. For personal use on an infrequent basis, a portable, battery operated single nail dryer is ideal, such as the popular Monkey Dryer, which is perfect for home use. For those using a nail dryer more frequently at home, it makes sense to use a mains powered nail dryer rather than relying on one which uses batteries.
Salons choosing a nail dryer should take into account their budget and number of clients. Opting for a two hand dryer will speed up waiting times and make appointments more efficient, but is probably not necessary for those running small salons. Using a UV lamp nail dryer is ideal for drying artificial and gel nails as it makes appointments quicker and more efficient, allowing salons to see more clients on a typical day.
Most salons will benefit from using a 36 watt UV nail lamp, which works to dry nails more quickly than a lamp with lower wattage. The price of UV dryers varies greatly but by buying online on eBay, dryers can be found at an affordable price. LED nail dryers can be hard to find, but on websites such as eBay, they are reasonably priced and affordable for larger salons looking to make an investment in a high quality, efficient dryer.
Which Wattage Nail Dryer is Best?
For salon use, a 36 or 54 watt nail dryer is the best option. Many gel and artificial nails, such as Gelish nails, will not dry without the extra power provided by a 36 or 54 watt unit. 9 watt units simply do not have the necessary power to dry most gel and artificial nails and will be far slower than higher powered nail dryers. A 36 or 54 watt nail dryer from eBay will also allow you to dry Shellac nail polish, which is very popular in nail salons – this nail polish cannot be cured by dryers with less than 36 watts of power.
Replacement Bulbs for Nail Dryers
At some point, all UV nail dryers will need replacement bulbs. It is easy to find these for a reasonable price online on websites such as eBay, where 9W, 36W and 54W bulbs are all available to buy. Buying replacement bulbs in bulk online saves salons considerable money compared to purchasing them singly, and by keeping a stock of UV nail lamp bulbs, professional nail artists can ensure that they are never left with a UV nail drier that does not work.
How to Buy Nail Dryers on eBay
The easiest way to buy Nail Dryers online is to explore eBay. Just visit eBay and go to the drop-down menu of categories that you will find at the left hand side of the page. Select Jewellery and Beautyand this will open up a list of sub-categories. Go to Health and Beauty and select Hand and Foot Care, then in the categories menu on the left hand side bar, click on Nail Dryers.
Narrowing a search further is easy by selecting from a range of refinements including selecting new or used condition and deciding whether to bid on items or opt for 'buy it now' where the nail dryer is available at a fixed price and can be purchased instantly.
There are many different models of nail dryer available, and searches can be narrowed using a certain term if looking for something specific. Just type the words related to the search, such as 'Pink UV Nail Dryer' into the main search box. For further tips on how to search eBay, go to their Search Tips page.
Conclusion
Nail dryers are as popular with individuals looking to dry their nails at home as they are with top professional salons who need to ensure an efficient service to their clients. By drying nails more quickly, the risk of smearing and smudging is reduced, ensuring that clients leave the nail salon with perfect nails.
Whether opting for a personal, portable nail dryer or a professional UV or LED nail lamp, affordable options can be found online, on websites such as eBay, in a wide range of colours and styles. Nail dryers will continue to be valuable pieces of equipment for anyone working in the nail industry that is looking to provide a faster and more efficient service to their clients. Nail dryers enable technicians to fit more appointments into their working day, which results in more profit for the salon.