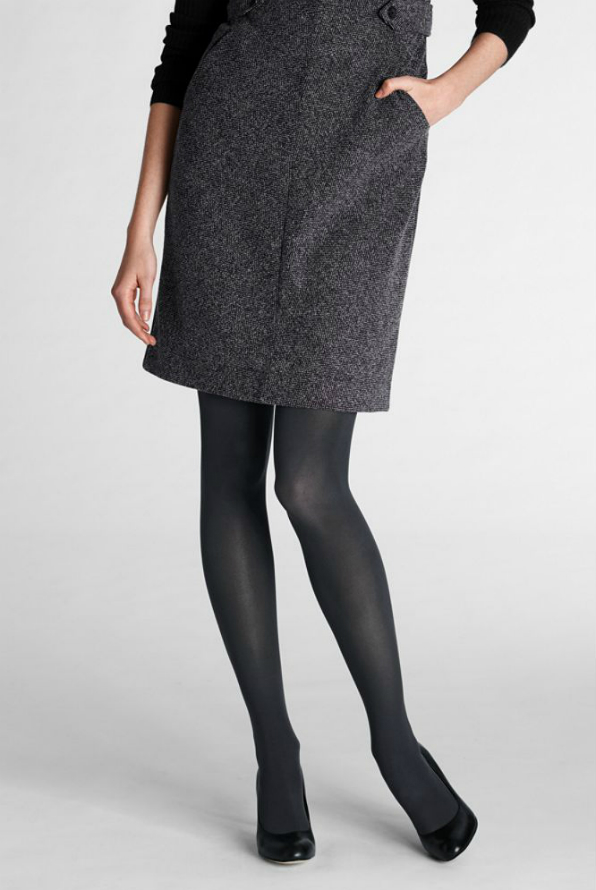 Women's tights are close fitting garments that cover the feet, legs, hips, and buttocks, and also slim the figure visually when they are worn in certain colours. Wearing tights has many benefits, including smoothing the legs, providing warmth, and hiding cellulite and blemishes. They are also used as a styling accessory for skirts and dresses. There are sexy fishnet tights for daring women who want to show off their legs, as well as colourful prints for experimenters, and classic black opaque tights for an every day look.
The selection of tights available today is vast and they vary by colour, denier, and style. The denier determines which weather conditions the tights are most suitable for. Thick, opaque tights keep the legs warm in the winter, while sheer tights complement summer dresses. Women's tights are available from department stores, high street clothing and accessory shops, as well as online auction sites, such as eBay.
The Denier of Tights
One of the key features of tights is the denier. By definition, denier is a unit of weight used for determining the fineness or thickness of the tights. The lower the denier value, the more fragile and sheer the tights are.
Ultra Sheer Tights
Ultra sheer tights have a denier value of under 10 and they are used to create the bare leg look. These tights hide light skin blemishes and flaws, and keep the legs cool during the summer. Many ultra sheer tights come with sheer toes, so that they can be worn with sandals.
Sheer Tights
Sheer tights are in the range of 10-20 denier and are a little bit stronger than ultra sheer tights. Matte sheer tights can be worn in the summer for a natural look and shiny sheer tights for fancier occasions. Sometimes sheer tights have sheer toes and sandal toes, so they can be worn with peep toe shoes or strappy sandals.
Semi Opaque Tights
Semi opaque tights have a denier of 21-40 and still look natural, but they are more durable than ultra sheer and sheer tights. Semi opaque tights are great on autumn and spring days when a woman needs some coverage, but still wishes to have a natural look. These type of tights are usually available in many colours.
Opaque Tights
Opaque tights are in the range of 41-69 denier and offer good coverage. Opaque tights are good for when it gets chilly outside, for example, in early spring or late autumn. They are also available in many colours and can transform an outfit.
Thick Opaque Tights
With the denier value of 70-99, thick opaque tights keep the legs warm during the winter and provide full coverage. Thick opaque tights allow a woman to wear skirts and dresses even when it is cold outside. If cared for, these tights last for many years because of their thickness. The thickness also accentuates the colour of the tights and gives the legs a clear outline.
Extra Thick Opaque Tights
When the winter temperatures get very cold, then a pair of extra thick opaque tights are ideal. They have a denier of over 100. They provide full coverage and the thickness ensures that the colour is strong.
Main Features of Tights
Tights may look like simple garments, but there are many features to consider when you are looking into buying a pair. They come with different finishes, waistbands, gussets, briefs, and toes.
Finish of Tights
The finish describes the amount of shine that the tights have. Matte tights have no shine and are suitable for conservative outfits when you do not want to draw too much attention to your legs. Slight sheen tights have a touch of shine without being overwhelming, and therefore bring elegance to day wear outfits. Shiny tights have an obvious shine and define the shape of your legs as the light reflects off them. Very shiny tights have a high gloss and highlight the legs more than any other finish, making them perfect for parties. These terms may vary by manufacturer, however, the concept of different finishes remains the same.
Waistband of Tights
A regular waistband ends level with the navel. For women who like to wear hipster skirts, then a hipster waistband is available that sits low on the hips. Tights with high waistband, on the other hand, end somewhere below the bra line and are usually in the form of shapewear designed to trim the stomach and bottom. They create a smooth appearance in the midsection.
Gusset of Tights
The gusset is a piece of thicker fabric sewn into the tights in order to strengthen them and is placed in the area between the legs. Some tights do not have a gusset and have the same thickness throughout. An open gusset defines a hole in the tights that offers better breathability. There are also hold ups, which have no gusset. They are like a cross between stockings and socks and stay up due to their elasticated tops and a silicone band.
Brief of Tights
The brief is the part of the tights that covers the bottom. Different briefs extend to different lengths and some of them may show when you wear a short skirt or dress. For a boxer brief, a higher denier is used for the brief and it reaches from the waist to the upper part of the thighs where it forms a straight line, making the brief resemble boxer shorts. Although these tights are durable, they are not good with short skirts because the contrast between the darker colour of the high denier brief and the lighter colour of the lower denier thighs would be visible. The V-line brief resembles the shape of regular knickers as opposed to boxer shorts. Sheer-to-waist tights have the same denier at all levels, so the tights and are perfect for short skirts and dresses.
Toes of Tights
The type of toes that the tights have determines what kind of shoes are worn with them. The sheer toe has the same fabric as the rest of the tights and works well with strappy sandals, while the sandal toe has barely visible reinforcement and looks good with peep toe shoes. Open toes let the toes breathe as there is no fabric covering them. The most visible toe type is the reinforced toe and is known for its durability. It can be worn with court shoes, but not sandals.
Choosing the Colour
While sheer tights correspond to the range of skin tones to give a natural look, opaque tights are available in many colours that allow room for a woman to experiment. The classic black is for all occasions, and can be worn with day wear and evening wear. More daring colours can be matched with the rest of an outfit carefully. Remember that the colour draws attention to the legs, so requires a wise choice.
Skin Tone Tights
The rule for sheer, skintone tights is that the tone should match the skin or be a shade darker. When there is too large a difference between the two tones, the result looks unnatural. Skin tone tights are perfect with colourful summer outfits and formal wear.
Black Tights
Black tights go well with most outfits, especially darker clothing. Black tights make the legs look slimmer and can have a classy and elegant look to them. However, when combined with an eye-catching dress or skirt they create a refreshing and fashionable look, and allow the featured item to have prominence in the outfit. Women with a light skin tone should be aware that black tights could make them look paler than they are, while those with darker skin tones are flattered by black tights.
Dark Coloured Tights
Brown tights have a similar effect to black tights. However, when compared to black tights, they are warmer in colour, look good with other autumnal colours, and are slightly less slimming. Navy blue tights create a sophisticated look and work well for both dark and light skin tones. The best colours to pair with navy tights are navy itself, as well as grey and silver.
Vibrant Coloured Tights
Vibrant blue tones on tights create a trendy look, but should be worn with care. The rest of the outfit should be in calmer tones, otherwise the look is too busy. Bright yellow, orange, and red tones are used for fashion tights that really make a statement. That being said, be wise when opting for these tones, as the rest of the outfit should be chosen carefully and be in more conservative colours unless a wild look is desired. The most versatile colour of these bright tones is red, as it matches many outfits. Bright-coloured tights are suitable for any skin tone.
Buying Tights From eBay
When buying tights on eBay, start by browsing for your perfect pair. By simply typing "women's tights" on the main page, you get thousands of results. Although you can narrow them down by sorting them by price, for example, it is easier if you have more specific search terms. While browsing through the initial results you can be inspired by the range of tights on offer. Then you can search by features such as colour or denier: "blue sheer tights" or "opaque pink tights".
Different manufacturers of tights may have very different sizing principles: some brands determine the size by the wearer's height and weight, so it is best to consult the seller about the size. The item listing should state the payment methods, postage and packaging costs, and refunds policy, along with the product details. If they are not included then contact the seller using the "Ask a question" link.
Conclusion
If you want to create a feminine look and wear skirts and dresses all year round, then you need tights to pair them with. When choosing the tights, there are many features to consider. Start by choosing the denier according to the season. Then select your favourite finish from matte to very shiny. Understanding the different features of the tights helps you to choose which waistband, gusset, brief, and toes work best with your outfit. Finally, decide which colour from the vast range available complements the ensemble. If you want a smooth, natural look, then a pair of skin tone sheer tights is best, but black opaque tights are a wardrobe staple and work with most outfits.
eBay allows you to search for tights online. As long as you read the item listing carefully and ask the seller any necessary questions, you can find just the right tights to complete your look.