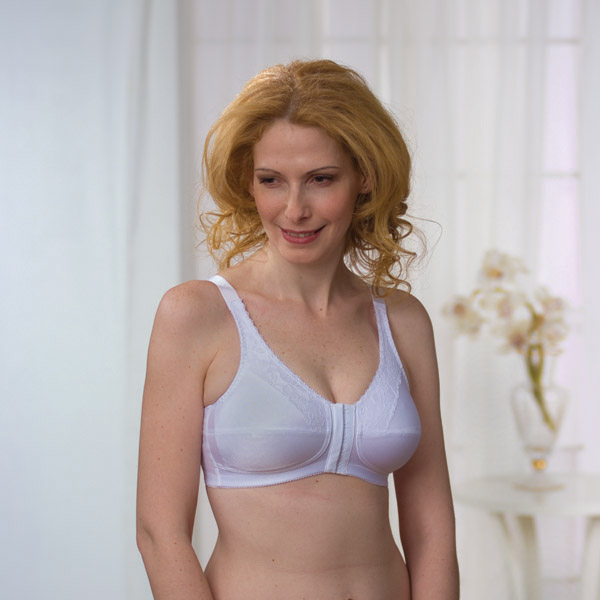 Minimiser bras are essential underwear items for full-figured women because they can downplay their curves, reduce their cup size, slim their silhouette, and boost their confidence. In addition to that, a good minimiser bra can make clothing fit better and provides extra support. A minimiser bra can reduce the breast size by lifting and compressing breast tissue or by mashing down a woman's bust line.
Many women think that minimiser bras are not flattering because they need to be more functional than pretty. This is not quite true, however, as there are plenty of bra manufacturers paying a lot of attention to details when it comes to minimiser bras. It is important to choose a minimiser bra that is comfortable, especially if planning to wear it on a daily basis. Being informed about the benefits of wearing a minimiser bra can help women make a knowledgeable choice when shopping for this kind of bra.
Why Wear a Minimiser Bra
Despite the continuous glorification of large breasts by media and the general public, bigger is not always better, especially in terms of comfort. Many women who have larger breasts often find themselves struggling to find clothes that actually fit them and some of them even suffer from the added strain on their bodies. Minimiser bras are the perfect choice for women who would like to be a cup size or two smaller in order to be able to wear anything they want.
A minimiser bra makes the breasts look smaller and allows women to wear tighter tops without having to worry about the 'spill over' syndrome that is so common in large-chested women. Besides giving breasts a smaller appearance, minimiser bras are also very comfortable to wear, provided they are chosen in the right size.
The cups of a minimiser bra are carefully moulded in a way that re-shapes the breasts by avoiding them being pushed to the front and upward. Instead, the breasts are pushed towards the chest, giving the impression of an overall smaller bosom.
Minimiser Bras Fabrics
In order to be comfortable, minimiser bras should be made from soft and flexible materials that allow the skin to breathe properly. Some of the most popular fabrics used by bra manufacturers include cotton, nylon, lace, and polyester. Many of the models also feature satin ribbons and bows, which are used for making the minimiser bras appear sexier. Women should always opt for breathable fabrics that do not require special care. Adjustable straps are also important, because they may increase the level of comfort.
Cotton Minimiser Bras
A bra made from pure cotton is often very comfortable and it comes with several advantages. Cotton bras provide a woman with a soft feel against the skin, which is especially important for women with sensitive breasts. In addition to that, cotton bras are great when it comes to absorbing moisture and help minimising perspiration. Cotton bras are easy to care for, but they are generally prone to shrink, so they should not be dried in a drier. For more elasticity in the fit, women could opt for cotton blends for their minimiser bras.
Nylon Minimiser Bras
Nylon minimiser bras are known for their flattering fit, but they may not offer the same level of support as their cotton counterparts. Nylon bras may not be ideal for women practising sports, as they are not very good at absorbing moisture. However, women who are looking for a comfortable type of bra that may also complement their figure should have a look at minimiser nylon bras.
Lace Minimiser Bras
Lace minimiser bras are generally sensual and feminine and they may feature lace either all over or only on the cups. Many lace bras are enhanced with stretch materials such as Lycra in order to provide a more tailored fit. Lace minimiser bras come in a wide variety of styles, many of them featuring distinctive details.
Polyester Minimiser Bras
Women practising sports often wear minimiser bras made from polyester or cotton blends with polyester because they offer stretchy support as well as moisture-wicking benefits. Polyester bras often provide women with more support than pure cotton bras and they come in a wide range of styles, suitable for any occasion.
How to Measure Your Bra Size Correctly
The importance of choosing the proper size when shopping for minimiser bras cannot be stressed enough. The reasons for this are related to comfort, safety, and appearance. Women should keep in mind that the size of their breasts may vary at times, due to weight gain or loss, pregnancy, or simply for no specific reason. It is thus important for buyers to measure their breasts every time they consider buying a new bra.
Women shopping for minimiser bras should measure their breasts with a bra on, because this will provide the needed support for accurate results. Bust measurements are best taken with a soft tape measure and women should measure both the fullest part of their breasts (for the bust size) and around the chest under the bust (for the band size). The cup size is obtained by simply subtracting the band size from the bust size. When buying a bra, women should know both their cup and band size. The table below offers some guidelines for choosing a minimiser bra that fits perfectly and provides women with all the comfort they need, regardless of the occasion.
| UK Band | US Band | European Band | UK Cup | US Cup | European Cup |
| --- | --- | --- | --- | --- | --- |
| 28 | 28 | - | AA | AA | AA |
| 30 | 30 | - | A | A | A |
| 32 | 32 | 70 | B | B | B |
| 34 | 34 | 75 | C | C | C |
| 36 | 36 | 80 | D | D | D |
| 38 | 38 | 85 | DD | DD or E | E |
| 40 | 40 | 90 | E | DDD or F | F |
| 42 | 42 | - | F | G | G |
| 44 | 44 | - | FF | H | H |
| 46 | 46 | - | G | I | J |
| 48 | 48 | - | GG | J | K |
| 50 | 50 | - | H | K | L |
| 52 | 52 | - | HH | L | M |
| 54 | 54 | - | J | M | N |
| 56 | 56 | - | JJ | N | O |
| - | - | - | K | O | P |
When shopping for minimiser bras, women should keep in mind that sizing might vary from one manufacturer to another. Moreover, things such as underwire or padding may make a bra feel tighter or looser, depending on the style and size, so women looking for comfortable bras should take this into account as well. In the case of larger breasts, it would be a good idea to become familiarised with the sizing of several favourite manufacturers in order to pick the right bra every time.
How to Find a Minimiser Bra on eBay
Women can buy minimiser bras from numerous high-street stores and online. When shopping for bras, it is essential to browse through as many models as possible in order to find a minimiser bra that fits perfectly and looks flattering as well. The Internet is the best place to start your quest for the ideal minimiser bra because of the vast selection available online. eBay offers hundreds of minimiser bras, in all styles, fabrics, colours, and sizes.
Finding a minimiser bra on eBay should not pose difficulties to anyone. By simply typing 'minimiser bra' in the search bar on top of eBay's home page, women can instantly get access to several pages of results from which they can choose a bra that satisfies all their requirements and their budget as well. If you think that browsing through so many styles is a time-consuming process, you can refine the search results according to your personal preferences, including size, price, fabric, location, and more.
Make sure you have accurate and up-to-date measurements before starting shopping for minimiser bras on eBay. Many sellers do not accept refunds for underwear garments, so you should try get a bra in the right size from the beginning. This is the best way to save both money and time. If you want to save some money on shipping, try looking for sellers in your local area because this way you will have to pay less for shipping fees.
Conclusion
Minimiser bras are essential items for any woman with large breasts and they are available in many sizes and styles. When choosing a minimiser bra, buyers should be aware of several things, including sizing, occasion, and fabrics. Going for minimiser bras that are comfortable and flattering at the same time is the best choice. These bras are appropriate for women who wish to reduce their bust line in order to be able to wear tighter clothes.
Various types of minimiser bras exist for various occasions, and women should choose them accordingly. For instance, a beautifully-crafted lace bra is suitable for an elegant evening dress, while a sturdy minimiser bra made of cotton is ideal for the gym. eBay offers all these kinds of minimiser bras and more, so it is the ideal place to start the search for comfortable bras. Regardless of the style of minimiser bra one is looking for, they are certain to find them on eBay.