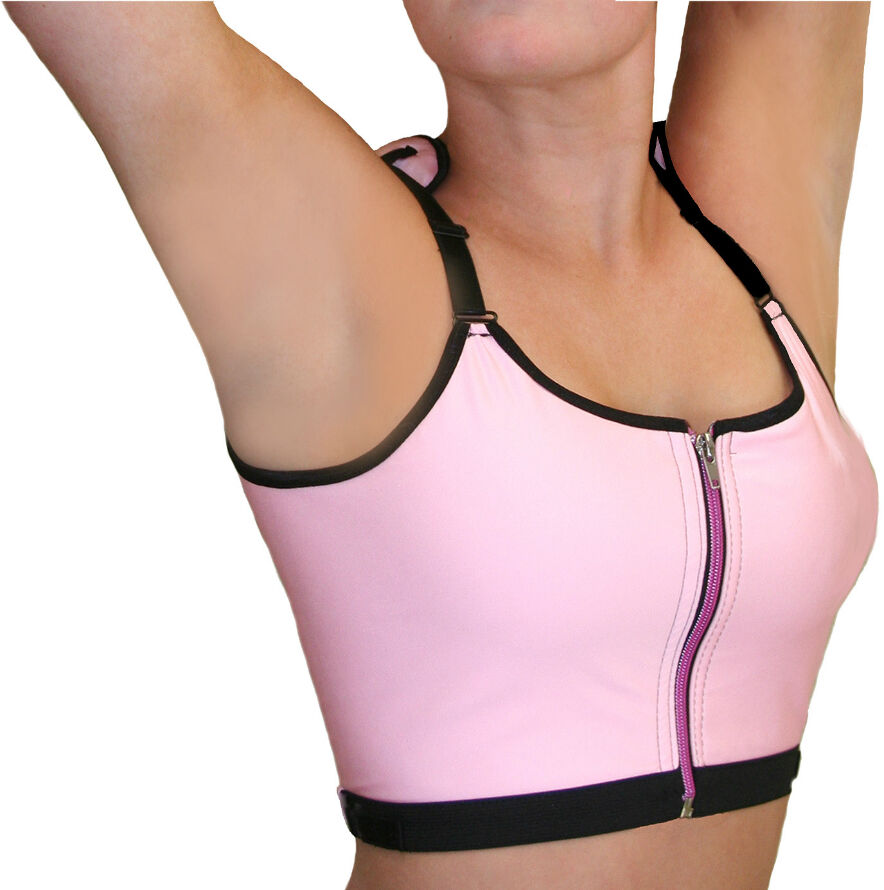 Breast surgery is a medical procedure with a recovery period that takes weeks. During this time, depending on the type of surgery, the breasts will be sore, swollen, and extremely sensitive. Wearing a normal underwire bra is next to impossible due to the amount of pain and lack of proper support. Therefore, buying a post-surgery bra is a must for anyone undergoing a breast reduction, augmentation, or mastectomy. These recovery bras look like sports bras, and feature extra support as well as an adjustable front clasp. They need to be worn all day and night during the recovery process to ensure that the breasts are fully supported. Therefore, when buying a post-surgery bra, selecting the proper combination of comfort, fit, and style are all crucial decisions. Buyers should consult with their doctor for their recommendations and then visit a local bra shop for ordering. Savvy buyers can skip the bra shop altogether and purchase directly from eBay.
The Science Behind Recovery Bras
The average recovery time for breast surgery takes at least six weeks before the breast are completely healed. Highly intensive procedures may take longer. Always consult with the doctor about the expected recovery time to get an adequate timeframe. During the recovery process, the breasts need to be properly supported at all times to ensure that the incision scars, tissue, and skin all heal properly. For this reason, doctors recommend that patients purchase at least one post-surgery bra to wear after their operation. The bra should usually be worn at all times, both day and night, to provide adequate support during recovery time, depending on what your doctor recommends. Though they resemble sports bras, there are several crucial differences in the design of post-surgery bras.
Fabric
Regular bras come in many different fabrics like cotton and silk while sports bras are often made from a cotton blend. Recovery bras, however, use a specific elastic fabric called powernet, that compresses the breast while adding additional support. Some companies patent their own powernet fabrics, such as Marena's F5 compression fabric. Whatever the fabric is called, it is designed to be extra strong while staying soft and smooth against the skin. When first worn, these bras may feel slightly constricting, especially if the woman is not used to wearing this type of bra in the first place. This is also due to the powernet fabric since it is not as breathable as traditional bra fabrics like cotton. As long buyers purchase the correct size, the constricting feeling will slowly pass away as the breasts heal.
Front Clasp
Traditional bras feature a clasp in the back while sports bras lack one entirely. Recovery bras have a front clasp that adjusts during the recovery period. Directly after surgery, the woman needs to wear the bra on its tightest setting so that it compresses the chest area. As the weeks go by and the breasts slowly heal, the bra can be expanded to still give optimal support without having to totally restrict the movement of the chest. Adjustable bras come with hook and eye closures while non-adjustable kinds use a zipper. Adjustable straps slide up and down the shoulders, allowing wearers to easily lengthen or shorten the bra.
Bands and Cups
Post-surgery bras combine the thick, elastic bands of sports bras, with the soft moulded cups of traditional bras, to provide the utmost comfort and support. Elastic bands that run along the bottom portion of the bra, help to lift the bust area. The moulded cups are designed to fit by cup size, and are typically made out of soft material, without any wires keeping them in place. These cups add an extra layer of protection to the breasts underneath, enveloping them in a protected area where they can heal properly. For women undergoing breast augmentation, purchasing an augmentation recovery bra is ideal. This bra comes with a removable elastic band around the top of the bust called an implant stabiliser that helps keep implants in place during the healing period. As the patient continues to recover, the implant stabiliser can be lengthened and then eventually removed.
Post-Surgery Bra Styles
The style of recovery bra that a woman purchases will depend on the type of surgery. Breast augmentation bras usually have moulded cups to help support the implants. If the patient is undergoing a sizable breast increase, then buying a post-surgery bra with an implant stabiliser will provide the utmost protection. Breast reduction bras, on the other hand, usually have seamless cups that are slightly more comfortable than moulded cups. This style is also popular with mastectomy bras, which also include extra padding. Many mastectomy bras come with a small pouch attached to the bra so that medical fluid can be stored inside.
Sizing the Post-Surgery Bra
Bra sizing is never an exact art, and this is doubly true of surgical bras. For breast reductions and augmentations, the patient needs to measure their underbust. This is the area of the body directly underneath the bust, where the bra and the band goes. Next, one must measure their bust, the fullest point of the chest. Keep in mind that the patient must also account for their postoperative cup size. For example, if the patient is going from a B cup to a D cup, then they need to purchase a D cup bra. Because the shape of the breast changes, it is recommended that patients need to be measured either at the doctor's office or in a bra store. Once they have the exact bra measurements need, smart shoppers can now purchase their surgical bra online to save money.
After Operation Measurements
Patients who have breast surgery performed in conjunction with other procedures, such as a breast lift or liposuction, should not purchase their bras prior to surgery. Both of these procedures can drastically change the size of the bust and underbust, so it is pointless to purchase a bra based on preoperative measurements. Once the operation is complete, the patient needs to be measured again to ensure the correct size.
Looking Great After Surgery
Once the recovery period is over, women can purchase whichever bras they wish. A good piece of advice would be to stick with the same size as the post-surgery bra, but experiment with different styles. Those who went through a breast reduction surgery no longer have to shop for heavy, full coverage bras. Select a fun style like a balconet bra, or a demi bra, that works well for smaller breast sizes. Women who have had breast augmentation surgery can discard those old heavily padded push-up bras in return for a plunge bra that shows off their figure. Even women who have lost one or both breasts due to a mastectomy, can purchase specially made mastectomy bras that fill either one or two cup sizes. Visit a local lingerie store or shop online using a website like eBay to view all of the many bra styles available.
Buying Post-Surgery Bras on eBay
Because post-surgery bras are made from a special medical fabric, they are typically more expensive than normal bras. It might come as a shock to learn how much money a patient has to spend on a bra that they will only wear for two months. Buying a surgical bra is absolutely necessary, and can go a long way towards ensuring a speedy recovery. One way to save money during this process, is to go for a fitting at a bra shop, while staying away from paying high retail prices inside of the store. Instead, take that knowledge and return home to start shopping on eBay for great deals on post-surgery bras. Even women with hard to find sizes, like a 32C, can get exactly what she wants due to eBay's extended selection.
Finding Post-Surgery Bras on eBay
The search engine allows customers to find exactly what they need on eBay. When searching for post-surgery bras, it is best to start with a bra size and a type. For example, if your expected size after surgery is a 34C, then search for "post-surgery 34C bra". Results can be furthered refined by the manufacturer or by the type of bra, such as those for augmentations and mastectomies. One word of caution, however, when shopping for post-surgery bras on eBay; even new bras must be washed before they can be worn.
Conclusion
Post-surgery bras are needed for the troubled recovery process. Since the bra must be worn all day and night, and the average healing time takes at least six weeks, buyers can expect to spend a lot of time in their bra. Be sure to purchase the bra based on comfort, fit, and style. Most recovery bras are made out of a soft, yet strong fabric, called powernet that feels smooth against the skin. Powernet bras lack wires and back clasps, but instead have more comfortable elastic bands and an easily-opened front clasp. The style of bra purchased depends on the surgery. With augmentation, patients typically prefer moulded cup styles over the seamless cup styles used for reduction patients. Fit is a crucial consideration, and the patient should be measured by a professional who can then help determine the best postoperative size. While post-surgery bras are expensive, eBay offers a sizable selection of discounted products that most women should be able to afford.