Vintage biker boots should offer protection, as well as comfort to the rider. These boots vary significantly in style, colour, and height; most range from just above the ankle to just below the knee. Unlike more traditional boots, biker boots have various built-in safety features. Choosing the best vintage biker boots heavily depends on one's riding style.
Features
Whether shopping for men's or women's biker boots, consider those with a shorter heel, as this provides increased control and stability. In addition, opt for boots that feature oil resistant, non-slip soles; this prevents the foot from losing contact with the bike. Still, a raised shaft height helps support and protect the ankles, while extra padding at vulnerable points offers increase rider comfort. The vintage biker boots should also feature a shifter pad to protect the instep when changing a gear, unless the bike has a heel-toe shift.
Brands
Chippewa Boots began manufacturing biker boots in 1930. Initially tailored for men who worked in the oil fields, these boots quickly gained ranks amongst motorcycle riders. They are highly coveted amongst collectors for their unique style. Likewise, the West Coast Shoe Company, more commonly known as Wesco, began making custom riding boots and stock boots in 1918. Although still in modern day production, those from the 1970s with 20-inch shafts and two or more buckles at the shaft top are most sought after. Still, Red Wing Shoes manufactured an extensive line of vintage motorcycle boots; their "Nasty Feet" line, produced in the 1970s and 1980s, remain in high demand.
Engineer Biker Boots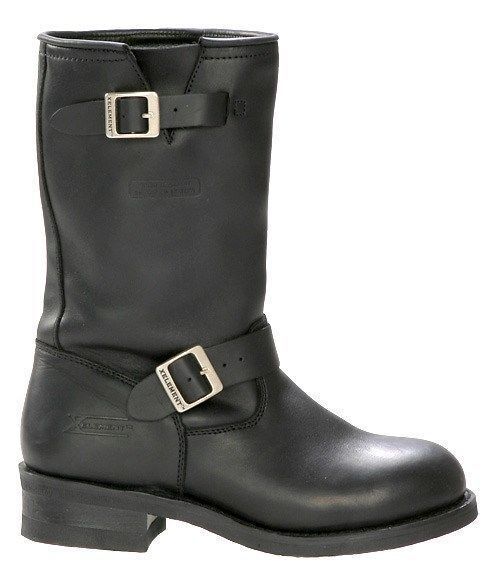 Engineer biker boots are made of black leather and typically span 25 to 45 cm in height. Highly coveted amongst collectors, these vintage leather biker boots have a steel toe design and feature leather straps at the ankle as well as at the top of the shaft. These adjustable straps help ensure a proper fit.
Harness Boots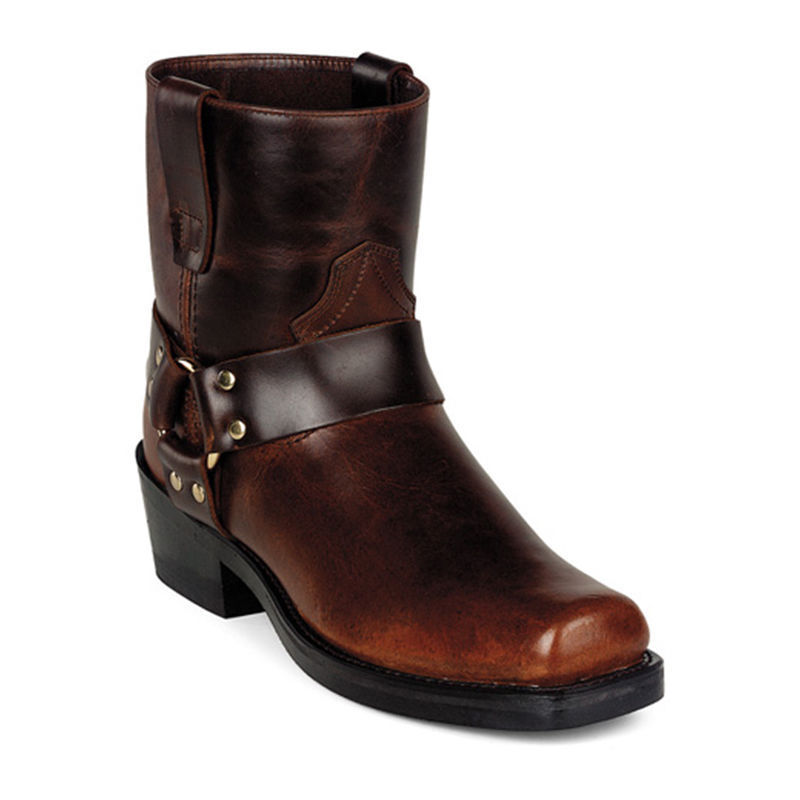 Similar in style to engineer boots, harness boots feature a harness around the ankle in lieu of buckles. The harness has four straps that join at the metal rings at either side of the ankle and is not adjustable. These are designed to offer the ankle protection from the heat of the bike's engine and exhaust. These vintage biker boots are typically black and feature a steel toe design. They also feature pull-up straps at the top of each shaft to help bikers put on the boots.
Material
Vintage biker boots are generally constructed of authentic leather and thereby provide superior comfort, protection, and breathability. Be sure to examine the quality of the leather carefully, as well as its thickness. Leather at least 2.5-mm thick offers increased protection against abrasion. It is best to avoid classic motorcycle boots made of rubber or plastic, as these materials were not widely popularised until more recent times.