Hi,
After looking for reviews and doing home work for a couple of years on quadzilla and the like and comparing them to top names(honda,yamaha) I thought it would be time to have a say to help others as I would have liked to have that info to choose the right one.
Info about me,
I have been riding motorbikes from young age,now as a adult I have been green laning since passing bike test(4 years now)having two bikes from honda and two from yamaha, so after building up to 600cc bike I felt I wanted to try green laning with a quad so a year research later and waiting( limited budget) I got a
quadzilla 320 e 4x4(actual cc was 275) for £2300 ,around 100 miles on the clock,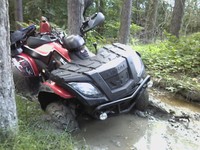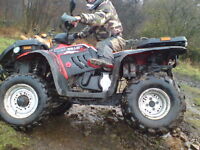 off ebay ,really enjoyed the ride ,bit slow on the road around 40mph not 55 like someone said,not bad on fuel 35- 40 mpg,fantastic off road ,would climb very steep hills especial with 1 psi in tyres,take me and my dad 13 stone and 18 stone with room to spare on the seat no struggle from egine,great sealed front rack,low gear range great over rocks,the design was great( nicked all the best bits from other big name quads).
The problem
after around 1000 miles ,when going through deep water or going fast through water it would cut out. 20 miles into a green laning day it cut out and had breakdown out to tow me back to a garage,that cost me all winter not having a quad and £250 for part and labour,the sator coil had gone,then around 200 miles more I heard a rattle and the exhaust had dis-atached from the engine in the process it had snapped a bolt that kept the exhaust to the engine so now there was no way of getting in to drill the snapped bolt out of the threads as the frame was in the way so no way of bolting the exhaust back on so I decide to sell got £1400 for it a loss of £900 plus £250 repair bill a month earlier,all in a 6 month period
At the same time as I had this quad my brother had quadzilla 450 sport,bought from dealers,he had for 1000 miles run ok with issues with indicator and brake lights blowing and some seepage of oil from the engine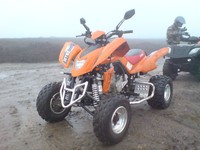 He got rid for a car made a loss of £1000 to same dealer.
Now a yamaha motor bike later and a summer I tryed my luck at a named quad and got a polaris scrambler 500 4x4 sport quad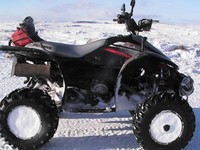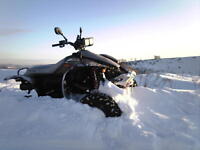 for £2500 with 500 miles on the clock,way more power ,fast and could jump but it lost the slow trail speed (rock crawling)of the low range gearbox and big seat compared to the 320,and the fuel went down to 25-35 mpg, the quality was a bit more noticeable than the quadzillas and things tendered to stay tightened up(bolts ),gear change still cluncky.I had that quad for around 6 months and didn't have any major problems ,water got into belt drive and would'nt move forwards for ten mins and started spluttering after dusty days,the electric starter went not sure what it was but had back up pull cord so relied on that to start .I wish i still had that quad got rid for bike for summer sold the quad for £2400 so no big loss.
SO AFTER
spending 2 years of reviewing,trying to find reviews, reading forums looking on you tube,looking on ebay to watch prices ,owning two quads I have come to the conclusion that yes cheaper quads do have cheaper parts that may be liable to breakdown but on forums brand quads can have big problems .What I have found is that the cheaper quads are now starting to get pricier (2010) probable due to increase of quality due to dearer parts and can come close to big name prices.
If you can find a cheap (like new) quad for £1000-£1500 maybe its worth the risk and a used name quad for £2000-£3000 you should be happier with that extra cost but to fork out on brand new cheap quad(quadzilla and like) you would instantly loose money on resale value.
As far as design the cheaper quads win they borrow best designs from other company's and put onto one quad,
Quality ,well cheaper general means cheaper for a reason,but does that mean it cost £5000 to build a £5500 name(brand) quad
Happy quading ,hoped this helped,
Ben