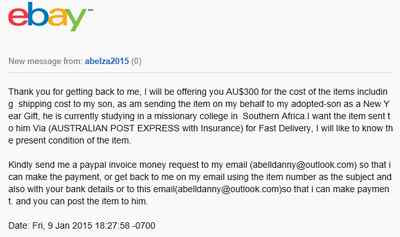 Add a caption
If you see an email like this...you can bet it is a scam
Setting Up The Scam
I was selling a laptop on eBay Australia recently. I received a message from a potential buyer saying that he wanted to buy the item at the my "best price" before the end of the auction. He also said that he would pay all shipping charges to South Africa. It was meant to sound legitimate because he said that he would pay through PayPal and wanted me to either send them my email address and bank details so he could pay me direct and avoid eBay's fees (already several warning bells) or a request-for-payment through PayPal's "Request Money" function. I wanted to see how this played out so I though that there was little risk in sending a PayPay request for payment - which I did to the email address he provided. He replied that he had made the payment and that I should go ahead and check for email confirmation from PayPal and then send the goods to the address he provided.

I checked for the email from PayPal and sure enough, it was there...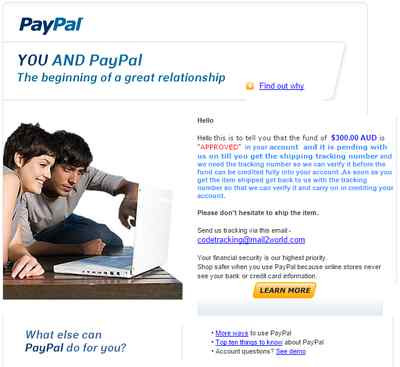 From PayPal...Really?
The email from "PayPal" had the following text in it:

"Hello ( name),

Hello this is to tell you that the fund of $300.00 AUD is "APPROVED" in your account and it is pending with us on till you get the shipping tracking number and we need the tracking number so we can verify it before the fund can be credited fully into your account .As soon as you get the item shipped get back to us with the tracking number so that we can verify it and carry on in crediting your account.

Please don't hesitate to ship the item.

Send us tracking via this email:-
( bogus link inserted here)

Your financial security is our highest priority.
Shop safer when you use PayPal because online stores never see your bank or credit card information."

What Should I Do?
Here are the things that flag it is a scam and what you should do to avoid it:
An email asking you "what is your lowest price?" before the auction ends. Reputable eBayers know that there are two legitimate ways to make a purchase: either winning the auction or through the Buy It Now option. What to do: Avoid potential buyers that are trying to work outside these two options.
The potential buyer has little or no feedback. We all have to start somewhere so not all buyers (or sellers) with low feedback are to be avoided but if they start talking about ways to work around the system or asking for something out of the ordinary, it increases the risk. What to do: be careful in dealing with buyers (or sellers) will little or no feedback (in this example, the buyer's feedback was zero: "ulmeza8 (0)" ). If they ask you to work outside of the normal eBay purchases - don't agree and report them.
The buyer asks for you to send them your email and bank account details so they can pay you directly. As a general rule, it is never a good idea to share these details with strangers. Neither eBay nor PayPal will condone transactions done outside of eBay and you will have no protection in case of fraud. Furthermore, you run further risk of having your bank or other accounts hijacked by the fraudster. What to do: Never send your email and bank account details to unverified addresses or users.
You are asked to send the goods and produce a parcel tracking number before payment is confirmed. At first blush it may appear reasonable but there are multiple problems here: (a) once you send the goods the buyer may simply not pay and you have no protection from PayPal ; (b) PayPal will confirm payment is made and then advise you to ship the item to a confirmed address, quoting the buyer details. PayPal will never ask you to ship an item before payment is made. What to do: Never ship an item until PayPal shows that the funds have been deposited in your account. Note that PayPal can take up to 21 days to clear your funds into your account. To help with that it is best to use registered mail, enter the tracking number in eBay and mark the items as shipped. Caution: PayPal protects the buyer - if the seller says the item didn't show then their money may be refunded. An Australia Express Post tracking number may not be enough evidence to confirm that the item was received,
The email correspondence you receive looks legitimate but... There are a number of quick ways to check if the email you get from PayPal or eBay is real. Here are some:
The email address looks authentic (e.g.: "service@paypal.com") but when you click on Show Details it reveals it to be something else (in this case: "pay_roll@mail2consultant com"). This is called "E-mail Spoofing". E-mail spoofing is the forgery of an e-mail header so that the message appears to have originated from someone or somewhere other than the actual source. Distributors of spam often use spoofing in an attempt to get recipients to open, and possibly even respond to, their emails.
The grammar and punctuation is poor. We've all seen the Nigerian emails which are notorious for their poor English language but the scammers are getting better. The emails that I received were passable English - good enough that it wasn't immediately obvious. Look for errors in tense (e.g.: " I have make the payment" instead of "I have made the payment"), inconsistent capitalization, etc
The email asks you for personal details. No reputable organisation would send an email to you asking for you to send them these details - they should already have what they need from when you first set up your account.
The email asks you to verify your login username and password, Again, no reputable organisation will ever send you an email asking you to do that.
The email refers to you by a generic title such as "Dear Seller" or Dear Buyer". Email from authentic sources will know your registered name.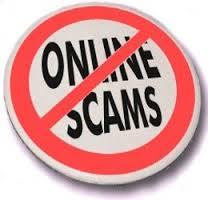 In Conclusion
eBay is most of the time a very safe place to buy and sell. However, like everywhere, there are always scammers trying to take advantage of those that are trusting or less informed. I hope this helps brief Guide helps you avoid this scam and others down the road.