samsung fridge freezer faults
welcome to our samsung fridge freezer faults review diy guide !
if you would like more info diy help - video reviews on samsung fridge freezer faults
click here .. ebay shop diy help guides
there seems to be a lot of people searching google for "samsung fridge freezer cooling fan fault" -
i thought it would be best to clear up a few misleading facts about this - as just replacing the cooling fan alone will not resolve the problem
the problem actually stems from a choice of other components failing - predominantly the defrost element , when the element fails you get a build up of excess ice - this ice eventually finds its way onto the fan blades and makes fan to go noisy .
common short term repairs ?
some people have stripped their fridge freezer down and defrosted fan area with a hair dryer etc - this normally lets appliance run for about month
other people have found out to their expense that buying the fan assembly alone wont work - again appliance will run for about a month before noise comes back ( more due to the fact that appliance was probaly defrosted before fan was fitted)
i have seen some posts on the diy sites where people have tried to modify the fan assembly by enlarging the polystrene around it etc - very dangerous, not recommended and doesnt work
to recap
you can get fridge freezer to run for about 1 month by defrosting fan area , replacing fan unit , never try to modifiy any components as it is extremly dangerous and doesnt actualy do anything to improve problem
the only way to cure this fault is to replace
you can but these parts individualy but you will pay roughly double the price as the repair kit ,
repair kit on ebay is current samsung genuine stock from an samsung authorized agent - all parts have been upgraded by samsung - ebay item also allows you to access online how to videos etc ,
pic of ebay item rs21 / srs 2026/28 repair kit click here to purchase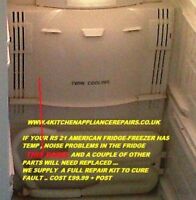 hopefully this review will clear up some misleading facts about samsung fridge freezer cooling fan noise issues ,
about us
we are main authorized samsung home appliance repair agents - we have repaired over 3000 samsung fridge freezers , we buy our spares in bulk which allow us to pass on any discounts to our customers . want to more visit our samsung ebay shop
if you require any help/diy advice on your samsung fridge freezer please check out our shop items- most have video attached - or send a message through ebay we are more than willing to help ..
many thanks
if you found our review helpfull please vote !