icon next to a listing or see a Buy It Now price listed on an item page, you have a special opportunity to get that item right away without waiting for the auction to end.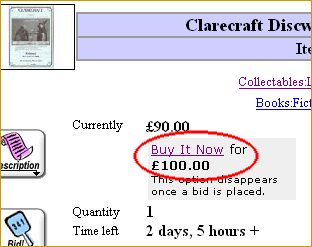 Using Buy It Now is simple.
Decide whether you're willing to buy the item for the Buy It Now price. Please remember, postage and handling charges are not included in the Buy It Now price. You may need to contact the seller to determine the total price of the item.
Click the Buy It Now button at the bottom of the item page and enter your User ID and password.
You'll see a Buy It Now confirmation message. From there, you can choose among the offered payment methods (eBay Payments, personal cheque, postal order, and so forth).
Pay for the item, and the seller ships it to you.
When it's part of an auction-style listing, the Buy It Now option is only shown on listings until an item receives its first bid, or, for a Reserve Price Auction, when the reserve is met. This means that when you see an item has both a Buy It Now price and a first bid price listed, you will need to act quickly!
Note:
To qualify to use Buy It Now as a buyer, you must:

Have feedback greater than or equal to 0 OR

Have a credit card (or debit card) on file

If you don't qualify when you click the Buy It Now button, you will be asked to do one of the above to qualify. Once you have met one of the above requirements, the listing will end automatically and you will be the winning buyer.
Related Help topics
Contact Customer Service

Contact us
Have a question? We can help.
Get help from other eBay members. Visit the Answer Centre to post a question.