We heard your feedback, so we've made changes to selling on eBay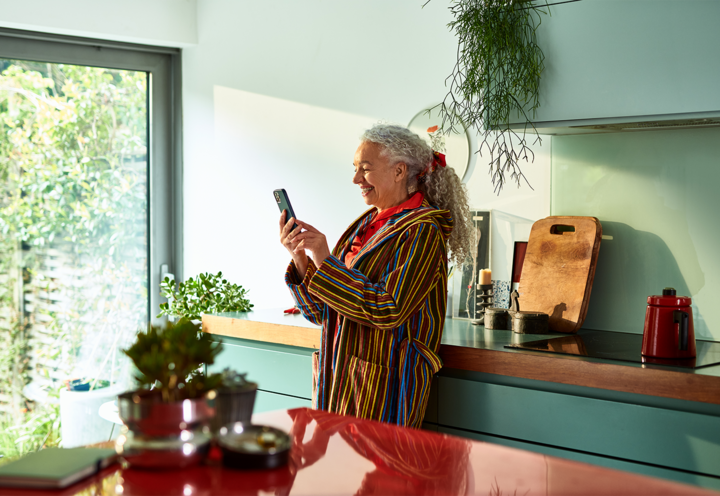 You said, we heard...
As we head deeper into 2022, I'd like to take this moment to say thank you for choosing to run your online business on eBay. Your goals are important to us, and we want to ensure that you get the support you deserve from eBay to go on and achieve great things this year.
We understand that your needs as a seller are constantly changing, so we've been listening hard, identifying issues that matter to you, and working to improve the seller experience on eBay. This is so you can continue to hit those targets, increase sales, and overcome barriers to thrive as a business. Based on the feedback we got, we've made some changes that you can see below.
I'd also like to take this moment to extend our condolences and support to anyone affected by the current crisis in Ukraine. Along with the rest of the world, we have been horrified by the events that are unfolding, and are supporting the humanitarian effort on the ground in Ukraine by raising funds for the British Red Cross' Ukraine Crisis Appeal. eBay has made an initial donation of £150,000 and will be supporting employees raising money through employee matched fundraising. 
If you would like to understand more about the humanitarian work the British Red Cross is doing and support its efforts, please click here. For more details about how sellers can contribute to this ongoing support, please see our post here. 
As always, thank you for selling on eBay.
Murray Lambell - General Manager of eBay UK 
Velocity
Helping you sell more
So we...
made improvements to Shops
Introducing Shops videos, a new way to share your brand story and show off your business. 
Your shopfront has also improved. It now includes automated inventory strips and marketing banners. 
Our improved Shop newsletter email templates also help businesses reach and interact with customers more directly, with an easy "save this seller" option from checkout on mobile.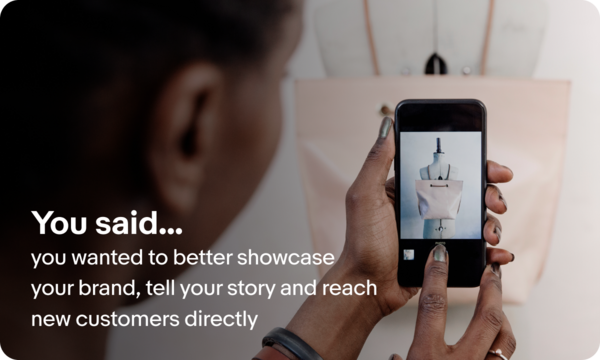 So we...
launched the Repeat Buyer indicator on Seller Hub
We've ramped up the repeat buyer indicator on:
Seller Hub Orders Send Coupon 
Seller Hub Order details 
Native Send Coupon 
Best Offer Seller View (on desktop) 
Keep your eyes peeled, our team is also working on:
Implementing Best Offer flow on Native and Mweb
Implementing an indicator on Seller Hub Manage Orders and Native Orders 
... coming soon!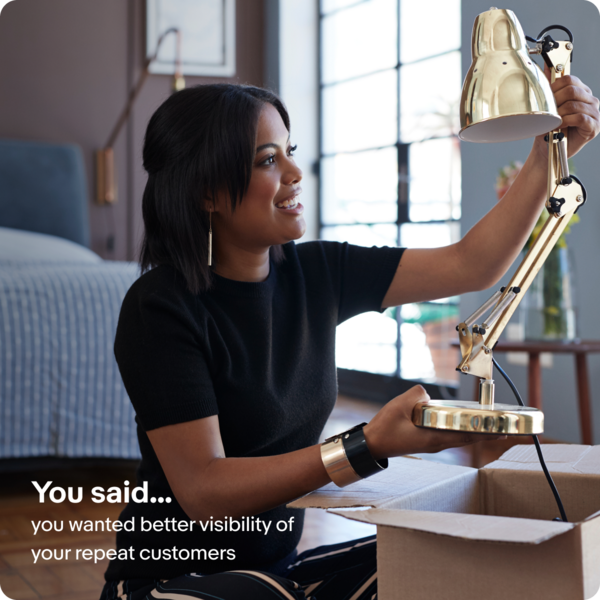 Fees
Helping you get better margins
So we…
updated our fee structure
We've launched a new reduced fee structure for low cost items in a number of selected categories. The fixed charge will be reduced from 30p to 10p per order for a total sales price of up to £10. This change will apply to new listings only, listed in selected categories after 1 February 2022. 
For those who sell mostly low cost items, you will have received details of how to enrol into the low cost items option to pay a final value fee of 15% + 5p on all qualifying transactions for both new and existing listings. You can find out more about this option and enrollment on the Frequently Asked Questions page.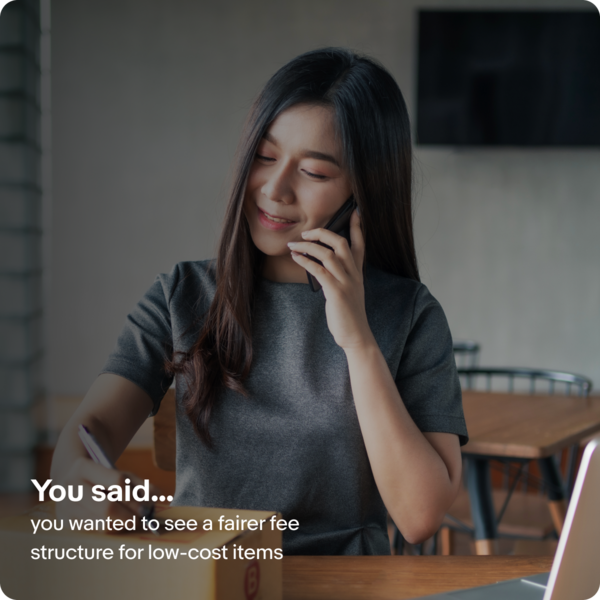 Fairness & Seller Protection
Helping you to stay protected
So we…
will update our fee policies in two ways
We'll be updating our credit policies. When you issue a partial refund to a buyer, we'll automatically refund the prorated portion of your final value fee.
 
We'll be updating our credit policies on refunds in relation to buyer order cancellations. When a buyer cancels a transaction prior to shipping, we'll refund the final value fee including the 30p per order fee. 
 More details to follow soon!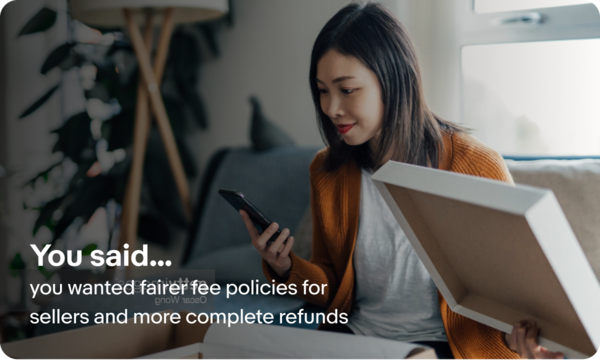 Support
Helping you get the support you need
So we…
added more advanced courses to eBay Academy, our self-guided learning platform
eBay Academy gives you expert guidance on how to scale your eBay business, with new courses added each month. We'll give you the tools and strategies to drive on and off eBay traffic to your listings, as well as helping you expand your inventory and scale your operations. We highly recommend the strategies to take your business to the next level course for those wanting an even deeper knowledge and understanding of running a successful business.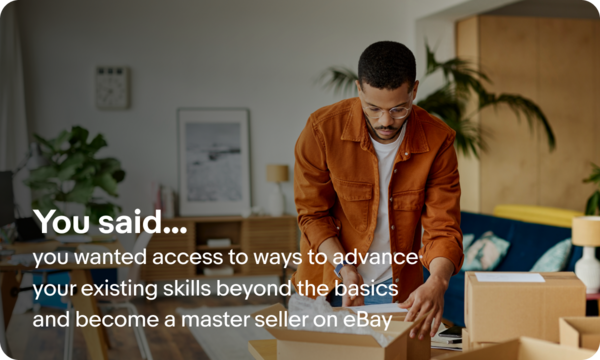 So we…
are launching the eBay Business Roadshow
The eBay Business Roadshow is an investment programme launched to help small, medium, and large business sellers across the country. Our team will be visiting 12 locations in the UK over the next 12 months, focusing on regions where there are promising Seller communities. From start-up plans to scaling operations, we'll be on hand to advise on all things online retail and e-commerce related, as well as lending our expertise to support future growth. 
Stay tuned! More information to follow soon.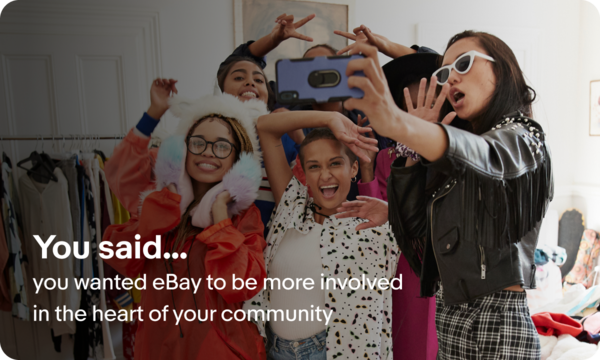 So we…
have launched a dedicated Postage Updates Board on our community site
We want to provide you with relevant information about recent delivery updates which may affect your business, or the ways you post your items. 
You can visit the Updates Board in the link below. To get immediate notifications, click Subscribe in the Options drop down on the right.