Modern convention states that one of the most feared vehicles of WW2 was the Tiger Tank, despite its short range, slow speed, and vulnerability to air or rear attack, and its notorious mechanical unreliability. Such a fearsome reputation is partly due to a small number of Tiger "Aces" who were able to inflict an enormous number of enemy tank kills during a short series of battles after D-Day.
It follows therefore, that armies, which can deploy the big cats, are more popular than those without them, and as the trend for WW2 gaming moves further from the micro-armour scales into 15mm, it's about time to look at some of the model options available.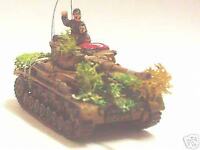 Firstly though, we have to examine an old argument. Traditionally, figure scales dictated that a man's overall height was 6 feet or 1.85 metres. In ratio scales, this translated nicely to one-inch high figures at 1/72nd or 25mm scale, and from there the other scales drew their sizes. When I was a novice gamer, 15mm figures were 15mm high from top-surface of the base (sole of feet) to the top of the skull (without hat), and it's made me something of a purist in this matter. Larger 18mm figures such as Minifigs Greeks and Romans were reserved for "giants" in the ranks. At true 15mm scale, a 15mm tall figure is a ratio of 1/120th scale and an 18mm figure is 1/100th scale.
Why is this important? Well, Battlefront, the company currently driving the move to 15mm WW2 wargaming has broken several traditional scaling conventions.
First they state that the 15mm figure height should be to the level of a figure's eyes, not top of the head. Thus their 15mm figures become 18mm.
Secondly, they state their vehicles and buildings are designed to 1/100th (18mm wargaming or TT rail-modelling) scale.
BUT, and it's a big BUT, they are releasing their aircraft in 1/144th (13mm) scale).
OK, how does this affect you on table? If every manufacturer produced their vehicles in the same scale as Battlefront, it wouldn't matter. Yet, gamesmanship is bound to surface.
Simple scenario – an Allied defender tables a bridge whose physical dimensions are too small to allow a 1/100th (18mm scale) Tiger 1 to cross the bridge. Ignore weight restrictions for the moment. His opponent fields 1/120th (15mm) Tiger 1's, and suddenly that lightly defended flank is opened wide, because the smaller models CAN cross the bridge – it IS now wide enough. There are dozens of problems like this that can occur from mis-matched scales.
The real Tiger 1 had hull dimensions of 6.3m length, 3.7m width, and a height to top of turret of 3.0m. Regardless of indicated scale by the manufacturers, it is those dimensions I am going to use in the reviews below, to determine the models' scales.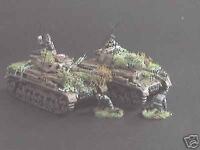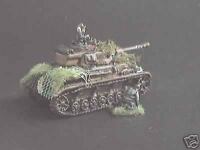 Skytrex CD300 (& CD300A Zimmerit) Command Decision Tiger 1E's
I have great admiration for the boys from Loughborough. They've long been innovators in new scales for wargamers, which reflects that they also manufacture for the railway and general modelling fraternities, and are one of the few in the industry that cross such modelling divides. They also have a habit of filling gaps in the ranges of other manufacturers, and are a very friendly and helpful bunch.
Their Tiger 1's come in 2 flavours – a generic Ausf 1E with or without Zimmerit appliqué.
The label gives the conflicting scales of 15mm and 1/100th, and the model measures in at 64mm long x 37mm wide x 30mm to top of turret. This makes the model an almost true 1/100th and not the 1/120th 15mm size marked – perfect for Battlefront's Flames of War rules.
It comes as a 5-piece all metal kit – hull, turret with fixed gun, two track assemblies, and a turret hatch. Being an all-metal kit, it is heavy – 151.8 grams (approx 6 ounces) with bag and label, making it expensive to post around the world.
The casting is sharp with the glossy finish of a high-tin alloy, making the fine protrusions stiff, and any bent main-guns will be a little brittle to straighten if bent in the post (possible due to the poly-bag packaging) therefore warm them in your fingers first. There is little flash on the model, but quite a heavy sprue feed where the moulding sprues have been cut off the left side of the hull.
Top deck detail on the main hull is very good and includes a pair of towing cables laid over the engine ventilators. The turret is a little smooth and devoid of detail but leaves lots of clean plating for painting markings etc. The separate turret hatch is useful and allows for positioning a tank commander for command vehicles – you'll need a spare beret-wearing figure to add one.
Skytrex's website says standard pricing is £6.50 per model.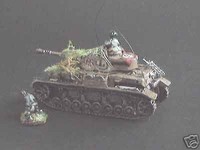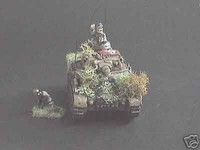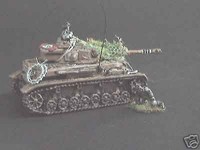 Battlefront GE070 Early, 071 Zimmerit, 072 Kursk, Tiger 1's
The Kiwis behind this outfit have developed a global brand from nowhere a few years ago, and have one of the most comprehensive websites of any in the industry. Their attention to detail in the Flames of War rules, unit compositions, and research into obscure or little known forces is second to none. Their customer base also contributes heavily to the website through forums and articles, and the combination runs slicker than a Games Workshop branding.
I've only recently become acquainted with their models, and have been impressed with their packaging and the "extras" in each kit.
The three Tiger 1's, they offer, are essentially the same model, modified from a basic model to give the variants.
The variants offer a hull and turret size of 63mm x 33mm x 30mm, giving a model that is too narrow (by almost half a centimetre) for an otherwise correct 1/100th scaling. This could be rectified with a bit of 2mm balsa behind the track assemblies before fixing them to the hull body, but would need some fiddling with card to extend the side and front slope plates. It would be better for all if the company re-mastered the hull body.
The 10-piece kit arrives in a custom shaped blister pack with colour backing card and some foam padding. Unfortunately it also arrives with the resin turret located into to the hull, and in all the models I've received, this resulted in the turret bonding to the body casting, and an immovable turret.
The other 6 pieces are two turret roof hatches, the main gun barrel, a spare road wheel, a half-figure commander (for open hatch modelling) and a dismounted crewman to fit the FOW abandoned tank rule. All up, he blister pack weighs in at 119 grams.
The Battlefront variants all have "spare" track links cast to the front of the hull between the running tracks, and the zimmerit version has them cast on the turret sides. Despite their resin castings, these models' turrets carry more detail than the Skytrex offering, including items such as smoke ejectors and different hatch design between the different versions,
The hull decks have similar detail to the Loughborough offerings, including the towing cables, but suffer from the track guards being too narrow when seen from above (causing the under-width mentioned before). A finishing touch to the blister is a small card with assembly instructions.
The Battlefront website quotes all three Tigers as being the same price of £6.50.
Comparisons
The English made vehicles look more squat and butch than the ones from down under, which seem sleeker and more gazelle like when assembled. That missing 4mm of width would cause major hissy fits from some of my past opponents, and the softer detail from resin casting would raise a few eyebrows.
However, I have seen some fabulous paint jobs on both models sold on eBay for very large tags.
Both models depict the original well and have enough detail for damp-brush painters (like me) to show what is needed. The lighter New Zealand models save me a lot of postage cost to here in SE Asia, but I do love the "thump" that the Skytrex model makes if it slips out of your fingers onto the table. Maybe my Editor (at Miniature Wargames) will get me some for my birthday?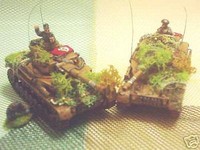 Other makers
I hoped to also get models from both Peter Pig and Quick Reaction Force, but my budget couldn't stretch to it and I settled for emailing them.
Despite several prompts for info, QRF did not respond, but their website shows they only do one 1943 Ausf E (GFV03) priced at £5.00.
Martin at Peter Pig replied to the first contact and informed me that – All the Peter Pig Tigers are late war variants covering Russian front and Europe 44 onwards. Some minor notes on Tiger 1 features include that the turret is not symmetrical from above, but that the left side does not cut in so sharply because of the loader, and that the gun barrel travel lock should be next to the right hand exhaust pipe. Martin implies these are modeled into their offerings.
He also states their Eastern front Tigers come with the front road wheel missing, which he says was standard practice because mud would clog and freeze between the outside front road wheel and the front sprocket.
Peter Pig's Tiger 1s measure in at 66mm x 37mm x 30mm (to top of cupola on the turret). This makes them slightly over-length (measurements for all 3 models, plus the full-size original, include the rear exhausts). I was informed it weighs in at 180 grams, making it the heaviest of the three models, and 4 of the 5 variants available are 7-piece offerings - hull, turret body, two tracks, hull back plate (variants available), gun and mantlet, and turret hatch.
The five variants are
#400 Basic Tiger 1,
#401 Battle hardened Tiger (various gashes and dents),
#402 Zimmerit Tiger,
#403 Camo Tiger with foliage on it, and
#404 Destroyed Tiger.
#404 is a 1-piece resin casting with dead crew and groundwork.
Prices vary per model with #400 at £6.50, #401-3 at £7.00, and the resin #404 at £3.00.
Conclusions
Tiger 1s are heavy, in more than one respect. If buying by mail order, you need to carefully assess the postage costs to see the total price.
Of the three makes reviewed, Skytrex seem to be closest to the true 1/100th proportions, and none of them are genuinely 1/120th 15mm scale – they are all too big. This does not detract from them when assembled, painted, and plonked onto the table as they emerge from ambush positions. In fact it adds to the surprise and shock value. Their bulk fits well with the current trend for 7-foot 6-inch infantry (at 18mm figure height) in 15mm gaming, but you'll need to be careful to stay with a single manufacturer, for all your Tigers, due to the differing model sizes.
Remember that bridge I mentioned at the start? For such bottlenecks, buy Battlefront Tigers. Their 4mm under-width could come in very handy. For wide-open spaces, get the other makes, to exercise maximum zone of control due to their larger size.
Written by GazLanNaThai - a Fair Trade enterprise selling traditional and ethnic craft products from Northern Thailand, and sole distributor of the Long Range Logistics range of resin wargames buildings & scenics.