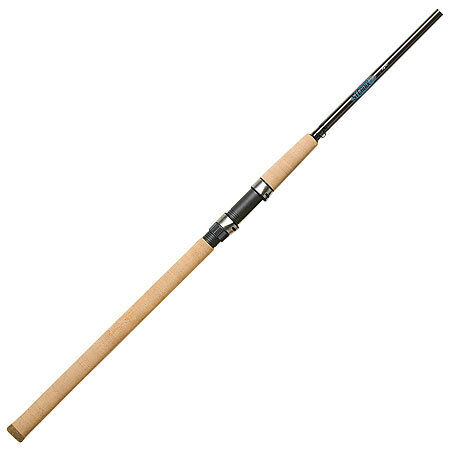 Carp fishing, normally known as a type of coarse fishing, is very a popular sport in the angling world. Carp offer a challenge to anglers, as they can be difficult to catch, which makes the prize of catching one very worthwhile. Fishing for carp is popular in Europe due to the variety of locations carp can be found in.
Carp are caught mostly for the pleasure of the sport in Europe, rather than for eating. Fishing requires more than just a hook and line in the modern day, and finding the essential tackle items can seem a chore and overwhelming with the amount available in stores and online. This guide aims to show how to find everything the angler needs for their hobby on eBay.
Ten Essential Tackle Items
There is a huge variety of tackle items available; from rods to bait which will all help improve the angler's game. To begin with an angler will need a rod, and the average starting out kit will normally be two rods, rarely more than four. A rod licence is needed for two rods, and an additional one would be needed for four rods. The following list of tackle items is for up to two rods. There are many extra items such as warm clothing and umbrellas which will help protect against any kind of weather.
Item One: The Carp Rod
When looking for a good carp rod, there are some aspects to take into account such as budget. Rods come in a range of prices so it is important to consider a maximum budget before purchase.. It is not always to be assumed that the cheapest option is the best, as the quality of the rod will vary greatly.
It is ideal to aim for a rod in the middle range of prices to ensure the rod will last and not break. When looking at rods is it important to consider the 'test curve' or the TC of the rod. This is a guide to the power of the rod, and in general rods of 2 ½lb test curve are ideal for carp fishing at medium sized locations.
Item Two: Reels
It is well and all to have the rod, but now the fish needs to be reeled in. Some rods will come with reels fitted, and these are good listings to look for, but generally rods don't come with reels. Adding a reel to a rod will make the rod perfectly suited to the individual angler.
There are a range of brands to consider and the condition of the reel, if it is used or new. It is best to research the brands available and select a reel based on its usage as well as brand, as some reels will be specific for certain tasks. Fishing line can be purchased on eBay as well, but it is vital to research the weight and type needed for the type of carp fishing the line will be intended for.
Item Three: Support for the Rod
Every angler will get tired holding the rod for long period of time, and this would also prevent the angler from catching many fish due to the movement of the rod. A rod support or rod pod come in different styles depending of the number of rods needing to be supported. The type of bank will also affect the type of support needed as well. Steep banks will need a bank stick, these are needed as they can be driven into the ground and stay in place, whereas a rod pod is ideal for fishing at places with flat surfaces such as concrete. Rod pods may also be fiddly when assembling so it is best to practise putting the rod pod together and taking it apart being going fishing with it.
Item Four: Landing Nets
So far everything for hooking the fish has been described, but the next vital item is what every angler needs to get the carp to land is a net. It is vital to use a net that has a fine weave, as anything with a coarse weave could damage the scales of the fish and endanger its welfare.
Nets that come with telescopic handles are good for preventing the angler from leaning too far over the water, and allow them to handle the fish with ease. Most fishing sites should have places where the nets can be disinfected; this will help prevent the spread of any water diseases in other fishing locations.
Item Five: Unhooking Mats
Unhooking mats are essentially a place where the carp is placed and the hook can be eased from its mouth. Unhooking mats can vary slightly with the price, from simple waterproof mats that fold up, to mats that can be combined to be weigh slings as well. The second option is practical as this prevents too much handling of the carp as it is weighed. Unhooking mats can be a requirement for some venues but is a worthwhile piece of tackle to have in any angler's kit.
Item Six: Bite Alarms
Bite alarms are a useful tackle item to have as they can save a lot of time and hassle when carp fishing. Bite alarms provide and visual and audible warning that there is a fishing biting the hook. Most bite alarms work on a basis of the line being pulled, whilst some others work on sensing vibration on the line. Bite alarms to consider are the ones with volume and pitch settings. These are good for fishing during daylight hours so the noise won't disturb other anglers at the same venue.
Item Seven: Hooks
Fish can't be caught without a hook, and the range of hooks can appear very daunting to begin with. The hook will depend on the type of fishing and what fish, but in general it will also depend on the type of rig (how the line is tied to the hook) is used. The size is also important as larger hooks may alert the fish to the presence of an angler.
The idea is to prevent the fish from recognising the hook as a hook, and instead show it to be something for the fish to nibble on. Hooks come in a range of sizes and these can change depending on the brand and type of carp fishing hook. Hooks can be weighed down depending on the season and this can help improve the catch of a fish due to the level it is swimming at that time of year.
Item Eight: Bait
Perhaps as important as the hook or the rod itself, an angler won't get far without some bait on their hook. Bait comes in a startling range of flavour and types. The main types of bait are:
Pellet-these are the most popular type and come in many colours and flavours
Liquid- this type of bait is used to coat a bait that is on the hook.
Imitation- these can look like pieces of corn, worms or even snail shells.
When selecting bait, it is best to go for bait that is full of nutrition and is also appealing in taste for the carp, not just going for taste alone, and the carp will have full selection of the baits available in the water at the time of fishing. With bait it is important to have an airtight container, bait buckets are a popular storage option, and some even come with padded tops so they double up as seats.
Item Nine: Tackle Bag
An angler often requires so much tackle, that a bag will be needed to store and carry everything. Rod bags are perfect for storing a fish rod and preventing it from breaking during travel. Storage boxes come in many sizes and suit the purpose of storing tackle items such as hooks and lines, as well as different types of weights and baits.
The more secure a box the better as items won't fall out during transit. Some storage double up as stools or chairs come with extra pockets which are ideal options for the angler who doesn't want to carry too much luggage.
Item Ten: Chair and Bedchairs
Every angler will get weary at one point or another during fishing, and it is important to have a comfortable seat as the angler may be at the same location for a long time. Bedchairs are ideal for anglers who are intending to fish at night as they can lie down on a bedchair with a sleeping bag to stay warm, or sit up if they wish to.
Bedchairs are portable and fold up which is ideal for an angler on the move. Chairs or stools are for the angler who won't be fishing overnight. Most chairs are portable and even come with straps so they can be carried on the back. Chairs can be bought in a used or new condition, depending on the preference of the buyer.
Buying Essential Carp Tackle on eBay
Once the buyer has an idea of the tackle item wanted, such as a reel, navigate to the home page www.ebay.co.uk and find the Sporting Goods portal and selecting Fishing. From there the buyer can browse some of the suggested categories or refine the search more by selecting Coarse Fishing which then offer subtypes of Carp Fishing and a range of brands to choose from. To select a certain type of brand of fishing tackle simply select the preferred brand(s) from the list.
Stores for carp fishing are easy to find on eBay, these are suggested on the left hand side of the page on listings, or they can be found by searching Carp Fishing on eBay.
Shops will have reliable feedback and will also offer good advice for customers who are unsure of certain products. Some used items will have to be collected, but if the location of the listing is close by then the buyer can arrange to pick up the item, especially if it is a bundle of fishing tackle which will save a lot in postage.
It is important to consider the cost of the petrol and the time it will take to pick the items up. Buying through eBay is safe and using payment options like PayPal ensure each transaction is carried out securely. The advantages to buying fishing tackle on eBay is numerous, being able to browse a huge range of items free of charge is a key aspect. However for items such as fishing poles it may be advisable to try a few fishing poles to see how the feel of the item is before deciding to make a purchase through eBay.
Conclusion
A huge range of essential and optional tackle items can be found on eBay to help the angler make their catch whatever the season or weather. Whether buying use or new, a fantastic deal can be found, helping the angler to find exactly what they need in their tackle kit to make sure their carp fishing days in Europe are perfect.
The right seat will help make the hours fly by, and a good tackle box will help keep everything neatly arranged and stored. With eBay, all the essentials can be purchased with a little knowledge and the best deals become available to the carp loving angler.