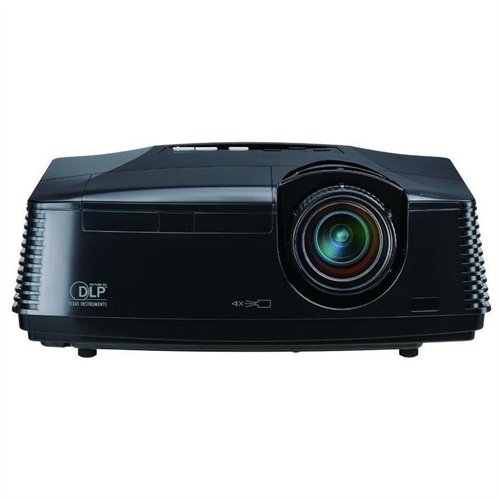 Home cinema systems bring the thrill of big screen entertainment to the comfort of a home through the installation of projection and stereo systems. These setups are surprisingly easy to achieve and cheap to purchase too, so they are not just reserved for the extremely wealthy.
1: Resolution
720 and 1080p are the most common resolutions featured in modern high definition televisions, and as such, they are also the best resolutions to have in a home cinema projector. As resolution increases, so too does the number of pixels represented by the model. The higher the number of pixels, the sharper an image; thus, it is important to have a high resolution projector for activities such as watching movies with impressive special effects and console gaming.
2: Contrast Ratio
The contrast ratio of a home cinema projector refers to the difference between the black and white portions of an image. The higher the ratio, the greater the potential difference between the darkest shade of black and brightest whites. Higher ratios are more important for getting an image with greater depth.
3: Brightness
Most home cinema projectors can support around 1,000 to 2,000 lumens of brightness, with some being able to exceed this up to 2,500 lumens. Increasing the brightness levels can make it easier to see the image being projected onto a surface. Although some projectors are likely to push greater brightness potential as a selling point, it is more important to eliminate outside, ambient light than to obtain a projector with the highest brightness setting. Some measures that can be taken to do so are to install the system in a room with thick curtains or poor natural lighting.
4: Screen Format
Screen format is also discussed in terms of something called aspect ratio. The aspect ratio of most televisions from 1950s onwards was 4:3, meaning 4 measures of length for every 3 measures of height, thus resulting in a screen wider than it is tall. This is the same sort of ratio used by cinemas. Most modern televisions that support high definition pictures are 16:9 aspect ratios. Though most home cinema projectors also offer this ratio, there is also an option to purchase 4:3 ratio projectors.
5: Screen Size
Different to screen format, screen size simply refers to the physical size of the projector's screen as it is positioned against a flat wall or other surface. Some buyers may be tempted to simply opt for the biggest screen available, assuming that it will result in the best experience, though it is more important to first consider how large the intended room is and whether the chosen projection unit is capable of projecting an image that can fit onto the screen.
6: Sound
Many home cinema projectors do not have installed speakers. For the ones that do, they are not always of a fantastic quality, often not even being able to match that of a television set. To combat this, stereo systems can be linked to the home cinema projector as a part of the wider home cinema system. This is definitely recommended in order to improve the audio experience of movies and gaming.
7: Lamp Lifespan
The lamp within a home cinema projection unit provides the light for the projected images and like any other lamp bulb, will gradually run down and eventually need replacement. Most projector lamps will last from around 2,000 to 4,000 hours of use.
8: LCD or DLP Display
These refer to the technologies liquid crystal display and digital light processing, with each possessing advantages and disadvantages. DLP for example, can suffer from rainbow effects appearing across images and less saturated colours, whereas LCD projectors have no problems with rainbow effects and possess greater colour saturation and a higher contrast ratio.
9: Connectivity
Projectors are capable of connecting to a range of different external devices, such as televisions, DVD or Blu ray players and video games consoles. However, not all projectors are capable of all connections, and the number of ports can vary. Therefore, it is important to ensure that a unit has the sufficient number of connection ports as is required for the intended use.
10: Room Size
Though not a direct feature of the projection unit itself, it is important to take measurements of the room intended for installation of a system and make a sound judgment on the setup that will fit the size of the room and be practical.
Making an eBay Purchase
It is useful to understand the procedures involved in purchasing an item and completing a transaction. The below sections aim to provide useful tips on how to follow the process from start to finish after finding the desired item.
Sale Types
Items sold on eBay can be done so as either a timed bidding auction or as an instant-purchase item for a set price. Sellers can also opt to use both of these methods in listing their item. There are no specific benefits and drawbacks to a seller in using either one of these sale methods, but sales can be quicker if using the instant purchase option, named Buy it Now.
Securing an Item
When a buyer has chosen which item to buy, a bid can be placed on an auction by inputting a figure higher than the minimum bid shown or by clicking Buy it Now, if on an instant-purchase sale. In either case, if an item is won, a confirmation is emailed to the buyer's registered account email address along with instructions suggesting that payment is made.
Making Payment
Most eBay users opt to use PayPal for both buying and selling as it is a very secure process and can transfer payments between parties instantly. Once a PayPal account is set up and linked to a UK bank account, along with being linked to the eBay account too, the process is very straight forward for any future purchases. It is recommended to make payments as soon as is possible, as a seller has the option to register a payment as not received if the process is taking too long or it does not appear that the buyer intends on paying. This can also lead to harmful negative feedback against the buyer's account name.
Delivery of an Item and Postage Costs
Sellers stipulate the cost of posting an item in their listing, either by specifying a separate postage cost or negating this and including the cost within the item price. Either way, there are guidelines to help sellers determine such costs. International postage is often a little more expensive, though often this can even be offered for free. Heavier and bulkier items are generally among the most expensive to post. In terms of the time taken for delivery, national deliveries are generally quick and many are completed within 3-5 business days or sooner. International deliveries take much longer, with a large portion of these being clothing and accessories from the Far East. Common delivery times for this region to the UK are 15 to 20 days.
Finding Home Cinema Projectors on eBay
Home cinema projectors are found on the eBay website under the Electronics & Technology section of the eBay website. More specifically, buyers must navigate to the Sound & Vision category to find a wide range of subcategories that relate to home cinema projectors and all of the related accessories that one may wish to purchase. These results may be filtered for easier viewing by using the filter parameters that are listed down the left-hand side of the listing results page.
Conclusion
The eBay website is a good place to buy home cinema projectors as it contains thousands of used and new items listed by thousands of different merchants. It is important to consider the key points listed above before making a decision to purchase a projector, particularly with regards to what extra components and cable connections might be required to complete the home cinema setup. Home cinema projectors can be found under the Sound & Vision section of the website, which is located in the Electronics and Technology area, accessible from the main website homepage.