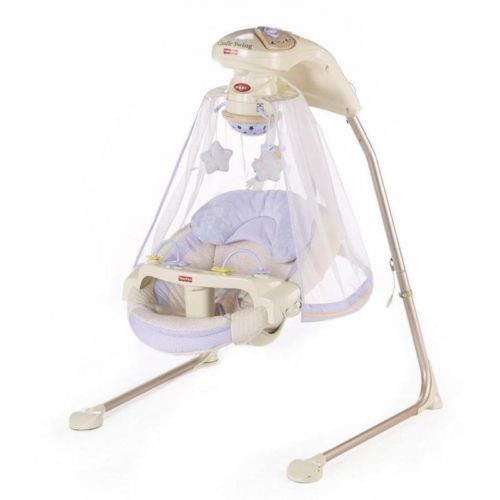 Baby swings offer a lot of help to new parents, and continue to provide a fun experience for growing babies. Lots of different features are available for baby swings, and buyers must have a good idea of what is available before purchasing. Some important features to consider include how the swing is powered, whether it is portable or not, what type of strap is used to keep the baby safe, different swinging directions, the various swing speeds, and safety and entertainment options. Before purchasing, it is a good idea to browse through the different types of baby swings available, and to research different brands to ensure that the one that is purchased has a high safety rating.
Baby swings are found in baby stores and other brick and mortar stores, as well as online at a variety of websites, including eBay. eBay has a large selection of baby swings and other baby items available.
Feature 1: Baby Swing Power Options
Baby swings are typically powered in one of three ways:
* Batteries
* Mains Power
* Wind-up or manual
Battery operated baby swings are the most common, and are very convenient. They can be used almost anywhere, because they do not rely on a wall outlet for power. Their main disadvantage is that they require the added expense of buying batteries. However, rechargeable batteries reduce the long term cost of battery replacements, though their initial price is higher.
Wind-up baby swings are another versatile option, although they are not as convenient as battery-operated swings because they require periodic rewinding. Manually powered baby swings require mom or dad to push the child, and are usually inexpensive compared to powered swings. However, they are not as convenient, because the user cannot do other things while the baby swings.
Feature 2: Portable Baby Swings
Some baby swings are easier to move around than others. For example, standard baby swings are quite large and heavy, and are not at all easy to transport. Thus, if space is limited, or if the baby swing must be transported frequently, a portable baby swing might be a good idea. Some large, wide baby swings fold up and stored easily. Check the specifications to see if the baby swing is compact and portable. However, whether portable or not, the device must be sturdy and safe enough that the baby cannot tip the swing over and become injured.
Feature 3: Three and Five Point Harness
A fixed restraint system is an important safety feature of baby swings. Some units have an over-the-shoulder, or "five-point harness system". Other models feature a three-point harness system. The five-point harness is more secure than a three-point harness system. The three-point harness system usually comes up around the lap, and down in between the legs. This keeps the baby from sliding out the bottom of the seat. In addition to these restraints, the five-point harness also features shoulder straps to keep the baby from slipping out the top of the swing. Users should be certain to secure the harness system properly to ensure the baby's safety.
Feature 4: Swinging Direction
Baby swings can move either from side to side, or front to back. Some baby swings do both. Some babies prefer swinging in one direction over another, while others do not seem to have a preference. Neither swinging direction has much of an advantage, but swings designed for babies who are old enough to sit up generally swing from front to back, while bed swings designed for infants are more versatile in their swinging direction.
Feature 5: Baby Swing Speed
Swings offer a variety of swinging speeds. Some have only one speed, while others have up to eight different speeds. Parents should determine which speed their baby prefers by starting out on the lowest setting (if the swing offers more than one) and then slowly increasing the speed until baby is content. The baby's preference is important, since it determines how long the baby remains soothed and quieted by the swing. In the best case, the swing relaxes the baby so much it falls asleep. However, parents should not leave babies in a swing for over a half hour, as this can sometimes make them dizzy and sick.
Feature 6: Stability and Sturdiness
The width and girth of the swing determines its sturdiness. Buyers should look for a swing that is wide enough, with a sturdy enough frame, that it cannot collapse or tip over, injuring the child. Baby swings that are low to the ground are safer than taller models, as they are less likely to tip if the baby leans to one side.
Feature 7: Music and Sounds
Some baby swings play music, songs, or fun sounds. This can be both an advantage and a disadvantage, depending on the buyer's needs. Such sounds sometimes soothe babies to sleep or entertain them while awake. On the other hand, some individuals find such noises irritating or annoying. Not all baby swings come with this feature, so buyers should make certain the model they choose plays music and sounds, if that is something they want. Also, buyers should investigate the number of songs and sounds the swing plays, and should make sure that sounds can be turned on and off independently of the swing's motion.
Feature 8: Baby Swing Safety Standards
Parents should always check the safety ratings of any baby swing they consider buying. Some have a seal of approval from different safety associations. Buyers should check the safety standards of the specific baby swing to ensure that the swing has the proper safety specifications for the baby. If purchasing a used baby swing, parents should check for any damage that prevents it from adhering to the highest of safety standards.
Feature 9: Movable Trays
A movable tray makes it easier to place the baby in or out of the chair, especially when the infant is asleep. Trays fold up over the top, and some pull out to the side of the baby swing. Some trays are not movable, which makes putting the baby in and out of the swing more difficult. Other swings do not have trays at all; trays are less necessary for infants, but are useful for babies who are old enough to play with toys while in the swing.
Feature 10: Reclining Chair
A reclining chair is useful for both newborns and older babies. Infants are not able to hold their body up to sit upright, so they recline fully back. Somewhat older babies can sit up on their own when they want, so having an upright chair is nice for them. The chair can then be reclined while the baby is napping. Not all baby swings recline; some sit up in a chair fashion, while others are just beds. Be sure to purchase a baby swing with the correct seating position for the baby's age and needs.
How to Buy a Baby Swing on eBay
Begin your search by typing "baby swing" into the search box on the eBay home page. eBay has a large selection of baby swings available for different styles, needs, and ages. Decide on colour and style, and select features that are important to you and your child. You can refine the search by typing more specific and descriptive words into the search box, or by selecting different options that the eBay website presents you with.
Once you have found a swing that you like, be sure to read the detailed item description to ensure that the item has all the necessary specifications you want. If you have any questions, you can message the seller with any inquiries before purchasing the swing. Read feedback provided by previous buyers to see how satisfied other buyers have been. Sellers with a lot of positive feedback on their profiles are likely to provide you with great service and a quality product. If the swing is in used condition, be sure that there are no broken parts or other issues that may impact the child's safety. If you need other baby items, check to see if the seller has other products available.
Conclusion
A baby swing comes with a variety of options and features to suit a variety of different needs. Some are portable, and fold-up so that they can be easily moved, while others are not portable and are sometimes much heavier. Check the safety specifications of the baby swing to ensure the child's safety. Also, if the product is in used condition, check to make certain it has no broken or missing parts that may affect the swing's safety or injure the baby while the swing is in use. Some swings can fully recline, while others are designed to let the baby sit-upright. There are also swings that do both. Other swing options include trays and toys, sound, and swinging direction. There are all optional features that are not on every swing. Some basic swings do not have any of these features, and may be more inexpensive than swings with more features.