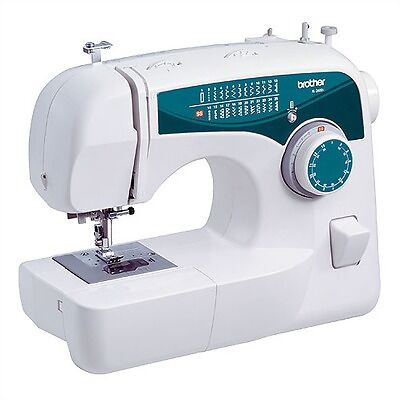 Owning a quality sewing machine helps get consumers through life's everyday wear and tear. Additionally, knowing how to use a quality sewing machine has the potential to save consumers money, by allowing consumers to repair clothes and other fabrics as they are damaged and torn. As a result, a quality sewing machine saves consumers time and money. That being said, a sewing machine only meets these expectations when it has a number of features that allow it to work to its maximum capability.
Sewing machines are available for purchase at fabric stores, specialty stores, brick-and-mortar stores, and online. Purchasing the best sewing machine often requires individuals to understand what features to look for when shopping for a quality sewing machine. While many sewing machines have a number of available options, there are 10 features that a consumer should look for when purchasing a sewing machine. These features are generally available in various established brands of sewing machines.
Feature 1: Needle Down
A sewing machine with a needle down feature allows the user to place the needle in either an up or down position when the machine is stopped. This allows the user to lift the presser foot when turning the corner on a piece of fabric, without creating an unwanted jump in the stitch. A sewing machine with the needle down feature allows consumers to choose their needle position and change it when necessary, which is helpful when sewing multiple types of fabrics and accessories.
Feature 2: An Automatic Needle Threader
An automatic needle threader is a hook and spring operation that forces a loop of thread into the hole of the needle. Purchasing a sewing machine with an automatic needle threader helps consumers circumvent the need to have a particularly steady hand, as well as prevents strain on the eyes. Additionally, an automatic needle threader gets the sewing process started at a much quicker rate than a mechanical needle threader, making the whole process faster and more efficient.
Feature 3: A One-Step Buttonholer
There are a variety of buttonholers available on different sewing machines. However, a one-step buttonholer creates perfect buttonholes with the turn of a dial. Once the setting is in place, a machine equipped with a one-step buttonholer creates a buttonhole without having to manipulate the fabric or machine any further. Consumers also have the option to downgrade to a four-step buttonholer, or upgrade to an automatic buttonholer, depending on preference and affordability.
Feature 4: Four Built-In Stitches
A quality sewing machine should come equipped with at least three built-in stitches, as well as one backstitch. These stitches should include a straight stitch, a zigzag stitch, a button stitch, and a backstitch to lock each stitch into place at the beginning and end of a seam. With this repertoire of stitches, a consumers can perform almost all the basic sewing functions.
Feature 5: Compatibility with Add-Ons
Even for a novice sewist, a sewing machine should have some compatibility with add-on functions. This versatility allows a consumer to purchase additional features for the sewing machine as the buyer's skills advance, and the need for other types of sewing capabilities grows as a result. For example, in addition to the four built-in stitches that any quality sewing machine should have, a consumer can purchase additional stitches,, as well as different needle positions. Because a quality sewing machine lasts a long-time, a consumer should give consideration to the future use of the machine, as well as its current necessity.
Feature 6: Lightweight
While not a technical feature, a consumer should consider purchasing a sewing machine that is lightweight and transportable. Consumers should consider how often and how far they are moving the sewing machine when considering this feature. For those who move from place to place often, the sewing machine should be lightweight enough for easy moving so as not to damage the machine. Similar to the compatibility with add-ons, consumers should keep in mind that a quality sewing machine stays with a consumer a long time through various life transitions.
Feature 7: Adjustable Presser Foot
An adjustable presser foot allows a consumer to determine how tight fabric is held as controlled by the feet of the machine. An adjustable presser foot typically comes with various settings to prevent puckering and stretching of different types of fabrics. In particular, attaching cords, zippers, or quilting together layers of fabric requires an adjustable presser foot.
Feature 8: Free Arm
Another essential feature to look for when shopping for a sewing machine, is a sewing machine equipped with a free arm.. The free arm is located at the bottom of the sewing machine and protrudes out from the main body, just past the needle and feed dogs. A free arm allows consumers to stitch small, circular areas, such as those found on pants, cuffs, and armholes. A free arm provides versatility to sew various style of clothing.
Feature 9: Top Load Bobbin
The bobbin is a small wheel-like part that is found under the needle plate of the sewing machine. The bobbin provides thread to stitch the underside of the fabric. A top-load bobbin feature allows consumers to drop the bobbin into the top of the sewing machine without fiddling to get it in place. This functions saves time and provides less hassle.
Feature 10: Bobbin-Thread Lift
The bobbin-thread lift feature is the counterpart to the top load bobbin. Once the bobbin has been dropped in the top of the sewing machine, the bobbin-thread lift feature brings the bobbin thread to the sewing surface so that the user does not have to insert their fingers under the presser foot. Similar to the top load bobbin feature, the bobbin-thread lift feature saves consumers time and unnecessary stress.
Comparison of Established Sewing Machine Brands
There are several established brands of sewing machines that utilise most, if not all, of the above-features in their individual models. The following chart compares five established brands of quality sewing machines by looking at the country of origin, notability, and affordability of each brand.
Brand

Country of Origin

Notability

Affordability (Starting Price)

Japan

Major worldwide sewing machine manufacturer

Broad range of features at competitive prices

Widely available

£

Japan

Range from beginner models to semi-professional models

Has a number of features on even low-priced machines

£

Switzerland

Launched the first compact, portable, electric sewing machine with a free arm

Active in 60 countries

Prides itself on innovation, quality, and service

£££

USA

Introduced world's first zig-zag machine

Wide range of commercial and domestic sewing machines

Creates models aimed at beginner and novice sewers

££

Sweden

Making sewing machines since 1872

Brand image includes innovative, high-quality, and user-friendly products

££££
While this list is not exhaustive, it provides a sample of established brands of quality sewing machines available that have desired features. A consumers should still do their own research into what brand and model is the appropriate purchase for each unique individual.
How to Buy a Sewing Machine on eBay
Different brands and models of sewing machines are equipped with different features. eBay has thousands of established brands and models of sewing machines to choose from, including those with the features listed above. Let's say you are interested in finding out what Elna models of sewing machines eBay has available for purchase. In order to find out, simply navigate to the eBay website portal and type Elna sewing machine into the keyword search box. After you click search, a list of options matching that description is populated for you.
A quality sewing machine with the essential features has the potential to last a lifetime for a consumer. That being said, it is important for you to ensure that you are purchasing a sewing machine from a trusted seller. To help with this, eBay provides a forum for buyer feedback on the eBay website for buyers to review purchases from individual sellers. By reviewing buyer feedback, you can ensure that you are buying a quality sewing machine from a reliable and reputable seller.
Conclusion
A quality sewing machine is a must-have for most households. While there both basic and professional models available, every sewing machine should have certain features. These features range from individual parts of the sewing machine to general convenience features. An automatic threader and a one-step buttonholer makes the sewing process easy and time-saving. Easy transportability ensures that a sewing machine is versatile enough to last a long time even with multiple movements.
While there are various features that come on a sewing machine, one of the most important things for consumers to keep in mind when shopping for sewing machines is what type and range of sewing they are planning to use the sewing machine for. To err on the side of caution, a consumer should always consider a sewing machine that can be modified to fit future sewing needs. There are a few established brands that offer machines with the ten features to look for when purchasing a sewing machine.