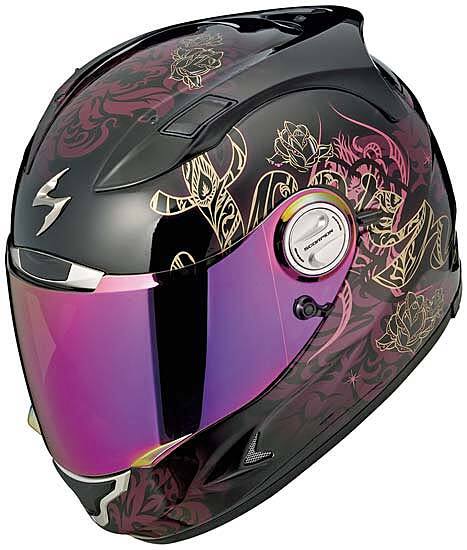 Riding a motorbike amounts to a wonderful, freeing experience and is a favourite hobby amongst people all over the world. However, this experience is not free of responsibility. There are certain tools and equipment that are essential to biking the open road at will. Having access to these tools and equipment is also a matter of responsible ownership. From a reliable helmet to the appropriate maintenance tools, having the right equipment on hand ensures safety for both the biker as well as those who share the road. These pieces also help to keep a bike in tip-top shape, ensuring years of riding fun.
For every necessary piece of motorcycle equipment, there are hundreds of options on the market. Sifting through all the choices of brand, price, and style can be overwhelming at times. Seeking these items through the comfort of one's home, via a website such as eBay, provides plenty of opportunities to find the right products at affordable prices.
1. A New, Reliable Helmet
It is important to always wear a new, safe helmet when biking. One of the critical pieces of motorcycle equipment, helmets serve as the sole protective buffer for the head during accidents. It is also illegal to ride without one in many parts of the world.
Helmets can be rather expensive. Though it may be tempting to purchase an inexpensive used helmet, it is not a good idea. Even a minor accident can render a helmet useless. Though the helmet may appear normal on the outside, small internal cracks significantly impair safety. For this reason, it is better to pay the extra fee for a new helmet and replace a helmet following an accident or damage.
Types of Motorbike Helmets
There are different types of motorbike helmets on the market, each with its own notable benefits and disadvantages. The driver as well as the passenger should wear a helmet at all times when the motorbike is in motion.
| Helmet Style | Description | Benefits | Disadvantages |
| --- | --- | --- | --- |
| | Covers only the skull, leaving the face exposed | Lightweight and comfortable | Leaves face vulnerable to debris and injury |
| | Also known as Harley-Davidson helmets, beanies, or shorties; Only covers the very top of the head | Lightweight | Minimal safety protection, if any |
| | Designed specifically for off-road motocross; Features visor, goggles, and full-face protection | Ultra protection, wide range of vision | Expensive, heavy |
| | Features pieces that can be moved out of the way or be completely removed to offer full-face or half-face protection | Ability to adjust helmet to riding conditions without purchasing two separate helmets | Clunky, expensive |
Motorbike helmet selection should be made carefully based on one's riding style and needs. Regardless of style, it is better to buy new helmets that have been rigorously tested for safety.
2. Digital Tyre Pressure Gauge
A bike's tyres stand between a rider and the road. As a result, they play a pivotal role in safety and bike performance. Keeping a bike's tyres in good condition is a requirement for a safe ride. Part of this means ensuring that tyre pressure is not too high or too low. Since changes can occur frequently without much warning, it is a good idea to check tyre pressure on a weekly basis. In order to perform this task properly, always keep a quality digital tyre pressure gauge on hand. Digital gauges are a vast improvement over traditional manual options. They provide rapid results on an easy-to-read digital display.
3. Waterproof Motorbike Gloves
Having a good grip on one's handles helps to ensure proper steering and adequate control. Waterproof motorbike gloves help ensure that a proper grip is maintained at all times, even when the weather is less than ideal. Motorbike gloves also help protect the hands in the event of an accident, by creating a buffer between skin and pavement.
Many motorbike gloves are made out of leather or leather-like material, though there are different styles available for the modern rider. Finding the right pair of gloves may require a bit of trial and error, but it is definitely worth the effort in terms of safety and comfort.
4. Motorbike-Compatible GPS System
Getting stranded in the middle of nowhere is rarely an enjoyable experience. Having a motorbike-compatible GPS system helps to prevent wrong turns and offers guidance even in remote areas. Motorbike-compatible GPS systems typically mount efficiently to the handlebar area of the bike.
These devices are waterproof and rechargeable, and they can also be updated. Many feature special screens, making operation of touchscreen possible even when wearing gloves. They also may come with Bluetooth capability, making it possible for a rider to operate the device through a headset inside the helmet.
Although some motorbikes come equipped with custom GPS systems, aftermarket purchase and installation account for the popular method of accessing these handy devices. Review options carefully before making a selection to ensure a smart investment.
5. Heavy-Duty Disc Lock
One of the first things every motorbike enthusiast should invest in is a high-quality, heavy-duty disc lock or similar security device. These devices allow consumers to safely lock their bikes while going to a store or visiting a friend. There are many types of locks, though disc locks are more popular. They work by clamping onto the disc to prevent the bike from rolling away. Often, these locks come with a piercing alarm that sounds off if tampered with, alerting the bike owner and passersby. The locks are highly effective at stabilising one's bike and preventing theft. Just remember to unlock the disc lock before attempting to ride away.
6. Motorbike Tool Kit
Although some repairs may require a professional, every biker should have a basic motorbike tool kit at his disposal. Motorbike tool kits include basic supplies such as needle-nose pliers, an Allen key set, and various screwdrivers. A kit typically comes in a compact package, including a small handling case. This makes it convenient for the biker to take the kit along on outings. Having basic tools on hand really comes in handy during minor, on-the-road emergencies.
7. Motorbike Jacket
Wearing the right attire during a motorbike excursion is so much more than making a fashion statement. Heavy, protective clothing keeps the skin safe in the event of an accident. In case of a fall or crash, these pieces of clothing are the only thing between the rider's skin and abrasive pavement. A good motorbike jacket is made from leather, denim, or some other type of highly protective material. Many modern motorbike jackets contain a certain amount of padding and often come with ratings based on routine safety testing guidelines.
8. Boots
Motorbike boots are available in a wide range of colours and styles. They not only protect the rider's feet from external conditions, but they also permit a good grip while riding. This helps to prevent accidents and ensure safe riding.
Often, style-conscious consumers are able to find entire ensembles, including boots, which fit all the necessary safety requirements for proper biker wear. If purchasing used boots, be sure to verify their condition before making the purchase.
9. Eyewear
Appropriate eyewear serves motorbike enthusiasts in a number of ways. For starters, good eyewear reduces sun and glare, making for a safer ride. Additionally, eyewear helps to shield the rider's eyes from wind, rain, and road debris. All of these benefits equate to a safer ride. Some, but not all, helmets come with a tinted shield that may serve as eyewear.
10. Motorbike Pants
Motorbike pants are designed to protect legs from the unfortunate effects of sliding across the pavement in an accident. Pants also keep bikers warm, dry, and otherwise protected from harsh elements. Generally, motorbike pants are made from leather or a similar material. Chaps, which are leather pieces designed to fit over one's regular pants, are an option for biker enthusiasts hoping to enjoy the protection of leather while still travelling in normal day-to-day attire.
Buying Tools and Equipment for Motorbikers on eBay
Finding motorbike tools and equipment on eBay is a simple matter of typing related terms into the eBay search bar located atop every page on the website. For motorbike tools and equipment, you could enter a basic term, such as "motorbike tools", or something more specific, such as "motorbike helmets". Regardless of what terms are used, various refinement options from eBay make it easy to narrow listings to better fit your needs.
Asking the Seller a Question
Though eBay listings are typically thorough, you may find yourself with a question after reviewing a post. Connecting with an eBay seller to pose a question regarding a specific item is a simple matter of visiting the seller's user page. From there, you can email a question privately to the seller.
Conclusion
Following the purchase of a motorbike, there are many tools and pieces of equipment that the rider should have on hand for safe, comfortable journeys. While leather pants and protective eyewear help to keep the rider safe and comfortable, items such as a GPS and a standard tool kit prevent riders from finding themselves stranded alongside lonely rural highways in the middle of cold nights.
There are many styles of motorbike equipment and tools that riders may avail of. From old favourites to new, state-of-the-art designs, consumers find that there is a place for every enthusiast in the motorbike community. It is possible to explore a massive range of options, thanks to the connectivity offered by the steady influx of global Internet connections and shopping sites such as eBay.
For every must-have item on the new biker's list, there are dozens of designs, brands, and sellers to choose from. Utilising a site like eBay makes it easier for shoppers to browse thousands of options and make their choices comfortably without leaving their homes.