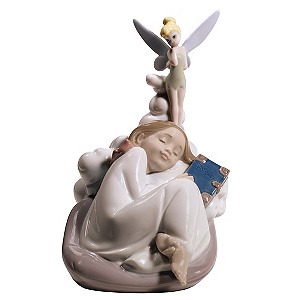 Lladro is the name of a Spanish company that is known for producing porcelain figurines. The company was founded in 1953 by the three Lladro brothers. During its early years, the company produced jugs and vases. By 1956, the brothers began producing the figurines and sculptures that many people now associate with the name Lladro. Each small, handcrafted figure is unique and each has a look that cannot be replicated. When buying Lladro figures, collectors should take the time to carefully consider the figurines listed for sale. There are several things that collectors of Lladro figures must consider before making a purchase, including the type of Lladro figure, its authenticity, the price listed, and the condition of the item. To make it easier to find Lladro figures to add to their collections, shoppers should go to eBay, where the site's easy-to-use search platform allows shoppers to quickly sort listings and compare figurines.
1. Types of Lladro Sculptures
The first thing to consider when buying Lladro figures is the different types available. The Lladro company produces a number of different types of items, including animals , vases , jugs , candleholders , and a number of figurines that resemble people. Since their inception, Lladro has produced thousands of different figurines in more than 20 different categories. When shopping for Lladro figures using a online shopping platform, shoppers can easily find particular figurines for their collections by specifying the types of figurines they want.
2. Lladro Subtypes
Lladro is the name of the company that produces these figures. Included within this company are other smaller companies. The smaller units produce specialised figurines as a part of their own lines. Shoppers who come across Lladro figures with the name NAO should know that these are authentic figures and not off-brand products. Additionally, the name 'Daisa' is included on the bases of some figurines. While this is not another line of figures, it is the name of the company that holds the intellectual property rights to the Lladro figurines.
3. Lladro Sets
While some Lladro figures are sold individually, there are also several sets available. These include multiple figures that share a similar theme and appearance. While some are manufactured at the same time, other sets can be put together by finding figures that were released at different times but share the same theme. For example, there are several policeman figurines that were produced in different years but they can be collected individually and assembled as a set. Shoppers who want their collections to have specific themes should shop for sets.
4. Authenticity of Lladro Figures
Lladro figurines are small and made of porcelain. Thus, to the untrained eye, it can be hard to differentiate between authentic Lladro pieces and those made by other companies. A collector can verify the authenticity of a Lladro figure by checking the logotype on the bottom of the piece. While the logo has changed over the years, the company keeps a record of all of the logotypes used on their figures. In addition to the company's name, the logotype also states the country in which the figurine was manufactured. Authentic figures are made in Spain. If the figure was made in China, then it is not authentic.
5. Limited-Edition Pieces
Just as with other collectibles, Lladro figurines are available as part of limited-editions. These figures are produced in a limited quantity. Unlike open edition and parts of a numbered series, limited-edition Lladro figures do not have a retirement date. Instead, a certain number of figures are produced, and they are sold until all of them are gone. These figures come with a certificate of authenticity to verify their status as limited-edition pieces.
In open edition models, Lladro figures are produced in unlimited quantities. These figures continue to be manufactured until they are retired. The same is true for a numbered series, but these come with a certificate to show where the figurine was produced in the series. Because more figures are produced as part of open editions and numbered series, they are not as valuable as limited-edition Lladro figures.
6. Retired Pieces
Once a Lladro figure has reached its retirement date, it is no longer produced. Once a particular figurine is sold out, the company no longer offers it for sale. If the company has any left, then they are offered in the historical catalogue rather than the current catalogue. Retired Lladro figures can be found and purchased from other collectors and private sellers. They may be boxed or unboxed. Since a retired figure is no longer in production, it is harder to find these items. Shoppers can expect to pay more for these retired pieces. Although they are more expensive, retired pieces make nice additions to any collection.
7. Materials
Shoppers should be wary of Lladro figurines made from a material other than porcelain . Since the company's inception, Lladro figures have been manufactured using only this delicate material. The process for making these figures is actually a well-guarded secret, but they can be easily identified by the original blend of hard-paste porcelain that is used to craft them. The special blend of glaze gives the figures their colourful and unique appearance.
8. Prices for Lladro Figures
When buying Lladro figures, shoppers must consider the prices of the figures. Catalogues and price guides are available to help shoppers determine the values and prices for the figures. These catalogues can be obtained directly from the company or from private sellers. Before purchasing Lladro figures from a private seller, a shopper should research the values of the different figures he or she is interested in. Shoppers can expect to pay more for limited-edition and retired pieces. However, when shopping for a figure that is currently in production, a shopper should know the value of the piece so that the shopper can be sure that he or she is not paying more that is necessary.
9. Condition of the Figures
Shoppers should be sure to examine the condition of a Lladro figure before making a purchase. To ensure a collector assembles a collection of the highest quality figurines, he or she needs to look for figures that are in the best condition. Whether shopping in a shop or online, shoppers should examine each figure for damage. When examining the figure's condition, the shopper should look for any chips or cracks. The surface should be smooth, and no scratches should be visible on the glaze. Additionally, the colours should be bright with minimal signs of fading. The logotype on the bottom should be legible so that the figurine is easily identifiable.
10. Proper Storage
Before buying Lladro figures, shoppers need to be sure that they know how to properly store their collection. Improper storage could damage the figures and thus decrease the value of each piece. Lladro figures should be stored in a cool, dry place away from direct sunlight. A case that protects a figurine from dust and debris is also ideal. Lladro figures that are still in their original packaging should be left in their packaging. If they are removed from the packaging to be put on display, then the possible resale value of the item starts to diminish. A collector who wishes to collect these figures in hopes of seeing an appreciation in the item's value should be sure to store the item carefully, as any damage could affect the figure's resale value..
How to Find Lladro Figures on eBay
If you are looking to add to your collection of Lladro figurines, then you can find thousands of models on eBay. All of the figures listed on eBay are sold by private sellers. This means that you can find a large selection of models that are currently in production as well as retired models. Additionally, limited-edition figures are often available. Because new items are sold and added all the time, the selection is always changing. Being able to search listings effectively is the key to finding the best deals on eBay.
Searching for Lladro Figures
Begin your search for Lladro figures by performing a basic search. Enter keywords to describe the type of Lladro figure that you want. If you know the model number, then this can be beneficial during the initial search. Once the results are returned, refine the listings by selecting different options such as the type, condition, price, and so on. Once the listings have been narrowed down, review the item descriptions and images to find the figures that you want to add to your collection.
Conclusion
Lladro figures are small, handcrafted porcelain figurines that were originally made by hand by three brothers in Spain. The company was founded more than 50 years ago by the brothers, when they began making jugs and plates. The company uses a special mix of clay paste and a specially-formulated glaze to create an appearance unique to Lladro figures that is so coveted amongst figurine collectors.
When shoppers are looking for Lladro figures to add to their collections, they should take the time to learn about the history of the company and carefully choose the figures that they want. With so many figures produced over so many years, it can be hard to narrow down the thousands of options. Additionally, some figures are worth more than others. For this reason, before buying Lladro figures, shoppers should examine the type of item, identify the subtypes, find limited-edition and retired pieces, and evaluate the condition and prices of item listed for sale. To make the shopping process easier, a shopper should consider browsing eBay's extensive listings of Lladro figures.