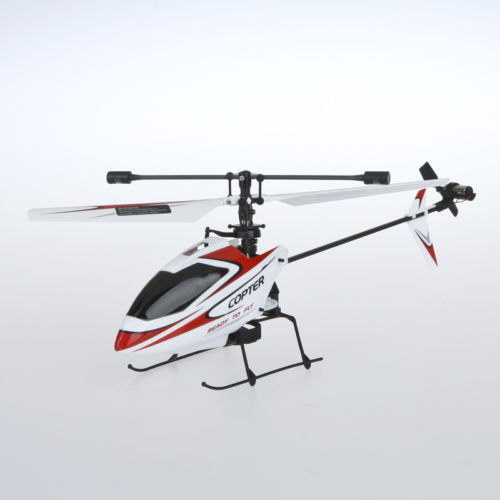 Radio controlled (RC) helicopters are model aircraft that come in different designs and at various difficulties for people to control. Their construction is based around duplicating the appearance of a real life helicopter to reproduce the reality of flying one. Users control them by using joysticks on a remote control transmitter that communicates to a receiver inside the aircraft.
RC helicopters can be found from a limited selection of high street stores and will also be available online. If choosing to buy from the internet then checking out eBay is advisable as there are plenty of second-hand and brand new radio controlled helicopters available within its listings. This guide will look at some tips for buying an affordable RC helicopter model in relation to using eBay.
Types of RC Helicopters
The vast majority of model helicopters on the market for recreational users will be either fuel or electrically powered. There is also high performance gasoline and jet turbine engines that are used to power radio controlled helicopters although these can be on the expensive side for most recreational users.
Fuel (Nitro) - Traditionally, RC helicopter models were powered by Glow Fuel. This is often referred to as nitro fuel in reference to the substance it is partly made from called nitromethane.
Electric - Batteries are required to run these types of helicopter models. Their motors can be categorised as brushed and brushless. In recent years, electric models have started to match the performance of nitro models in terms of their power and ability to stay airborne for long periods.
Below is a table highlighting the advantages of both types of affordable RC helicopter; bear in mind that larger, more powerful models will cost more due to the larger engine or more powerful batteries needed.
Fuel (Nitro) Advantages

Electric Advantages

When the tank is full of fuel, the helicopter is ready to fly immediately.

Refilling the fuel tank is relatively straightforward, whereas electric batteries will need to be charged for up to an hour every time.

They can stay airborne for a longer period than electric models due to their more efficient engine.

Nitro models are more powerful than electric models and the superior engine will provide a more complete flying experience.

Electric models are generally cheaper than fuel powered although some helicopters will need expensive batteries (along with a charger) to run on.

Technical advancements have pushed their performance onto a similar level as nitro helicopters.

They are much quieter and cleaner to use due to the lack of a motor. If fully charged beforehand then they require less equipment to get going whereas nitro models will need a fuel container , fuel pump, and glow igniters.
Sizing
Several sizes have been constructed for fuel helicopters which include 15 class, 30 class, 50 class, 60 class and 90 class. The number relates to the size of the engine, where the size 50 class will have a 0.50 cubic inch engine displacement engine. The 'Thunder Tiger Raptor 50' is an example of this size of radio controlled helicopter.
The blade size will differ depending on the class of the helicopter. A simple guide is that a size 30 class take blades around 1100mm in diameter, a 50 class around 1200mm and the larger 90 class at around 1420mm. Ask for the advice of sellers for more information on the sizes of RC helicopters and whether bigger or smaller models will be suitable.
Tips for Buying a RC Helicopter
When coming to buy a radio controlled helicopter then consider the following 10 tips that can assist with a purchase.
1. Firstly, consider what level you are at in terms of flying experience. Not being able to manoeuvre the helicopter properly will decrease its enjoyment value. It won't be worth spending hundreds of pounds of a model that you cannot fly efficiently.
2. In this respect understand that more manoeuvrable radio controlled helicopters - that is models with higher aerodynamic capabilities or the ability to hover and move backwards - are harder to fly. Use a site such as eBay to buy affordable second-hand helicopters to practice with before advancing to a more established model. The Esky Big Lama is considered to be an easy RC to manoeuvre.
3. Virtual flight simulators are another way of being extra prepared for controlling the helicopter in real life. For beginners, they can reproduce the feel of flying an aircraft and evaluating various models, whilst for more experienced users they can be used for practicing aerobatic manoeuvres.
4. Be wary of additional costs to using the radio controlled helicopter. Bigger and more powerful engines will need additional fuel and high-capacity batteries to run, whilst any necessary maintenance may incur higher repair costs also.
5. Remember also that electric RC helicopters will require batteries that can be purchased upfront and used time and time again, depending on them being recharged suitably when needed. In this sense, it will incur a one off payment for the batteries and chargers. Nitro powered engines may require regular purchases of fuel every time you are running low; in the long run may end up costing a lot, especially if using the helicopter on a regular basis.
6. If thinking of using the helicopter in a residential area then battery-operated models are much quieter than their nitro counterpart. Likewise, some RC vehicle enthusiasts enjoy the thrill of a loud and conspicuous engine when controlling their helicopter.
7. Electric models can be used indoors, mainly in larger rooms or garages, as they don't give off the dirty fumes that fuel radio controlled helicopters do. This can be valuable for those wanting to practice individually away from the view of other people. Some electrical toy models will be useful for this.
8. What is the likelihood of crashing the helicopter? Consider that a lot of nitro models can have certain parts replaced and modified if needed; some electrical helicopters have single circuit board that, if damaged, are irreparable. Complete brand new models will often need to be purchased if this is the case.
9. Buying recognised and professional brands is a safe way of ensuring a quality RC helicopter will be received. These brands can include Syma, Align, Futaba and Walkera amongst others. Take time to evaluate all the different types of helicopter from a selection of sources, preferably other RC helicopter enthusiasts who can provide detailed reviews.
10. If buying on eBay, look out for professional sellers who can offer advice before and also after the helicopter is in your possession. If buying second-hand from a private individual, then be sure to ask as many questions about their experiences with the helicopter as possible to get a first-hand account.
Using eBay to Buy an Affordable RC Helicopter
If choosing to shop online then using eBay is a popular and practical website to utilize as all the radio controlled helicopters will be listed in the same place and can potentially be found at a more affordable rate than other outlets. Buying on eBay will only be beneficial if accustomed with how the site works and also how to use it safely. The following section will look at this.
Buying Considerations
When coming to make the final purchase of the RC helicopters then think about your basic requirements, how often it will be used and who by. Also consider what the helicopter will be used for exactly and at what level. This will give an idea of how much to spend when setting a budget.
Type in "radio controlled helicopter" or just "RC helicopter" into the search bar at the top of the eBay home page and consider the following aspects.
Quality
For more distinguished and serious users, a more efficient and stable helicopter will be needed to cope with the increased usage. In this respect, second-hand listings may not be preferable. Use the preference menu on the left hand side of the page to exclude all the used models. It is also possible to sort the listings so the highest priced helicopters appear at the top of the listings. Likewise, for recreational and sporadic users of the helicopter, then the listings can be sorted by the lowest price items first.
Payment Method
Think about which payment method is most suitable. Paypal is the most widely used and most secure way to pay for items on eBay. Use the Advanced search page to only bring up results that accept Paypal. Alternatively, check what details the seller has provided within the item's description.
Urgency
Consider how quickly the helicopter needs to be delivered. In this respect bidding in an auction that ends in 10 days for one that needs to be used in a week's time is not practicable. Going for a Buy It Now item is more suitable; these results can be selected by clicking on the relative tab at the top of the results page. Also bear in mind the delivery service offered by the seller and the time it will take for payment to clear. It may be possible to ask the seller to speed up the postage service at extra cost.
Conclusion
When coming to buy a radio controlled helicopter then consider the 10 tips as noted in this guide about which type of model to buy and also how to go about making a purchase on eBay. Think of how expensive the model needs to be for what level it will be used at. Shopping around to find the best deal from a selection of stores and online is advised to form an accurate evaluation of the market.