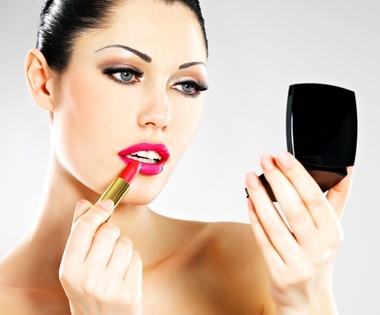 Buying the best lipstick is not always an easy task as there are so many different lipsticks to choose between. As well as different brands to choose from, there are also many different colours and shades to pick between. Some lipsticks offer additional features, such as long lasting effects and extra moisturiser and others will come in handy compact travel sizes that are ideal for carrying around in a handbag.
Some lipsticks have an inbuilt SPF factor that is ideal to use when going on holiday or for people who live in a hot, sunny climate. eBay sells affordable lipsticks made by a variety of well-known make-up brands, and it is easy to browse through the selection of lipsticks in order to find the best one for each individual buyer.
Matching Colours with Outfits
Part of the fun of buying a lipstick is picking out the best colour. For some, the best colour might be a deep red, while for others a light pink might be the ideal hue. It is important to match a lipstick with an outfit as well as there is no point in buying a brand new purple lipstick that will clash with everything in your wardrobe.
Matching colourful lipsticks with outfits is not as easy as it sounds. It will take some time to carefully consider each hue and look carefully to see whether it will clash or match a variety of outfits. Hold them up against each other or better yet, try buying the lipstick first and taking it out shopping to compare it in person with possible new outfits.
Celebrating a Special Occasion
It is common practise to spend a lot of time on a make-up routine when celebrating a special occasion. Anyone marking a birthday, an anniversary or other special event should think about what colour lipstick to wear for the occasion. Not all occasions will require the use of a bright lipstick. For example, if a romantic meal is planned, it might be a good idea to wear a pretty pink lipstick rather than a more sultry deep red that would be better worn on a night out on the town.
Dressed to Impress
As well as spending a lot of time on amake-up routine, many people also like to send a long time finding the best outfit to wear. What lipstick one should wear will partly depend on the occasion and also partly depend on what outfit is being worn. For example, it makes sense to pair a pink dress with a pink lipstick rather than a red lipstick and so on.
Find an outfit then shop for a lipstick to match or vice versa but always remember to ensure that the lipstick will compliment the outfit and not draw attention away from it for all the wrong reasons.
Dining Out
Dinner can be a wonderful time to get dolled up with beautiful make-up and go for a nice meal out. How expensive and posh the restaurant is will affect what outfit one wears as well as what make-up is worn, so try to find out which restaurant is booked before deciding on which outfit and ultimately which lipstick to wear.
| | | |
| --- | --- | --- |
| Occasion | | Additional make-up |
| Romantic dinner out with loved one | Soft hues such as light pinks, browns and reds | Soft colours on the eye, light pink blusher |
| Party time with friends | Wild colours like deep reds, bright purples or eye catching pinks | False eyelashes, smoky dark eye make-up |
| A few drinks out after work with colleagues. | Neutral tones that are a step up in brightness from your usual work lipstick. | Fresh coat of mascara, blusher and eye shadow to wake your face up. |
There are many different reasons why we might celebrate with a meal out and this will affect what make-up routine should be followed. Deep and bright colours are great for fun nights out with friends while more subtle lipsticks might be more appropriate for work events and romantic meals out. eBay sells a variety of good quality lipsticks at affordable prices and is a simple way to shop online.
Party, Party, Party Time
For anyone who loves to party, a good lipstick is always an important part of a make-up bag. A long lasting lipstick is often a good idea for wild party animals who don't want to spend every five minutes worrying about reapplying their make-up. A lipstick sealant or coating is also a good idea for people who like to party, as this will work to hold the colour in place.
When out partying, many of us like to have a drink or two and this will always have an effect on our make-up. Lipstick will come off on the rim of the glass and what remains on the lips can get smeared. The best way around this problem is to make sure the lipstick is applied properly, but also to make sure that a good quality lipstick is purchased. This is simple to do via eBay and all kinds of lipsticks can be found using the search toolbar at the top of the page.
Matching Hair Colour
It is important that a good lipstick works with the colour of the wearer's hair. Pink lipstick works well with blonde hair, while dark reds look great on people with black hair. There are no hard and fast rules when it comes to matching a hair colour with a lipstick colour and often it is simply a case of using some common sense.
Matching Skin Tone
Skin tone plays a huge part in what lipstick should be worn.
Women with a pale complexion look great nude colours, pinks and cheery reds.
Women with a medium, olive complexion should wear colours such as reds, browns and pinks.
Women with dark skin should stick to deep hues like dark browns and intense reds.
Again, there are no hard and fast rules on the dos and don'ts of matching lipsticks with skin tones but the above usually work well as a general rule of thumb.
Finding the Best Lip Liner
When buying the best lipstick, it is really important to pair it up with a good lip liner. A lip liner will stop the colour of the lipstick from bleeding out of the desired lines and this is important for anyone looking to create a sharp look with their lipstick. A good lip liner will not smear or smudge and will be easy to apply. It should match the shade of the lipstick as perfectly as possible or be one shade away. Often, the easiest way to match a lipstick with a lip liner is to buy both from the same brand.
Experimenting with Colour
As there are no hard and fast rules when it comes to make-up, it is always partly down to personal taste and style, never be afraid to experiment with some colour. People with thick lips should wear lighter colours while those with thinner lips should wear deeper colours. There are plenty of different shades to choose between on the eBay website.
For example, anyone shopping for a pink lipstick will still need to decide whether they want to buy alight pink, a dark pink or a rose pink colour. The same goes for anyone who has decided that they want to buy a red lipstick as there aredark reds, deep reds and light reds to choose between. eBay sells all of these shades and a lot more and it is even possible to buy lipstick kits that contain a mixture of colourful choices.
Where you are going for your might out will affect which colour you should wear and the more exciting the night is, the more daring the colour can be.
How to Buy Lipstick for a Night Out on eBay
Shopping on eBay is easy for online shoppers looking for an affordable deal on millions of products including lipsticks and other types of make-up. Once you are successfully logged into the eBay website, you can take your cursor and click on the drop down menu where it says 'Shop by Category'. A list of sub-categories will then come up and you should choose the appropriate sub category such as Health and Beauty in order to move onto the next step. From here, you simply need to find the section that reads lipsticks and then you can narrow down your search options by using the toolbar to type in accompanying descriptive words such as pink or long lasting.
This toolbar can also be used from the beginning of the process if you know what specific product you are shopping for. For example, you can type inMac lipstick or Rimmel lipstick and you will be given a list of these exact lipsticks rather than a broader, less specific list.
For more in-depth information on how to use eBay to shop online, go to the Search Tips page to find out more.
Conclusion
Shopping on eBay is a great way to shop for all kinds of make-up products from lip liners to the best lipsticks. What type of night out is going to be enjoyed will affect what colour lipstick to wear. If a meal with work colleagues is planned, then a subtle, sophisticated tone might be more suitable whereas if a crazy party night out on the town such as a hen party is planned, then a bright pink hue or deep red might be more appropriate.