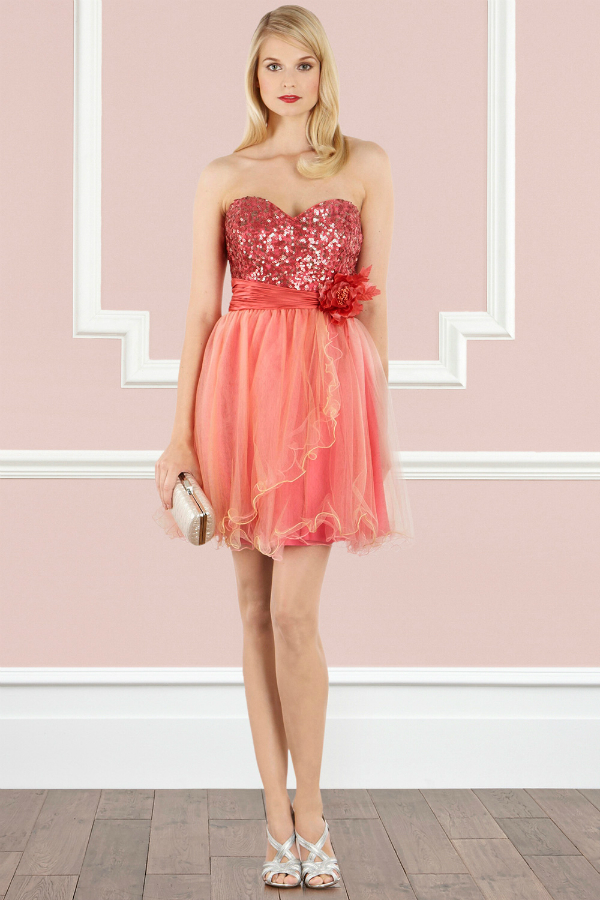 Finding the right party dress for an evening out can be a tall order of business. Once found, a party dress can be the centre of a truly compelling ensemble. Creating that ensemble, however, and getting a well-put together party dress look can involve a lot of intricacies and attention to subtle detail. A woman needs to find the right accessories and touches and assemble them in just the right way to create an effective, overall party style.
This guide offers suggestions to women on how one can style a party dress in order to put together an ideal ensemble. The guide also takes a look at specific accessory choices, makeup, and shoe choices that can make a party dress work really well. Additionally, the guide discusses the purchasing options available for party dresses and looks into how one can buy party dresses as well as accessories online at online auction sites such as eBay.
Tip 1: Create an Either/Or Scenario When Styling a Party Dress
When putting together a party dress look, women should avoid having too many points of interest in the ensemble. A dress with a good deal of design detail, for example, should not be paired with a large pair of earrings or shoes that also feature excessive design elements. Women should choose one area of focus and then use the rest of the elements in the outfit to supplement or complement that central detail.
A dress with a large ruffle detail, say, should be worn with small earrings that pull out a specific color in the dress. Likewise, very ornate earrings can be used as the focal point in a pairing with a very simple party dress. In this way, a woman achieves an overall balance and exudes an even-handed and elegant sense of style.
Tip 2: Makeup Choices as an Accessory Item
When applying makeup to go with a party dress, a woman might want to consider it as a key part of the ensemble. Just as with wearing jewellery or selecting a pair of shoes, the makeup choices should reflect an overall sense of balance and carefully placed accents. A strong lip, for example, in a deep red can act as an accessory item. On the other side of the spectrum, very dramatic eyes with a more subtle lip look can be another way to create an overall effect.
Tip 3: Let the Party Dress Step Aside for a Bold Necklace
As mentioned earlier, the party dress does not always need to be the centre of attention in an ensemble. A particularly dramatic choice is to find a bold necklace that acts as the focus and then pick an elegant, strapless dress that complements the necklace but does not get in its way. This can be a great look for women who like to show their shoulders, and it can be a wonderful choice for accentuating a beautiful decolletage.
Tip 4: Make a Clutch the Jewellery Item in a Party Dress Look
Gem notes in a party dress look do not always need to come from actual jewellery. A beaded or detailed clutch can function as a jewellery item much in the same way a necklace or bracelet might. Women can also consider pairing an ornate clutch with a banded bracelet worn on the arm carrying the clutch, and then leverage a minimal look in the rest of the outfit. If a woman tries this look, she should not also wear a large, jewelled necklace or oversized earrings and should instead let the clutch and bracelet make the statement.
Tip 5: Consider Body Type When Styling a Party Dress
The focal points discussed already in this guide can be an effective way for a woman to draw attention to her favourite parts of the body. If she is particularly proud of her hands, for example, she might like to wear a large, costume ring to accentuate her lithe fingers. Accessories can also be used to distract from unfavored parts of the body. In this category, a woman might try a shawl or shrug to distract the eyes from her hips if she is self-conscious about them. Another example might be a woman leveraging a wide belt to distract attention from a very large bust. There are many ways in which women can use accessories and styling to either flatter or balance out her figure.
Tip 6: Don't Eschew Gloves
While not as ubiquitous as they once wore, fancy dress gloves can still work as an effective part of a party dress. For very formal affairs, they are a more obvious choice and can add just the right amount of refinement to a long evening gown. Gloves can also work, however, at more casual events. They can be used as a unique accent with a retro look, for example, while gloves that end at the wrist can accentuate the controlled lines of an elegant pencil-style dress. Women should experiment and see what one-of-a-kind moments they can create with the right pair of dress gloves.
Tip 7: Avoid Being Too "Matchy-Matchy"
Compiling a look should never be about matching all the colours in an ensemble. A solid, red purse, for example, should never be worn with solid, red pumps anymore. Instead, woman should focus on contrasting, or using each accessory to hit a different note in a look. Matching the purse to the shoes to the lipstick can leave a woman looking as if she just stepped out of the 1950s or as if she is wearing a costume. Again, the idea should be to create an overall, balanced effect with different colours and energies working as a cohesive whole.
Tip 8: Always Consider Proportion
Considering proportion in a party look is always essential. Volumes of material, for example, can only work on a few body types, while minimal looks are also restricted to just a few. Small women should stay away from oversized dresses and big, heavily accessorised looks. Likewise, tall women should stay away from micro minis and small accessories. A petite woman should enjoy being able to accentuate her delicacy, while a tall woman should get a kick out of pulling off, say, a large pair of earrings. Women who are full-figured should concentrate on creating a proportioned, hourglass silhouette and should not use a lot of fabric and a big look to hide behind. Instead, zaftig women should look for fitted and structured waists or even leverage a belt to create an hourglass effect. Again, creating an overall balance is the key.
Tip 9: Undergarments Should Stay Under
While it has become common and accepted for undergarments to show to a degree in a woman's outfit, letting this happen in an evening or party look does not work. Women should find undergarments and even shapewear that work perfectly with a dress and do not show or peek out. A suspender belt should not be used as an accessory and shown at the thigh. All of these undergarment solutions should be levied in support of the dress and stay well-hidden from view. More importantly, they should be considered as essential to helping a woman feel put together and able to pull off any type of dress.
Tip 10: Put Aside the Headgear
The right fascinator or hat can be a great touch at certain events, but by and large, women dressing for a party should allow their faces and hair to shine through clear and true. Small, jewelled barrettes can be considered, for example, but evening is about allowing a woman herself to be a real standout. Hiding behind an ornate hat or headpiece will only detract from her own statement as a woman and leave her being an accessory to her own hat.
Buying Party Dresses and Accessories on eBay
While some party dresses and accessories can be found at offline retailers, the the online auction site, eBay, is among the larger resources for any of these items. On eBay, women can peruse countless listings for any of the items discussed in this guide. Party dresses of any style, colour, and silhouette can be found on the site, along with the jewellery and accessories a look needs to succeed.
Searching for Party Dresses and Accessories on eBay
To begin a search for any part of a party dress ensemble on eBay, you can start by running a search for a term in the search bar at the top of any page on the site. You can keep terms general to get an overall idea of what is available, or use very specific search criteria to narrow a search.
Remember, it is always important on eBay to familiarize yourself with the sellers. Take a look through their past auctions and review the feedback they have received from other customers.
Conclusion
Putting together a tasteful and appealing party dress ensemble can be achieved by any woman by adhering to a few simple tips. Assessing her own build, leveraging accessories wisely, and considering proportion and balance when creating a look can help a woman put together an evening or party look that is truly compelling and flattering. She can also look into unique approaches to accessories and rethink traditional ways of styling a party dress.
Any of the items needed to do this, including the dress itself, jewellery, hats, gloves, and more can be found in large quantities on online auction sites such as eBay. Vintage items as well as the new trends in party dresses are available, allowing a woman to search for any one of numerous party styles. At the website, women can peruse countless fashion auction listings and gain access to any item they need to get themselves looking great for a party.