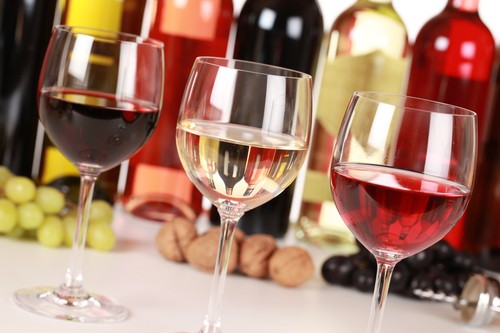 Wine tasting is a great excuse to get out of the city to enjoy fine food and drink. Many wineries also host events in the evenings such as live music and dancing. Visitors planning to spend a long weekend wine tasting should be prepared to pack certain items to ensure the best possible experience.
Suitable clothing should be at the top of the list. Casual dress is acceptable for most wineries, so it is not necessary to pack evening wear, unless there is a special event. It is also important to bring sunglasses and sunscreen to guard against harmful UV rays whilst outdoors. For a long weekend, consider bringing along a selection of cheese and other foods, together with a blanket for picnics. A cool box is useful for the storing food and is also a great way to bring back any special cheeses that are purchased. A wine carrier or box should be available to carry any bottles of wine. This makes the wine easy to transport and saves breakages during transit. Bring a digital camera or a good quality camera phone to capture memories of the trip, and remember to pack entertainment like books, music, and portable electronics.
Items to pack for a long weekend wine tasting can be purchased from department stores, grocery shops, and other bricks and mortar retailers. They can also be purchased online from marketplaces like eBay, which has a wide selection of products.
Preparing for a Long Weekend Wine Tasting
Nothing can spoil the fun of a long weekend wine tasting faster than not being prepared with the necessary items. Spend some time gathering the items so that they can be packed and unpacked quickly, leaving plenty of time to enjoy the trip. Try to travel light so that there is plenty of room to bring back some wine from the trip.
Item 1: Clothing
One of the most important things to pack for a wine tasting trip is clothing. Casual dress is acceptable for most wineries, although it is important to still look presentable. Khaki shorts,sandals,polo shirts, and sundresses are fine provided they are stylish. Women may also choose to opt for wedges rather than heels to avoid sinking into the soft ground of a vineyard.
Item 2: Sunglasses
Many wineries offer tours of their vineyards and facilities. Visitors may be exposed to the sun during their visits, especially if the tour is followed by outdoor entertainment. Guard against harmful UV rays by bringing appropriateeyewear. Sunglasses with full UV protection not only protect eyes from damage, but also allow greater visibility.
Item 3: Sunscreen
Protect skin from the harmful effects of the sun by applying a good quality sunscreen. Be aware that some for these products contain chemicals and other substances that can be harmful, so look for sunscreen that is free of oxybenzone and retinyl palmitate for safe use. It is also preferable to use creams instead of sprays.
Item 4: Toiletries and Medical Supplies
Bring only the essential toiletry items. It is also worth packing indigestion and travel sickness tablets. Rich food and wine may be a challenge to the digestive system, and a long trip in a car winding through hillsides, can be problematic for some passengers. Remember to bring along any medication or vitamins that are taken regularly.
Item 5: Food
Many wineries offer snacks and appetisers and some have a full service restaurant. Although it can be great to enjoy the food at a winery, if dietary requirements or a tight budget are of concern, then it may be wise to pack some food. This is also a good option to make the journey to and from the winery an enjoyable part of the long weekend. Select a bottle of wine and stop for a picnic on the way home.
Item 6: Cool Box
Keep food for picnics fresh during the journey with a cool box. Even if no food is taken, it is still useful to have an cool box as many wineries sell cheese as a complement to the wine. The winery may be able to provide the ice, otherwise, make sure the box is prepared at home.
Item 7: Wine Carrier or Box
Chances are high that visitors leave the wine tasting with a few bottles of their favourite wines. Be prepared for this by picking up an empty box from the local off-license or purchase a specially designed wine carrier. This helps to prevent damage to the bottles and makes it easier to carry multiple items at the same time.
Item 8: Blanket
Evenings spent outdoors enjoying live music or other activities can expose visitors to the elements. Consider bringing a blanket to cover up with while enjoying a show. A large blanket can also be useful to lay out for a picnic.
Item 9: Camera
The beautiful scenery, unique architecture, and memorable events visitors experience during a long weekend wine tasting provide great photo opportunities. Remember the time spent with friends and family on a trip by packing adigital camera or a smartphone with a good quality built-in camera. Remember to bring a charger or spare batteries.
Item 10: Music
If the journey to the winery is by car, it could be a long trip of three or four hours, so it is worth bringing along some music to enjoy on the way. BringCDs to play or an MP3 player, which is also useful if travelling to the wine tasting by train.
Item 11: Books and Other Entertainment
There are bound to be moments during the weekend when it is desirable to take a break from the wine tasting to relax with a book or other form of entertainment. Consider bringing books in physical form or on an e-reader. Tablets are also a lightweight and versatile option for entertainment, allowing users to browse the Internet and enjoy digital media. Handheld gaming systems can be a great way to relax between winery visits. Products like the PS Vita can even perform many of the same functions as a tablet, including video and music playback. Bring earbuds or headphones to keep games and videos from distracting other members of the group.
How to Buy Items to Pack for Long Weekend Wine Tasting on eBay
A wide selection of items for a long weekend wine tasting can be purchased from the sellers on eBay. These items can be found by entering keywords into the search field on the home page. For example, enter " cool box" to see all of the items tagged with those terms. You may refine listings in the search results by introducing new keywords. It is possible to refine the listing by clicking on category links.
Review Item Listings
Review item listings to feel confident in your purchase. Look for the price of the item as well as any associated delivery charges. It is also useful to check the forms of payment accepted by the seller to ensure a smooth transaction. Read the description provided by the seller, and compare it with the photographs to be clear on the specific product being sold.
Seller Feedback Ratings
Once you have located desirable items on eBay, take a moment to inspect the seller's profile. The feedback rating indicates the percentage of buyers in the past 12 months that have had a positive experience with the seller. Compare this information with the number of completed transactions to find experienced and reliable sellers. You may also inspect average ratings based on key aspects of the seller's performance, such as the accuracy of item descriptions. Read comments left by past buyers for detailed information about previous transactions. Leave your own feedback once you have received your items to inform future buyers about your experience.
Conclusion
A long weekend wine tasting is a great excuse to venture out into the countryside. There are several things that should be packed to ensure an enjoyable experience. Take nice casual clothing like khaki shorts, polo shirts, sundresses, and sandals. A pair of sunglasses with 100 percent UV protection and sunscreen are valuable to use while outdoors. Remember to take essential toiletries and medication.
Food can be carried for stopping off for a picnic on the way to the wine tasting or on the way home. It is also a good way to save money on the trip. Bring a cool box for storing food and any cheeses that are purchased after the wine tasting. Protect any newly purchased bottles of wine with a wine carrier or box. Pack books, music, and portable electronics for entertainment between wine tastings. Tablets are a lightweight way to access digital media and the Internet.
Marketplaces like eBay have listings for a wide selection of products for a long weekend wine tasting. Start a checklist a week or so before setting off to remember which items are required. With proper preparation, a long weekend wine tasting can be a relaxing experience.