There seems to be a great deal of confusion regarding the mule error 2008 Queen Elizabeth twenty pence piece hopefully this short guide will help ebay buyers in their quest to obtain this rare coin.
Firstly and most importantly to be classed as an error coin no date should be visable on either side of the coin please see picture below which shows a true error coin.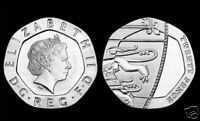 Picture of error 2008 20 pence piece
I have seen coins listed here on ebay offering dateless coins some sellers are confused as the old 20 pence pieces were dated on the tails side with the head side being dateless.
Rather than write a large guide explaining the technical details I have uploaded the picture above if your looking to place a bid please make sure the seller has a clear picture of the error coin similar to the one above!
I wish you luck in your quest I only have one but will keep checking my change.
Enjoy your ebaying
goldsilvermint