Panasonic DECT cordless phones are the nicest around - this quick guide covers the very latest models.
DST are the acknowledged Panasonic DECT experts
Panasonic
All new expanded range for 2013. All take up to 6 handsets, all are repeater compatible

KX-TG6761 Long Range Pack, Single phone with answering machine and a great 405 series repeater, you can add more than one repeater if your home is really big (or warehouse) and you can add extra 671 handsets to make a system up to 6
BEST Value vs spec is the KXTG8061 (single to six pack) colour screen, call blocking, message counter on BASE also listen to messages on base or handset. Black OR white OR mixed - yes mixed. DST can do a set with any mixture of handsets so you can have white in the bedroom and kitchen and black in the study and lounge.
KX-TG2511ET (2512 / 2513) Is the entry level model RRP £25 for the single and has a illuminated 1.4 inch dot matrix display not segment, is illuminated, wall mountable and has a eco mode to save the planet. Speakerphone, caller ID and 50 name phone book complet the spec. This IS repeater compatible RTX / Panasonic
KX-TG6711 Replaces the 6611 the old entry level phone and RRP is £29.99, it betters the 2511 with larger 1.8" LCD, semi rubberised grippy body, 100 name phone book and a ringer LED on the handset. Repeater compatible it has a great clear screen and top multi purpose button to answer calls
KX-TG6721 (22 / 23 / 24) Replaces 6621 RRP £39.99 as above but has a 20 minute answering machine with remote access, call barring block up to 30 numbers from calling you,
KX-TG8561EB (62 / 63 / 64) Top of the range and a lovely phone at £69.99, Finally a shared phone book means you don't have to input your contacts into each and every handset, put it in one handset and its in all handsets. Talking caller ID! means if Uncle Fred is in the phone book and he calls it will shout out Uncle Fred calling if you have caller ID (can be switched off) add a massive 2 inch colour LCD and clearsound DECT technology for a better call quality.
Otherwise spec is the same as above in grey / black HEADSET SOCKET
Current models still on sale are the
KX-TG6461 with wired handset on base another great home office phone
KX-TG6481 rugged drip and dust resistant handset for tough use (Headset socket)
------------------------------------------------------------------------------------------
Small business ? The Siemens N300IP with any handset can make three calls simultaneously - one BT line and two on sip / VoIP obviously you need 3 handsets to do this !! Great way to expand your business at low cost
The Gigaset DX800A is a wired phone with IP and a DECT base meaning you can register cordless handsets to it, so you can make calls on your landline and on your IP line at the same time if you have extra handsets.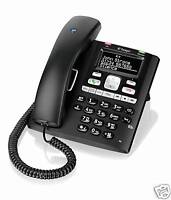 We have to mention the BT Paragon 650 office / home hi spec answering machine - massive spec desk phone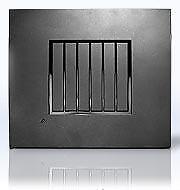 RTX 4002 Repeater boosts the range of MOST DECT Phones (check before buying)