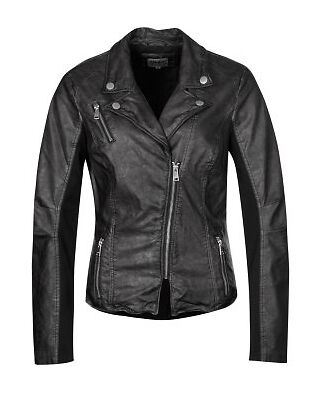 Leather biker jackets are a popular trend among men of all ages and many people choose to wear one of the iconic designs that made history throughout the twentieth century. Motorbike jackets have been originally designed to protect motorcycle riders in the event of an accident, but they soon became authentic fashion items. A leather jacket in an iconic style makes a great purchase and it is a perfect way to add a touch of glam-rock to any wardrobe.
Men can choose from a wide variety of motorbike jackets in numerous styles and sizes. Iconic styles range from the famous 'Eagle' style made famous by Marlon Brando to the white jacket with a scorpion pattern on the back worn by Ryan Gosling in 'Drive'. Regardless of the type of motorbike jacket one is looking to buy, learning more about the history of the style and how to buy such a jacket can help buyers make an excellent choice every time.
Iconic Style 1: Marlon Brando Motorbike Leather Jacket
The leather jacket worn by Marlon Brando, alias Johnny Strabler, in 'The Wild One' as become an iconic style and it was made even more famous by the likes of Bruce Springsteen, James Dean, and other American stars. The original maker of the jacket was Schott, NYC, which was actually the first company to put zippers on leather jackets. Nowadays one can see this motorbike jacket on bikers and punks everywhere in the world, but buying a good product in this style can sometimes be difficult.
There are numerous reproductions of the Marlon Brando motorbike jacket, but the good news is that Schott continues to make this model. Thus, if buyers are willing to pay a rather considerable amount of money for an identical jacket in this iconic style, going for the original would be a good idea. Those who are looking for a less expensive option can settle for a reproduction, which usually looks about the same as the original. Buyers can find a Marlon Brando leather jacket either in specialised stores or on websites such as eBay. When shopping for such a motorbike jacket, one should pay attention to several things, including the quality of leather, lining, size and more.
In the majority of cases, Marlon Brando motorbike jackets are made from real leather, but they can also be found in synthetic leather, so buyers should be careful about this particular aspect when making a purchase. Mesh textile jackets are also available and they are quite popular because this material is very easy to maintain. However, one of the best choices for this iconic style is lambskin leather, which is soft and durable at the same time. In order to make sure a reproduction jacket bears a striking resemblance to the original made famous by Marlon Brando, buyers should study the design carefully and make sure that most of the essential characteristics are present. For example, they should make sure the zipper is an asymmetric one and the jacket is not too long or too short. The buckled belt is also an essential element to consider.
Iconic Style 2: Fight Club Leather Motorbike Jacket
Brad Pitt is known for being a fashion trendsetter, but nothing that he has worn in his entire career became as famous as the motorbike leather jacket he sported in 'Fight Club'. His character, Tyler, is a rebellious guy with a rugged look and the leather jack is an essential part of his attire throughout the movie. Unlike other iconic jackets at Hollywood, this is made from red leather and the colour lingers in the memory of the viewer long after the ending of the movie.
The neat fit and stylish cut of the jacket made Pitt look sexy and unforgettable at the same time. Jacket designers had to deal with an entirely new dimension after 'Fight Club', mostly because of the prominent white stitching that quickly became a trend on its own. The jacket has four front buttons and two flapped pockets on the waistline. Besides the red lather as a basic material, a refreshing yet exquisite effect was obtained by the vintage look of the jacket. The jacket worn by Pitt was actually a vintage piece and it is nowadays a must have for any serious Brad Pitt fan.
There are numerous replicas of the Fight Club leather jacket available on websites such as eBay and buyers should pay attention to the quality of the leather as well as to how well the original design was reproduced. Those interested in buying such a piece of evergreen apparel should also pay attention to the shade of red leather used in order to be sure the item they buy is very similar to the original.
Iconic Style 3: Triumph James Dean Leather Motorbike Jacket
Triumph is a clothing company with a history of over a century and was made famous in the mid-twentieth century by James Dean. The actor was wearing Triumph jackets because he actually liked them, not as simple props for movies, and this contributed to the items becoming iconic pieces of clothing. Dean owned two Triumph jackets, which he customised in order to create his own look.
Buyers who are interested in obtaining the James Dean rebellious look can opt for a Triumph James Dean leather motorcycle jacket, which is inspired by the jackets owned by Dean. The original jacket features a detachable vest liner, waist connection zipper, side adjustment zipper, and shoulder and elbow protectors. The straight fitting style of the jacket inspired numerous replicas, so buyers who are on a budget may opt for a reproduction. These are available in specialised shops as well as on websites such as eBay. Buyers should pay attention to the design and quality of the jacket if opting for a replica in order to make sure they obtain an authentic James Dean effect when wearing it.
How to Buy a Men's Motorbike Jacket in the Right Size
In order to buy a motorbike jacket in the right size, buyers should not rely on the usual size they have for T-shirts or jumpers. Taking accurate measurements is the only way to make sure the new jacket is a good fit. To measure, one should use a use a standard tape measure and wrap it across the chest. Measurements for the waist and sleeves and shoulders are also necessary. The table below may be of help when deciding which size to buy.
| Size | Chest (cm) | Waist (cm) | Sleeve (cm) | Shoulders (cm) | Length (cm) |
| --- | --- | --- | --- | --- | --- |
| XS | 99 | 88 | 65 | 42.5 | 64 |
| S | 103 | 92 | 66 | 43.5 | 65 |
| M | 107 | 96 | 67 | 44.5 | 66 |
| L | 111 | 100 | 68 | 45.5 | 67 |
| XL | 115 | 104 | 69 | 46.5 | 68 |
| XXL | 121 | 110 | 69 | 47.5 | 68 |
| XXXL | 127 | 116 | 69 | 48.5 | 69 |
Buyers should keep in mind that sizing may differ greatly from one manufacturer to another, so it is important to check out the sizing information provided by the seller before making a purchase. A men's motorbike jacket should not be too tight, but not too loose either, in order to look good. Iconic leather jackets have specific lengths, so buyers should make sure the length of the jacket is suitable for their height.
How to Find Iconic Motorbike Jackets on eBay
Buying an iconic motorbike jacket may not be as simple as it may seem at first sight, particularly when it comes to replicas. There are several things one should take into account when shopping for such a jacket and one of the basic rules is to compare at least a few models before making a decision. eBay is the right place to do so because it offers a large number of iconic styles for men's motorbike jackets from a variety of sellers.
It is quite easy to start shopping for iconic styles for men's motorbike jackets on eBay. All you need to do is type the name of the jacket you are looking for, for example 'Fight Club motorbike jacket' and then have a look at the several pages of results you get. In order to make the search quicker, you can opt to narrow down the results according to size, colour, or seller location.
Conclusion
Motorbike jackets inspired by movies are an evergreen trend and buyers often choose to wear such a design because they are fans of a certain movie or decade. Whether buyers are looking for a James Dean or Brad Pitt iconic men's motorbike jacket, they can make a statement wearing such a jacket. Buyers can choose to buy iconic jackets from the original manufacturer where possible, or choose to buy replicas, if on a budget. Most reproductions are quite faithful and they are often available from various sellers.
eBay is one of the best places to shop for iconic styles for men's motorbike jackets because of the large selection available on the website. The search system on eBay is very easy to use, which makes the search a very simple process. Regardless of the style buyers are looking for, chances are they can find both original and replica jackets on eBay.