Knee high boots are extremely versatile and complement a number of styles. They are stylish and attractive and appropriate for wear in either the winter or the summer, although waiting for the sun to go down is best in the summer heat. Whether the boots are leather, suede, canvas, or some other material, knee high boots flatter a woman's legs and accentuate her curves. Many attractive outfits are even more eye-catching when paired with a stylish pair of boots.
1. Wear Knee High Boots with Leggings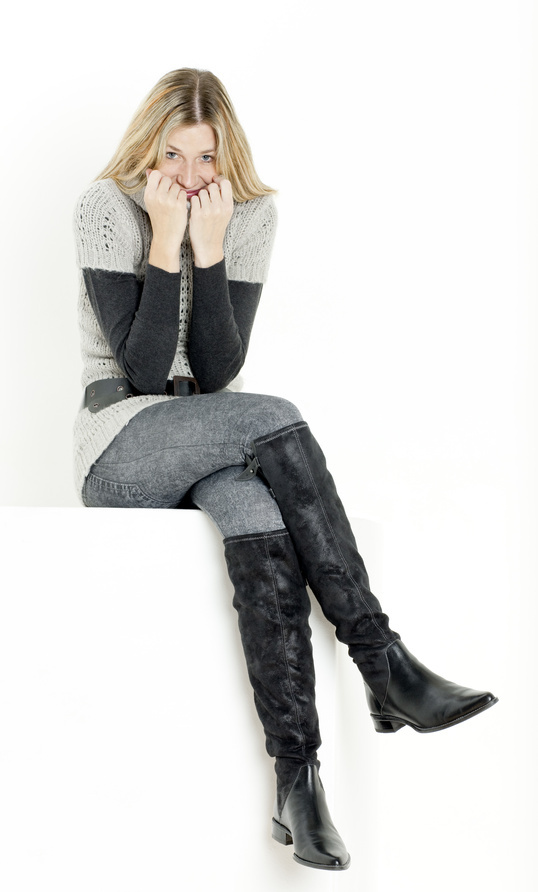 Many women avoid leggings because the tight, stretchy trousers show off every dimple, bump, and curve of the legs and buttocks. Only women who are completely comfortable with their bodies tend to feel comfortable in leggings. However, pairing leggings up with some casual knee high boots and a long top, allows women to show off their legs without exposing their problem areas. The loose top covers the rear and the tops of the thighs, and the boots cover the calves and add curves. Leggings are rather casual in nature so matching them with fancy lace-up boots and formal tops may not work.
2. Wear Knee High Boots with Shorts or Mini Skirts

Knee high boots are not just for winter, and women can show off their fun and flirty side by pairing up boots with shorts and mini skirts. The boots make the legs appear longer, and only the knees peek out. It is a great way to enjoy the warmer months and still hide problem calves. To add colour, opaque knee high socks can peek over the tops of the boots. Although knee high boots are not as formal as stilettos, women can still get away with wearing them to semi-formal and professional events. Putting them on with a skirt completely hides the legs from view, keeps the legs warm, and creates a sophisticated appearance that gets noticed. Boots with heels in rich materials like leather make the best impression.
3. Wear Knee High Boots with Patterned Clothing
Because knee high boots typically come in solid colours, they often serve as the anchor of an outfit. As fun as patterns and bright colours are to wear, a woman can only get away with so much before the look becomes overwhelming. Knee high boots are a great way to balance a 'busy' outfit and add some stability and balance to the overall look.