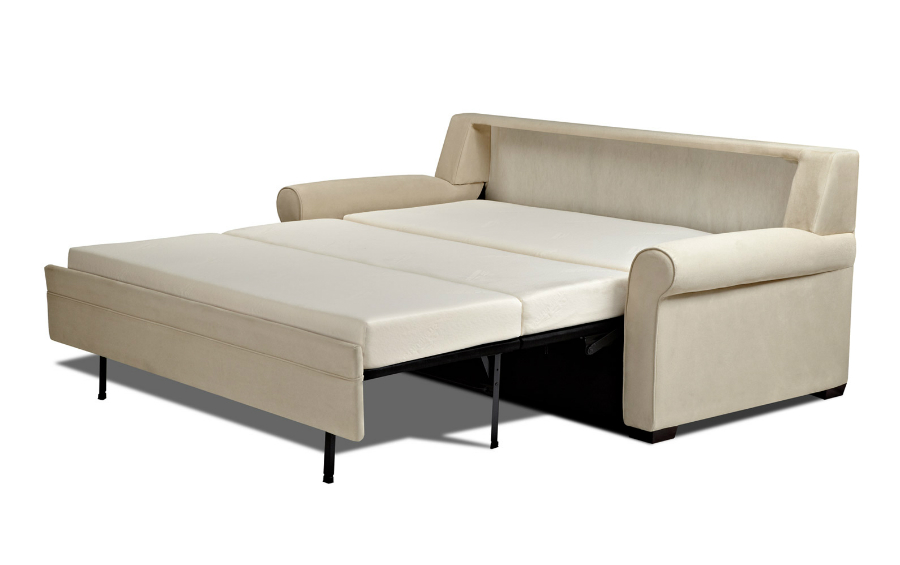 Sleeper sofas, often called sofa beds, are a kind of sofa that can be unfolded into a bed. These are highly convenient options both for those who are very short on space, as well as those looking for a guest bed that is space effective, and can serve other purposes when not in use. Sleeper sofas are an option, offering a wide range of features, including different sizes, styles and materials. A key feature of a sleeper sofa is its folding mechanism, which allows the sofa to fold out into a bed, and back into a sofa.
Leather is a popular choice of material for all kinds of furniture, including sofa beds and traditional sofas, and offers an attractive appearance and texture, as well as a reliable durability. A wide variety of sofa beds and other furniture, which include many different features and styles, can be found on eBay.
A Range of Different Sizes
There is a wide range of different sizes available in regards to sofa beds. There are two key size specifications to consider when preparing to purchase a sofa bed.
Bed Sizes
The bed size offered by a sofa bed refers to the size of the bed which folds out of the sofa. There are a number of bed sizes available that can be commonly found in a sofa bed.
| | |
| --- | --- |
| Single | Single beds measure at 36" by 75", or 3 by 6.25 feet. These beds can only accommodate one person comfortably. They can be useful as a guest bed, and as they often fold up into a smaller sofa, or even armchair, they take up little space when folded up. |
| Queen | Queen sized beds are 48" by 75", or 4 by 6.25 feet. These beds are slightly smaller than a double bed, and are often referred to as a small double, or three quarter bed. These beds offer additional room than a single bed, while still being able to fit into a small sofa. A queen-sized bed may be able to fit two people, and is well suited to a lone sleeper who prefers to stretch out while they sleep. |
| Double | The standard double bed is a popular choice for couples that share, as well as those who sleep alone and enjoy their space. Double beds measure at 54" by 75", or 4.5 by 6.5 feet, and many people find the additional width on these beds to provide a great deal of comfort. |
| King | King size beds measure at 60" by 78", or 5 by 6.5 feet, and are a popular size of bed. They can offer a great deal of room, and provide couples with extra space to spread out. However, they take up a great deal of space, and sheets and duvets to fit can be more expensive than other sizes. |
| Super King | Super king size sofa beds are unusual, but are available. Super king beds measure at 72" x 78", or 6 by 6.5 feet. Super king beds make a great choice for couples who prefer to have extra space when sleeping, as well as those who share their beds with their children, or even with pets. However, super king sized beds take up a lot of space, and super king size duvets and sheets can be harder to obtain and more expensive than those for smaller sizes. |
To Seat
· Sofas are available to seat different numbers of people, and can range from smaller sofas for up to 2 people, to those which can comfortably seat more than 4 people .
· Some of the largest sofas may be corner units, which are large sofas, designed to fit into a corner, and are often composed of a number of separate units. The largest bed sizes may also fold out of these corner unit sofas.
· The smallest sofa beds, meanwhile, may fold up into a single chair, which takes up little space and can be a convenient choice for those who need a compact sofa bed.
Frame Materials
Leather is a popular choice of covering material for all types of soft furnishings, including sofa beds, beds and sofas. Leather is a durable, long lasting material, which is often chosen for its appearance and texture.
· Leather can, however, be difficult to clean, and leather furniture is often more expensive than those made with other materials.
· Also available is faux leather. Faux leather is designed to offer a similar feel and appearance to real leather, but at a reduced price. Faux leather is also often easier to clean than real leather.
Leather is frequently used with either wood or metal, which can serve as the frame of the sofa bed. It is not uncommon in sofa beds for the sofa to be made of wood, while the folding mechanism and the bed itself to be made of metal.
| | |
| --- | --- |
| Metal | Leather sofa beds often feature metal making up the underlying structure. Metal of different types is often used, and can also form the sofa legs and other details, as well as the bed itself. Metal is often cheaper than wood, and is durable and long lasting. |
| Wood | Wood sofa beds often include leather coverings. Wood is often a more expensive material than metal, and is often considered desirable due to its appearance. A good quality wooden sofa can last for a great deal of time. While many leather sofas feature wood, the folding mechanism and the bed itself are often still made out of metal. |
A Selection of Mattress Types
There are a few key types of mattress available, which are commonly found in sofa beds. Many sofa beds will only be suitable for the mattresses they arrive with, as it has to fit into the folding mechanism.
| | |
| --- | --- |
| Open Spring | Open spring mattresses are often less expensive than other types of mattress, and are widely available. The weight of the person is distributed across a large number of springs. The springs in these mattresses can wear out faster than those in other types of mattress, and, if sharing, the movements of a person are transmitted across the bed and can disturb their partner. |
| Pocket Sprung | Pocket sprung mattresses are similar to open spring, in that they use springs to spread out the weight of the person. In a pocket sprung mattress, each spring is divided into a separate fabric pocket, which helps the springs to last long. In this type of mattress, the springs individually absorb weight, meaning that if sharing a person is less likely to disturb their partner with their movements. |
| Memory Foam | Memory foam mattresses are a more recently developed type of mattress. Heat sensitive foam is used, which moulds to the persons shape as they sleep. These mattresses can be good for the persons back, and are often considered to be among the most comfortable. However, this type of mattress can be more expensive than other types and sofa beds, which use this material, are somewhat unusual, and can be difficult to obtain. |
Many Different Styles and Patterns
· Sofa beds are available in a range of different styles, and featuring a variety of patterns.
· The specific style of a sofa bed is often down to the personal taste of the buyer, and many prefer to match the style of the sofa bed to that of the room it is to be put in.
· Styles can range greatly from the sleek and minimalistic contemporary, to vintage and antique designs.
· Many different patterns are also available, including popular choices such as solid colours and animal prints.
How to Buy a Leather Sleeper Sofa on eBay
All kinds of sofa bed, featuring different styles and materials, can be found on eBay. The full listing of available sleeper sofas can be found in the Home & Garden category, underFurniture. Sofa beds can be found underSofa Beds, in the Sofas, Armchairs & Suites section. Items can be arranged by categories such as style, pattern, material and size. The Auction and Buy it Now buying options are also available, offering flexibility in how a sofa bed can be purchased.
The key specifications of a sofa bed, such as its size type, are often prominently displayed in the item listing, making it easy to quickly see if an item meets any specific requirements. Further information can be found on the item page, along with information about the seller such as item reviews and feedback ratings, helping to ensure that a purchase can be made with confidence. It is also possible here to ask the seller a question.
If a specific sofa bed is required, it may be easier to use the search function available at the top of every page. Searches can be made to return results from across the site, or from within a specific category. Further information on using the search function can be found on the Search Tips page.
Conclusion
Sleeper sofas offer a convenient, compact option for sleeping arrangements, and can make a good item for furniture for a guest bedroom. There are many different types of sofa bed available, and can include large corner units as well as smaller items designed for children. A wide variety of sleeper sofas, as well as other items of furniture including sofas, armchairs and beds, can be found on eBay, and if paid for via PayPal, will be covered under the website's buyer protection programme.