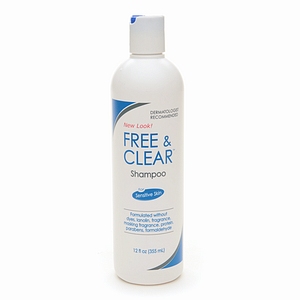 Having sensitive skin can make the simplest tasks such as washing hair extremely difficult and uncomfortable but by having the right shampoo this can be avoided. This guide will outline the causes of sensitive skin, the different types of shampoo available for people who have sensitive skin, and the things to look for when purchasing sensitive skin shampoo.
eBay offers a wide variety of shampoos for sensitive skin which can be found within the Hair Care and Styling Tools section and this guide will also explain how best to use eBay to find the get the perfect product.
What Causes Sensitive Skin?
There are many different reasons why people can have sensitive skin. It could be hereditary, due to the weather, because of allergies, a poor diet or through cosmetics. Sensitive skin can be visible in a number of different ways including being blotchy or red, being very itchy, appearing dry or cracking, or turn into a rash. Sensitive skin can also cause discomfort or pain and it is therefore important that products being used on the skin are the correct products to help the skin where they can.
There are certain ingredients in shampoos which are more prone to cause allergic reactions or irritate sensitive skin. Fragrances' are one of the most well-known ingredients that people are allergic to, so using fragrance free shampoo will help sensitive skin .
Additionally, certain herbs and botanicals and natural substances can also aggravate sensitive skin and cause allergic reactions; therefore keeping an eye out for these ingredients in products and avoiding them is recommended. Finally, natural oils are also other potential ingredients that can irritate sensitive skin because these products will sometimes have an expiry date and it is not recommended to use past this date.
One of the key ingredients which should be avoided if having sensitive skin is sodium lauryl sulphate. This is generally found in most normal shampoos as this is the component which makes shampoo foam. However it can also strip the hair of natural proteins and oils and can irritate and aggravate sensitive scalps and skin.
Other ingredients which people with sensitive skin should avoid include:
Parabens (methlyparaben, butlyparaben and propylparaben)
Propylene Glycol
Petroleum or petroleum by-products
Formaldehyde-based preservatives
Phthalates
Some forms of Alcohol
Aluminum
Mineral oil
Triclosan
Types of Shampoo Available on eBay
There are a number of different shampoos available for sensitive skin and you should choose the right shampoo for the reason why your skin is sensitive. These include Organic shampoos, Fragrance free shampoos, Hypoallergenic shampoos and shampoos made specifically for sensitive scalps. These are some of the most popular shampoo types available on the market and are outlined below:
Organic Shampoos
Organic shampoos contain only natural ingredients as opposed to synthetic ingredients, which some normal shampoos contain. Most organic ingredients will contain tea tree oil. Tea tree oil has been used for many years to treat all sorts of skin conditions and having this as part of a shampoo will be extremely soothing to the scalp.
By using organic shampoos and ingredients, the environment is also being helped as bio-degradable substances will be going down the drain instead of chemicals.
As well as being sensitive on the skin, organic shampoos can also have additional benefits including providing shine and moisture as well as providing the hair with natural minerals, oils and herbal extracts; which will help the hair to grow thicker and stronger.
Fragrance Free Shampoos
Fragrance free shampoos do not contain any perfumes or fragrances and typically have fewer ingredients; however, they are just as effective at cleaning hair as standard shampoos.
Hypoallergenic Shampoos
Hypoallergenic shampoos do not contain any harmful or chemical substances. They generally do not contain any chemical fragrances, only natural, and no fragrances or chemicals are added to the product.
As well as being gentle for people with sensitive skin, hypoallergenic shampoo also helps to eliminate other common problems people may have including dandruff, alopecia or scalp psoriasis.
Sensitive Scalp Shampoos
Having a sensitive scalp is one of the most common problems of sensitive skin, which ironically can be caused by shampoos. Due to cleansers and surfactants in normal shampoos they can wash away the scalps acid mantle which protects the scalp, leaving it exposed and therefore at more risk to become irritated and dry.
Although the products above will help to reduce the sensitivity and ease any pain there are also specific shampoos designed solely for a sensitive scalp which would have maximum effect.
It is important to note that when using these shampoos at first the hair may feel dryer and less soft than usual. This is because the hair is adjusting to the new shampoo and it needs to remove the previous oils and chemicals which the hair is used to from before. It is also recommended to use conditioner alongside the specialist shampoo and most brands will also produce a conditioner with the shampoo product.
Brands
Below is a list of some of the brands who supply the different shampoos outlined above. Please note this is just a sample and there are a large number of products available, the majority of which can be found on eBay.
| | |
| --- | --- |
| Organic Shampoo | |
| Fragrance Free Shampoo | Head and Shoulders , Green People, Essentially Yours, Organics, Earth Science |
| Hypoallergenic Shampoo | Neutrogena, Nivea , Free and Clear |
| Sensitive Scalp Shampoo | T Gel, Head and Shoulders and Paul Mitchel |
There are also certain brands which make products containing two elements which have been outlined above, for example a fragrance free hypoallergenic shampoo. It is important to understand why the skin is sensitive first and then choose a product to correct the situation.
How to Apply the Shampoo
Shampoo for sensitive skin should be applied like any other standard shampoo product. Make sure the hair is completely wet before applying and work the shampoo into a laver before rinsing with fresh water. It is important to make sure the entire product is fully rinsed out. Follow this with a conditioner for sensitive skin for maximum results.
Using eBay to Find Sensitive Shampoos
eBay has a large number of shampoos for sensitive skin available and they can be found in the Hair Care and Styling Tools section. The best and quickest way to locate these products is to simply search for 'shampoos for sensitive skin' in the search bar on the top of the eBay home page. If the buyer knows a specific brand of shampoo which they would like to browse a more specific search can also be done by searching for the brand name alongside 'shampoos for sensitive skin' for optimum results. Once the search has loaded, the buyer will be faced with pages of products available to buy and some sellers will have uploaded pictures as well.
There are two main ways to purchase products on eBay and these are through 'Buy It Now' or bidding. The 'Buy It Now' option means buyers do not have to go through the process of bidding and can pay the price the seller is requesting straight away. This option means that buyers are guaranteed to get the product, unlike bidding, and the product may also be received quicker as auctions tend to last for a few days. The bidding auction is like a traditional auction, only virtual. Buyers will bid on the product until the auction comes to an end at which point the buyer who has bid the highest price will win. Bids are visible for all others to see and buyers can be notified by eBay when the auction is coming to an end.
There are many sellers on eBay and it is recommended to check the reviews from other buyers before choosing a seller to buy from. Reviews are impartial and allow a buyer to rate a seller out of 5 (with 5 being the stronger rating) and to write a short paragraph about their buying experience whether it be good or bad. Previous buyers will generally review the communication from the seller and the time taken for the product to be delivered as well as the quality of the product. By choosing a reputable seller the process of buying through eBay can become a less stressful and enjoyable experience.
Conclusion
There are a large number of products available to help people with sensitive skin especially when it comes to washing hair. There are a number of different shampoos designed for people with sensitive skin and depending on the type of sensitive skin will depend on the product needed. It is important to remember that even when buying a product for sensitive skin make sure the ingredients are checked and when using the product make sure it is followed correctly and to the instructions. It is also recommended that for maximum results a conditioner for sensitive skin should also be used.eBay has a large variety of shampoos for sensitive skin available and these can be found within the Hair Care and Styling Tools section.