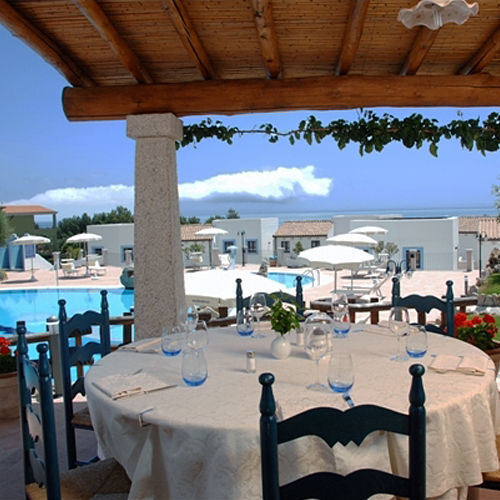 Everyone likes to get away from the stress and strain of home. Sardinia's location in the middle of the Mediterranean makes the island a perfect place for a short break. It has everything for the holiday traveller, from historical ruins to glorious beaches. Sardinia really is a superb destination, close enough for a quick flight from the UK, but far enough away for a complete change of pace. With roughly 24,000 square kilometres of space, the island is large enough that a visitor does not feel cramped, but small enough that a person can enjoy a lot of sights on a single visit.
While some people may be satisfied with spending their entire breaks flat on their backs in hotel rooms, just happy to not be working, others may want a more active holiday. Luckily, Sardinia has something for everyone, regardless of what they want from their short breaks. All it takes is a short flight, and then it is time for the fun to begin. Local travel agents and sites like eBay are both available to help travellers take care of the details.
Welcome to Sardinia
Sardinia is the second largest island in the western Mediterranean after Sicily. It is an autonomous part of Italy, even though its closest neighbour is the French island of Corsica. Basking in the southern sun, Sardinia has a subtropical climate, making it a perfect getaway for those who are accustomed to drearier northern climes.
History of Sardinia
The history of the island goes back to the mists of antiquity, with the oldest ruins being the stone structures known as nuraghi. Built between 1500 and 400 BC, they represent the first known inhabitants of Sardinia. The Phoenicians entered the scene around 800 BC, and the island was drawn into the Mediterranean mainstream after that. Sardinia spent 700 years under Roman occupation. For the next millennium, the island passed between many hands, finally stabilising under the House of Savoy in the eighteenth century. The rest was history as the Kingdom of Sardinia grew to include most of the Italian mainland and springboarded the formation of the modern Italian state.
Geography and Population of Sardinia
Sardinia is mostly pastureland on a mountainous core surrounded by a glorious Mediterranean coastline. The interior is dominated by mining and agriculture, but tourists rule the coasts. Most of the island's 1.6 million people, who are called Sardinians, are descended from the Sards, a race of unknown origin with its own language and culture. It is a culture based on honour and hospitality, with each village holding festivals to the music of a triple clarinet called the launeddas, an instrument that is unique to Sardinia.
Activities for a Short Break in Sardinia
Anyone arriving in Sardinia can find a wealth of activities for any budget or interest. From the capital of Cagliari to the most remote resorts, the island has something for all visitors, whether they are interested in history or just want to spend the afternoon sunbathing.
1. Drown Stress on the Beach
Sardinia is widely considered to have the most beautiful beaches in the entire Mediterranean, and one of the best places to explore them is at La Pelosa near the village of Stintino. The clear blue water makes a perfect counterpoint to the warm sands. It is best to get there early, as the beaches are one of the worst-kept secrets on the entire island, and there can be a lot of people there at the height of tourist season. Still, even if La Pelosa is too full, there are plenty of other beaches stretched out along the coast, and anyone can find a place to enjoy the water and sun. It is not just sunbathing, either. Many visitors enjoy everything from kitesurfing to sailing.
2. Visit the Nuraghi
There is nowhere else in the world that has the same concentration of Bronze Age structures as Sardinia. There are thousands of nuraghi scattered across the island, ranging from small dwellings to massive stone fortresses such as Nuraxi su Barumini, which lies some 40 miles north of Cagliari. Made from undressed volcanic rock, these conical structures have no mortar and rely on gravity to hold them together, something that has worked for thousands of years. They make a perfect escape for those who want a peek into history, rather than a day spent soaking in the sun on the beaches. It may not be for everyone, but it is an excellent way to get away from the crowds on the coast and see something that cannot be found anywhere else. Those who do not care for the nuraghi can always look at Roman ruins instead.
3. Explore the Wildlife
Islands are often famous for their unique wildlife, and Sardinia is no exception. It has been isolated from the mainland for so long that there are many animals that cannot be found anywhere else in the world. This makes it a perfect getaway for anyone with an interest in wildlife or nature photography. A trip into the interior can put a person face-to-face with local deer or provide a clear view of the birds that visit and live on the island. One thing that makes nature hikes and wildlife photography such a great option for a short break in Sardinia is the fact that there are no poisonous creatures and very few dangerous animals. This makes the whole island a relatively safe place for wildlife photography, and it also gives parents taking family trips with children a sense of security, as well.
4. Visit Ancient Mines
Mining appears to have been a part of human existence in Sardinia for 7,000 to 8,000 years. That is a tremendous amount of time, and it provides a view into history that cannot be seen anywhere else. Many of these mines have been designated as heritage sites to help preserve the history for future generations. They make a tremendous alternative for those who want to take a short break to the island but who do not want to do all the same things that most tourists do. This is a great way to take a look into ancient history and see the evolution of Sardinia's culture.
5. Enjoy the Food of the Mediterranean
Any island with its own history and culture definitely has its own cuisine, and Sardinia is once again no exception to the rule. While the food has some similarities to mainland Italian cuisine, it has its own array of flavours that are sure to satisfy any palate. Visitors can try porcheddu, a dish made from young pig that has been repeatedly basted to bring out all the flavours. Strong flavours are the hallmark of Sardinian cuisine, which relies on native ingredients. No matter what the visitor wants to try, he or she can always wash it down with a big draught of cannonau, the island's local wine. The sensory experience of tasting the local food is part of what makes a Sardinian trip amazing.
Sardinia Has Something for Everyone
The beauty of Sardinia is that it has something for every visitor and for every taste. From the beaches for the sun worshippers to the mines for those who are fascinated with ancient history, there is something for everyone. The following table provides a quick reference to match activities with interests.
| | |
| --- | --- |
| Interest | Activity |
| Nature | Wildlife Photography, Hiking |
| Fun in the Sun | Beaches, Kitesurfing, Sailing, et cetera |
| History | Nuraghi, Mines, Roman Ruins |
| Culture | Food |
No matter what a person likes, he or she can find it in Sardinia. From the latest fashions on the beaches to some of the oldest mines in the world, the island has everything to rejuvenate a traveller on a short break.
Finding a Short Break Trip to Sardinia on eBay
eBay is one of the best places to find everything you need for a trip to Sardinia on a short break. Whether you are looking for simple accommodations or a package holiday, you may be able to find it on eBay. All you have to do is enter your search term into the search box and watch the results fill your screen. You can then use the filters on the page to narrow down the choices to just the ones you want. You can filter by everything from location to price range so that you can get exactly what you need to make your short break as rewarding as possible. eBay also provides sorting tools to help you make sure the results you want most are at the top of your screen.
After you know what you are interested in, the next thing to do is to examine the various sellers, and the best way to do that is by visiting their profile pages to read their feedback. You can also check to see if they offer any special bundles that include accommodation and travel expenses if you are interested in purchasing items together.
Conclusion
Sardinia is ideally situated for a short break for anyone who is interested in enjoying the subtropical warmth of the western Mediterranean. Just west of Italy, the island is easy to get to and is large enough to include a variety of activities, yet small enough to fit those activities into a short break period. Visitors who love history can find everything from prehistoric stone mines and ruins to Roman ruins and more. The Bronze Age mines are the perfect window into Sardinia's past.
Nature lovers enjoy the variety of wildlife on Sardinia, some of which cannot be found anywhere else, and the secure feeling they get from knowing that nothing on the island is venomous. Other visitors may prefer the absolute relaxation of lying on a perfect beach and enjoying the joining of sun and sea. For others, it is the food that keeps them returning to the island again and again. No matter what activities a person wants to do, Sardinia is the perfect place for a short break.