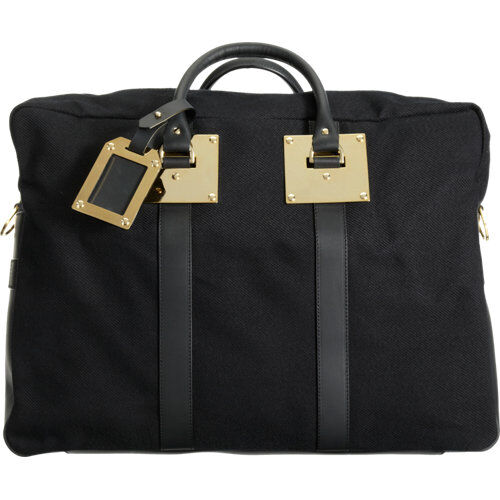 A weekend bag is something that you can pack up for a weekend getaway. Weekend bags are large bags that are usually open on top with two handles on each side. The center area, by design is left wide enough to accommodate one's personal items for a weekend holiday.
LL Bean's release of the boat bag in 1944 started the craze in the U.S. It was made of canvas and became their signature line popular and was popular boaters. Many women caught on the simple design of this bag. Due to this popularity, the tote bag or weekend bag broke into the luggage market like a landslide, but it was not until the 1950s until they started making the weekend bags in leather that the bag finally caught the eyes of major designers.
In the 1960s, Bonnie Cashin released her own line of Cashin Carry tote bags. Cashin made the bags more fashionable and made them classier to suit the jetsetter lifestyle while still retaining the bag's practical purpose.
Every woman needs a weekend bag, whether it is for a short trip or to carry her everyday essentials. There is a variety of weekend bags to choose from. They come in different sizes and designs and are made from materials that range from cheap and cheerful canvas to luxurious leather. When shopping for a weekend bag, a shopper should consider the type of bag, the material, the size, and the colour. eBay can boast a huge selection of weekend bags.
1. The Material the Weekend Bag is Made Of
Originally, these bags were made from heavy cloth, but with many designers manufacturing them today, one now see weekend bags made from leather, canvas, nylon, and jute. Jute weekend bags are more common in the eastern countries like Malaysia and Thailand. Actually, jute weekend bags have been used in these countries long before the name was even coined. These bags were commonly taken on beach trips. They are the perfect bags for a weekend on the beach while enjoying the surf, sand, and a beach sunset.
Kate Spade turned the luggage tote bags from being just a travel bag to being a fashion bag in the 1990s. Since then, the bags have been made from a wide variety of materials. Leather weekend bags have that essence of being very stylish and still serving its original purpose, which is to haul things off on a weekend holiday. Looking good and going on a holiday, it is simply priceless.
2. The Size of the Weekend Bag
A weekend bag, as the name goes, should be large enough to accommodate clothes, toiletries and other personal effects for a weekend. Anything more would require another weekend bag or perhaps even a different size and kind of luggage altogether and if you are going to fly, remember that there are limitations to the size and weight of your carry on luggage. Inquire with your airline to find out the correct or standard dimensions and weight for carry on luggage that they allow passengers to take with them.
The average measurements for a weekend bag are approximately 48 cm wide by 31 cm long, by 31 cm tall. Some may come slightly bigger or slightly smaller. Choose the right size for what you would normally pack for your weekend retreat. If you often just pack up and go, lay out what you would normally bring with you. This way, you have a rough idea of how much space you would need.
3. The Different Designs for Weekend Bags
Weekend bags are generally designed with a large middle section and outside pockets, usually on the sides of the bag, to house smaller items like mobile phones that need to be accessed easily. Many designers have added many different features to the original weekend bag. Pockets, straps, linings, and other minor add-ons here and there make the bag even more stylish and functional. Purchasing the right weekend bag to fit your lifestyle creates an easier and more comfortable way to travel while still being stylish.
4. The Types of Weekend Bags
When it comes the different types of weekend bags, they can be tote bags, duffels, backpacks, travel luggage like carry on bags.
Tote Bags
'To tote' something means to carry something around, hence the name for the bag. Much like the simple meaning, totes are as simple as a bag can get. Tote bags are usually used to carry stuff around while shopping. Although some may be big enough to be used as a weekend bag, as a fashion statement or for practical purposes. Most totes are made to be small and would not have adequate space for everything a women may need to carry with her every day or away for the weekend.
Duffle Bags
Duffels are much larger than totes. A satchel or duffel bag is usually made of heavier weight materials such as canvas and most commonly seen with a heavy duty shoulder strap that can support the weight of the bag's contents. Duffle bags are more often associated with athletes who haul around their gear our in duffle bags, but really a duffle bag can describe any sort of unstructured bag.
Backpacks
Although most commonly seen in schools, backpacks can also be classified as weekend bags. Most are big enough or spacious enough to be used for weekend getaways and as a convenient form of carry-on luggage. Just ask Dora the Explorer how handy the backpack is. Maybe no. But backpacks are very versatile and functional and some leather backpacks adorned with buckles can be very stylish.
Carry-On Bags
Carry-on luggage or carry-on bags are very popular among frequent flyers. A carry-on bag is most commonly made out of hard plastic material, particularly polyurethane. Some carry-ons are still made out of thin metal. Most travel luggage of this kind is made out of thick fabric that is lightweight. A piece of carry-on luggage must meet the size and weight limits of the airline. Be sure to check your airline company for the dimensions and weight restrictions first before making a purchase. One should also consider a weekend bag with trolley wheels and a telescoping handle for those quick sprints through the airport terminal.
5. The Colour and Print
While weekend bags are functional, they still need to be fashionable. When selecting a weekend bag, one attribute that the shopper should be mindful of is the colour of the weekend bag and whether it is has a pattern or not. The choice of colour comes down to what outfits the weekend bag will be paired with. A weekend bag paired with a dress suit for the office should be one solid colour with minimal adornments and few if any patterns. A leather weekend bag is always a good choice for the City. While one cannot go wrong with a black or brown leather weekend bag, the shopper should not feel limited. Leather weekend bags come in myriad solid colours including red, mustard yellow, and plum. To dress down an outfit for a weekend away, one should go for a more casual look, and the best choice will be a patterned weekend bag. For a bag with a bit of personality consider an animal print.
Find Weekend Bags on eBay
Due to its popularity, a simple search on eBay using the keyword 'weekend bag' will return thousands of hits. Focus the search by adding keywords such as a designer's name before or after 'weekend bag'. For example 'Benetton weekend bag' or 'weekend bag by Louis Vuitton' will help hone the search.
You can sort the listings by selecting and deselecting a number of search filters. You can thin out the listings by sorting them by the style of bag, the brand, the main colour, outer material and condition. If you are looking for a designer bag, you should only do business with an eBay top seller. These are eBay members that have attracted the highest feedback ratings from previous buyers. By doing business with top sellers you can be assured that the designer bag is in fact genuine. If you have any questions about the bag, you can contact the seller directly by going into their profile and clicking on the contact link.
You can either bid on the bag in an auction or buy it for the list price. The seller will specify the buying method in the item description. Auctions are exciting and you can certainly pick up a weekend bag for much cheaper this way, but you do risk losing out to a higher bidder. For you to participate in an auction, you will need to register as a eBay member first.
Conclusion
Whether it is for business or for pleasure, a weekend bag is a travel luggage essential. It can simply serve the practical purpose of storing and carrying the everyday essentials, or it can carry only what is needed for a weekend away. Weekend bags are functional and stylish. There is a wide variety of sizes, styles, designs, and colour to choose from. The materials used to make weekend bags can range from jute and canvas, to synthetics and luxurious leather. If the budget is not an issue, there is an amazing array of luxury weekend bags to choose from.
Some of the top designers, including Louis Vuitton, manufacture exquisite weekend bags in a variety of gorgeous colours. When selecting a weekend bag, make sure it is large enough for all you need to carry, and has enough pockets. You should also consider what outfits you'll be pairing with it. For a chic look, go with a solid colour. For a playful and casual look, consider a patterned weekend bag. The weekend bag has definitely evolved from simply being a practical piece of luggage to being a fashionable accessory for almost any occasion. You do not even have to be going on a weekend getaway to have an excuse to grab a beautiful weekend bag.