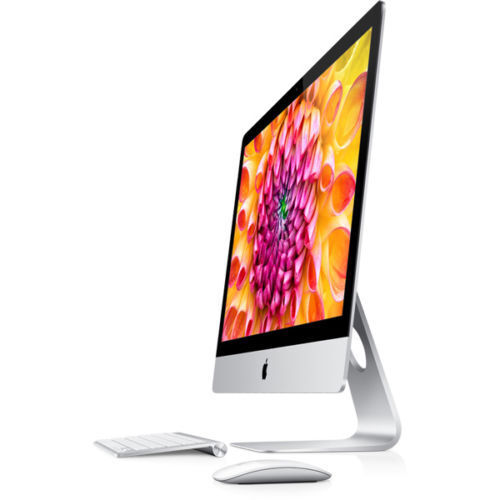 Apple desktops and all-in-ones , quite like PCs that run on Windows, rely on the same basic hardware like a hard drive, RAM, a motherboard, a graphic card, and so on. However, the similarities just about end there, and the user experience that these machines offer is distinctly different. While an Apple user would, in all likelihood, claim to have trouble when switching to a Windows computer, the reverse can also be true. Over the last decade, though, Apple has continued to increase its marketshare in the desktop and all-in-one market, and this is owing to certain distinct benefits that these machines offer over their Windows counterparts.
When it comes to deciding whether a user should opt for Apple over Windows, various factors need to be taken into account, which include the all-important operating system, one's being used instead of the other, the safety aspect, the design, and the limitations of using a touchscreen desktop. When the time comes to buy an Apple desktop or all-in-one, in addition to turning to Apple directly, either through its website or a brick-and-mortar shop, buyers can also turn to online platforms like eBay, which can offer some added benefits.
1. The Operating System
All Apple computers use the OS X operating system, and the latest version of the iMac, their all-in-one computer, uses the OS X Mountain Lion. Since Apple supplies software for all of its desktops and all-in-ones, certain uniformity is maintained, and users get machines with completely integrated systems aimed at delivering optimum performance without the need for any tweaking.
OS X users, who have worked with machines that run on Windows, claim that OS X offers a more user-friendly experience, while also being more efficient and easier to use. Built on the much tried and tested UNIX platform, it comes with a host of applications that have been preinstalled in each and every Apple desktop or all-in-one, and using these applications is easy as well. With a computer designed to run on Windows, users first have to decide which operating system to choose, and the installation of specific software and applications follows suit.
2. Using Apple in Place of Windows
An Apple desktop or all-in-one offers users operating system flexibility that is found wanting when it comes to computers that run on Windows. For example, if a user needs Windows or Linux for any purpose, the same can be installed legally onto an Apple computer, wherein a single machine can then run both OS X and Windows. In addition, Windows can also be run on an Apple desktop or all-in-one using software like Bootcamp, or a virtual machine like VMware Fusion . On the other hand, Apple prohibits the use of OS X on non-Apple machines, which is why it is impossible to use OS X with any computer designed to run with Windows.
3. The Safety
Although the common perception that Apple computers cannot be infected with viruses is not really true, fact remains that a very large majority of viruses, malware, and the like are created with Windows users in mind. The relatively small population of Apple users, as a result, has, until now, kept its machines safer than its Windows counterpart. Unprotected computers, whether Apple or Windows, however, can be prone to virus attacks, which is why major antivirus product manufactures, like Symantec, Kaspersky Labs , and Avast now create specific antivirus products for Apple computers.
Inbuilt Security
Modern Apple computers come with various security features to provide users with increased security when connected to the online world. A feature referred to as "execute disable" works by protecting the computer's memory; "sandboxing" prevents hackers from gaining control over a machine; "library randomisation" helps prevent unsolicited commands from finding targets; and "gatekeeper" protects users from downloading and installing malicious software.
In addition, Safari, Apple's default Internet browser, comes with a unique anti-phishing technology that alerts users about fraudulent websites. "Password assistant", with its encryption technology, can help lock out any identity thief hoping to access a user's personal data. Apple computers also come with inbuilt parental controls, which include easy-to-set preferences that are easy to manage and monitor.
4. The Design
Apple definitely scores over just about every manufacturer of Windows-based PCs in this department, simply because of the amount of time that is spent working on design detailing. When it comes to looking for an all-in-one, the design of the iMac is still hard to match, and the Mac Mini and Mac Pro score highly in this aspect. Apple computers have traditionally come with a high-end feel, which is something that is maintained. The size and the weight of Apple's computers have also reduced considerably, owing to technological advances. For instance, the latest iMac is considerably lighter and thinner than its predecessor.
5. The Absence of a Touchscreen
Steve Jobs was of the opinion that touchscreens don't really belong on desktops and laptops, and this sentiment is shared by a significant number of people who spend long hours working with their desktops. For starters, given the distance between a user and a computer screen, with the keyboard in between, persistent use of the touchscreen can lead to, what's commonly referred to as, gorilla arm, wherein a user's arm gets quite tired.
Dragging fingers across 20 to 25 inches is not particularly easy, virtual keyboards are not really easy to use, touchscreen panels are typically thicker than non-touchscreen alternatives, and a touchscreen is subject to considerably more smears given that it is constantly being touched. A number of touchscreen computer panels out there are not quite up to the mark, and even though they can be used with computers that run on Windows 8, the user experience can leave a lot to be desired. In addition, a number of features, like selecting small icons and simple copying and pasting, can become a challenge when using a touchscreen desktop.
Given that simply opting for a touchscreen desktop can increase the budget considerably, and knowing just how much functionality these screens offer, opting to go the Apple way does seem to make more sense.
A Comparison of Apple Desktops and All-in-Ones to Windows Computers
Here is a simple comparison between Apple's iMac and the Dell XPS One 27, looked upon as the iMac's closest competitor as of 2013, and these comparisons are for base models of both.
| | | |
| --- | --- | --- |
| Parameter | iMac 27" | Dell XPS One 27 |
| | 2560x1440 pixels | 2560x1440 pixels |
| RAM | 8 GB - 600 Mhz | 6 GB - 600 Mhz |
| Hard drive | 1 TB - 7200 rpm | 1 TB - 7200 rpm |
| CPU | Core i5 2.9 GHz; up to 3.6 GHz | Core i5 2.7 GHz; up to 3.2 GHz |
| Graphics | Nvidia GeForce GTX 660M - 512MB | Intel HD Graphics 4000 |
In addition, the iMac's Thunderbolt port allows users to get more from their systems, almost pitching it in the workstation category, and the faster graphics offered by iMac are something that many users expect when spending so much money.
Buying Apple Desktops and All-in-Ones on eBay
The online world, and eBay in particular, is a good place to look for Apple desktops and all-in-ones, because buyers are presented with way more options than they can expect to find in a brick-and-mortar shop or even the manufacturer's website. After all, when shopping on eBay, buyers can even expect to find some of the very early all-in-ones made by Apple, dating back to well over a decade. Just how relevant they are in today's world, though, is something that may need attention.
Not going so far back in time, eBay users can look for iMacs going back a year or two, and they can also look for older variants of Mac Minis and Mac Pros. In either case, buyers can expect to come by older alternatives for a fraction of what new models may cost, and when it comes to buying iMacs, they have older screen sizes to choose from as well.
When shopping on eBay, buyers also have the ability to browse through manufacturer refurbished and seller refurbished Apple desktops and all-in-ones, and these, in addition to reduced prices, also offer some peace of mind, given that they've been tested for adequate use.
Conclusion
Apple desktops and all-in-ones do score over their Windows alternatives in various ways, and in instances when comparable Apple computers, and those relying on Windows, have been tested head-to-head, Apple computers almost always perform considerably faster than their Windows counterparts. Apple computers are generally regarded as more stable alternatives than PCs, which rely on Windows, and they tend to attract fewer attacks in the form of viruses and malware.
The graphics offered by Apple desktops and all-in-ones is something that finds favour with a significant percentage of its users, and this is probably why a number of visual artists and designers tend to use Apple computers. Their innovative designs have caught the attention of users since the very first iMac was introduced, resulting in an almost cult-like following. Also, PCs are no longer as cheap as most people think they may be, and the prices of Apple computers, not really prohibitive. Besides, Mac users can rarely be found returning to Windows, and this, in itself, should stand as testament enough.