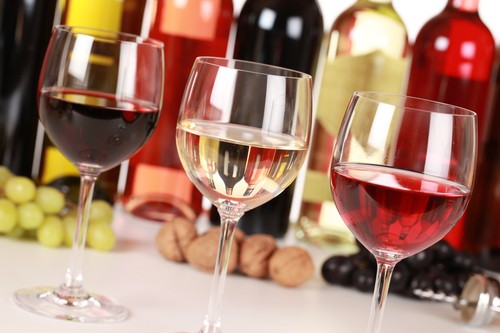 From a romantic weekend away, to a relaxing short break with a group of friends, travelling to a vineyard for a wine tasting short break is a unique and fun-filled experience. Whether travellers are wine lovers or are completely new to wine, wine tasting short breaks immerse travellers in the vineyard's culture so they can expand their knowledge about wine. Aside from just wine tastings, many wine tasting short breaks include a tour of the vineyard and cellar and a look at the winemaking process. After a wine tasting short break, travellers typically leave with a favourite type of wine, increased knowledge about wine, as well as lasting memories.
Although there are many different wineries throughout the United Kingdom, five vineyards stand out for their excellence in wines and guest experiences. Most vineyards are open year round, but visiting during warmer months allows travellers to take advantage of everything the vineyards have to offer. Some of these various advantages include hiking trails and vineyard tours. By learning about the best vineyards for wine tasting short breaks around the country, travellers can be sure their wine tasting short break is an unforgettable experience.
Vineyard 1: Camel Valley Vineyard, Nanstation, Bodmin Cornwall
Camel Valley vineyard is known for both their award winning wines and breathtaking setting. Located on sunny hills next to the Camel River, Camel Valley has been producing tasteful wines for over twenty years. Their most beloved wine is the Cornwall Brut, which is a must-try for any visitor.
Travellers are able to rent cottages on the vineyard premises, which overlook the vineyard and countryside. Another perk of the Camel Valley vineyard is that travellers are allowed to bring fishing gear to fish in the Camel River during the warmer months, which many wineries do not offer. Aside from fishing, travellers can partake in walking or guided tours of the vineyard, bring hiking shoes for the vineyard's trails, taste different types of wine, and learn about the vineyard's process for making wine. Information about accommodation, tours, and tastings can often be found on the vineyard's website.
Vineyard 2: Chapel Down Wines, Tenterden, Kent
Chapel Down Wines has not only been named the best winery in Kent, but has accumulated multiple awards for their exquisite wines and unforgettable travel experience. Located in the Garden of England, Chapel Down Winery features a vineyard that is over 22 acres, that guests can stroll through in warmer months. Their must-try wine is the Rose Brut, which took the gold medal in the 2011 International Wine Challenge.
There are plenty of options for lodging at Chapel Down, including an award winning hotel and spa, English style guesthouses, and a farmhouse castle. Aside from guided vineyard tours and wine tastings, Chapel Down offers unforgettable experiences for their guests, such as Merlin hot air balloon rides and tank tastings. Chapel Down is also a popular destination for weddings. The winery also offers fine dining and VIP tours, an outdoor bar and terrace with spectacular views, and different festivals throughout the year. For information on festival dates, lodging, and packages for Chapel Down, visit their website.
Vineyard 3: Glyndwr Vineyard, Vale of Glamourgan, Wales
For those looking for a more traditional English short break, Glyndwr Vineyard is the oldest family-owned vineyard in Wales. Located in the National Garden Scheme Gardens, Glyndwr Vineyard is known for having a beautiful garden setting accompanied by organically grown wines. Sparkling wines are among the most popular wines at Glyndwr Vineyard, along with many award-winning red wines.
Travellers are welcome to stay in the vineyard's charming bed & breakfast, which is located in the midst of the vineyard's fields of wildflowers, ponds, vineyards, and orchards. Guests are welcome to stroll or take a private tour around the premises, or venture ten short miles to the coast where travellers can spend some relaxing time on the beach. Wine and cheese tastings featuring traditional Welsh cheeses are also available, as well as home cooked meals. For bed and breakfast availability, users can call or check the vineyard's website.
Vineyard 4: Three Choirs Vineyard, Gloucestershire
Sitting on 75 acres, Three Choirs Vineyard is England's largest single estate vineyard known for its picturesque setting. Three Choirs Vineyard features a beautiful natural setting equipped with nature trails, ponds, and wildlife. Aside from award winning wines, Three Choirs also offers a micro-brewery where guests can try ales and ciders as well.
Three Choirs features a bed & breakfast, where guests can choose from packages for a wine tasting short break. Aside from vineyard tours and wine and beer tastings, guests can partake in cooking classes, adopt their own vines, or visit the winery's restaurant. With the 'adopt a vine' program, guests receive a nameplate over a specific vine in the vineyard for one year, as well as a wine toast and bottle of wine to take home. For more information on adopting a vine or lodging at Three Choirs, visit the vineyard website or call them for more details.
Vineyard 5: Denbie's Wine Estate, Surrey
Located in Dorking and overlooking Box Hill, Denbies Wine Estate is the largest winery in the UK. Aside from festivals and weddings, Denbies provides winery tours year round. Denbies offers a traditional English setting, with many award winning wines. Their most popular must-try wines include the Rose and Sauvignon Blanc.
Denbies does not offer any lodging directly on the vineyard, but travellers can find many different options for accommodation throughout Surrey. Surrey rental cottages or houses and bed & breakfasts have English character and charm, and are located close to the winery, allowing guests to visit quite easily. One of the most popular activities at Denbies is the guided train tour that brings guests around the vineyard during the warmer months. However, during winter months, Denbies offers an indoor tour and wine tasting. Denbies also has two restaurants and a gift shop for guests to wine and dine while they are there. For more information on times of tastings and tours, visit Denbies website or call to set up a specific date.
Understand the Different Types of Wine
Before planning a wine tasting short trip, it may be helpful to know the basic types of wine and the characteristics of each type. Many wineries offer different types of tastings, so knowing the different types of wine helps the visitor choose the tasting they would like best.
One of the easiest ways to ensure that one drinks wine that is pleasing to them, understanding the many different types of wines is important. The best way to learn about the different types of wine and determine a favourite is to try them out and record which ones tasted pleasing.
| | |
| --- | --- |
| Type of Wine | Description |
| Red Wine | Comes in sweet and dry varietals, served at room temperature |
| White Wine | Comes in sweet and dry varietals, served chilled |
| Rose Wine | Usually on the sweeter side, served chilled |
| Sparkling Wine | Comes in sweet and dry varietals, includes champagne, served chilled |
| Dessert Wine | Very sweet wines, served chilled |
| Ice Wine | Very sweet wines, sometimes concentrated, serve chilled |
The varietal of the wine refers to the type of grape, such as 'Pinot Noir' or 'Chardonnay'. Red and white wines come in both sweet, medium, and dry varietals, so tasting a variety of each helps guests determine which type of wine they prefer.
How to Purchase a Wine Tasting Short Break on eBay
When searching for a winery for a wine tasting short break, it is helpful to set a budget. The best wineries in the UK may not have the lowest rates, but there are many ways to stay within budget when visiting. The first thing to consider is lodging. Oftentimes, it is more affordable to visit the winery for tastings and tours instead of staying on the premises. eBay offers many cottage rentals, bed and breakfast rentals, and hotels are mostly nearby the wineries, so travellers can find affordable lodging while still engaging in all the activities of a wine tasting holiday. To begin your search on eBay, you can search different hotels or rental properties in the keyword search bar. For example, if you wanted to stay in Surrey, you could use the phrase, 'Surrey cottage rental'.
Another thing to consider when setting a budget is transportation. Usually, the most affordable options for a short break is driving or taking a train or a bus. However, if the winery is further away, travellers may want to fly to their destination. Travellers can also find affordable prices on bus, train, or plane tickets on eBay. eBay also offers car rentals or car hires at competitive prices. Being flexible with travel dates or travelling during an off season are some of the easiest ways to save money when planning a short break.
Conclusion
Wine tasting short breaks are a unique and educational way to spend a holiday. With the natural beauty of the wineries mixed with the numerous activities, travellers are sure to embark on a holiday they are sure to remember. A short break is the perfect amount of time for visiting a winery, since guests have the perfect amount of time to take part in everything the winery offers. Aside from wine tours and tastings, many wineries offer trails, restaurants, activities, or festivals allowing guests to take advantage of their holiday.
By visiting one of the best wineries in the United Kingdom, beginners and wine connoisseurs alike can taste and learn about some of the most excellent wines in the country in an idyllic setting. Staying open minded and tasting different types of wine is the easiest way for people to find their favourite wine. With the large selection of wine varietals found throughout the country, it is easy to find something for everyone.