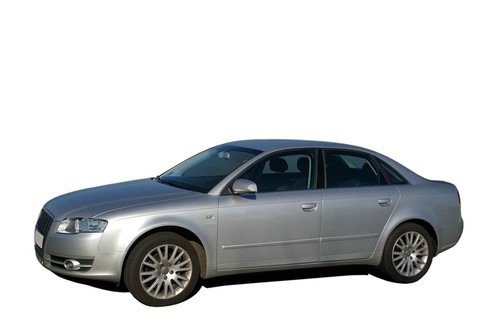 Buyers interested in purchasing a high-performance car that has added fuel efficiency should consider shopping for a diesel-powered Audi . Since the 1990s, Audi has placed a focus on developing car models that include diesel engines, so buyers have the option to choose different fuel types when buying Audi cars. Because diesel engines are configured differently than petrol-powered engines, buyers may notice subtle changes in the power of a diesel Audi when compared to other cars that contain combustion engines. It is, therefore, important for buyers to understand how a diesel engine affects an Audi's power performance before committing to a purchase.
Diesel Audis can be purchased from local Audi and used car dealerships as well as through private sellers. Alternatively, buyers who want to increase their selection can visit websites like eBay Motors. Since eBay Motors contains a vast network of diesel Audi sellers, buyers increase the likelihood of finding a model that matches their preferences and budgets. Purchasing an Audi is a serious investment for most buyers, however, so buyers should consider a number of key points before shopping to make sure their diesel Audi purchases provide long-term benefits.
1. Choosing Different Diesel Audi Models
When shopping for a diesel Audi, buyers have many of the same choices they must face when purchasing cars with other fuel types. Because Audi has expanded its use of diesel engines, buyers can purchase diesel Audi sports cars, touring cars, hatchbacks, or coupes. Which type is more preferable relies on the personal preferences of each buyer.
The Diesel Audi A3
The diesel Audi A3 is a hatchback-style car that is handy for buyers who need to carry multiple passengers or a variety of cargo items. Available in three- and five-door models, the Audi A3 was first released in 1996. In 1999, Audi added a diesel engine option to its A3 model line. Since first introducing the A3 to the global marketplace, Audi has redesigned the car a number of times, adding more sporty and luxury options to the car while retaining its distinguishing hatchback design.
The Diesel Audi A4
To diversify its compact executive car offering, Audi developed the diesel Audi A4. This model line allows buyers to choose from 1.6L to 3.2L engines and can include either manual or automatic transmissions.
The Diesel Audi Quattro
The diesel Audi Quattro is the first Audi car to feature all-wheel drive as part of its standard package. Buyers who often need to drive on challenging surfaces or simply prefer the superior handling of an all-wheel drive car may opt to purchase this type of Audi. Buyers should know, however, that the diesel Audi Quattro is generally more expensive than the standard two-wheel drive diesel Audis available on the market.
The Diesel Audi A6
For buyers interested in purchasing a saloon car with a diesel engine, Audi developed the diesel Audi A6. This car has a standard front-wheel drive drivetrain and an optional four-wheel drive version for buyers who prefer increased handling capacities.
2. Purchasing a New or Used Diesel Audi
Once buyers know which type of diesel Audi best suits their lifestyles and driving habits, they need to determine if they should purchase a new or used diesel Audi . New Audis are in pristine condition, but are often out of the price range of buyers. If buyers determine that they should purchase a used diesel Audi, they should take the time to evaluate its condition thoroughly before making a purchase.
Checking the Condition of a Used Diesel Audi
Checking the condition of a used diesel Audi allows buyers to avoid costly repairs in the future and determine the true value of a car. When shopping for a diesel Audi, buyers should methodically assess a number of different parts of the car to correctly evaluate its condition.
| | |
| --- | --- |
| Parts of a Diesel Audi | What to Look for When Assessing Conditions |
| | Any signs of rust or ill-fitting panels that could be evidence of an accident |
| Interior | Any signs of water damage, like loose or warped carpeting or dashboards and door panels that do not fit perfectly |
| Engine | Any leaks, cracks, or signs of corrosion |
| Brake system | Worn brake pads, rotors, and callipers or leaks from the braking system's components |
| Electrical system | Any malfunctioning electrical components or signs of corrosion on the diesel Audi's battery |
Because a used diesel Audi has been driven, it is reasonable to expect some wear on its parts that do not impact the long-term prospects of driving the car. If buyers are not sure what constitutes normal wear from serious condition issues, they should arrange to have a local car maintenance professional inspect a diesel Audi before purchasing the car.
3. Evaluating the Power of a Diesel Audi
Because Audi has established a worldwide reputation for manufacturing high-performance cars, many customers shopping for Audis place a large amount of importance on the performance quality of any potential Audi purchases. Whether diesel engines can provide the same amount of power as petrol engines is hotly contested amongst driving enthusiasts, however. Diesel engines made prior to the 1990s were often sluggish, but more modern diesel engines have added features like turbocharging, which boosts power considerably. Additionally, purchasing a diesel Audi with a larger engine capacity increases power.
Because there is so much debate about the abilities of diesel versus petrol engines, buyers should use their own experiences when test driving a diesel Audi to determine if the car provides enough power. Buyers should make sure they choose a number of different driving situations to gauge a diesel Audi's power, such as driving in urban areas, on high-speed motorways, and up steep inclines. Once a diesel Audi is tested, buyers can evaluate whether the car's power can meet the buyer's particular power demands.
4. Selecting Special Features on a Diesel Audi
Since drivers frequently spend a considerable amount of time in their cars, car manufacturers, like Audi, provide special features that increase the comfort and usability of their car models. In addition, pre-owned cars can include aftermarket features that were installed by previous owners. Unfortunately, many of these features increase the price of a car, so buyers should assess which features are the most valuable before choosing a diesel Audi model.
Interior Features
Interior features add to the comfort of driving a diesel Audi. Many diesel Audi models include dual- or four-zone automatic climate control options to regulate a car's temperature. Buyers living in cold climates can appreciate the heated steering wheels, heated front and rear seats, and window defrosters that Audi offers. Audi has increased the technological options it provides for its interiors as well. Many stereos within a diesel Audi can play CDs or MP3s and have connections available for digital music players.
Exterior Features
The exterior features available for diesel Audis include both functional and aesthetic options. To provide more light at night or in poor driving conditions, some Audi models offer buyers full LED headlamps, fog lights for both the front and rear of a car, and indicator turn lights integrated into the side mirrors of a car. To make a diesel Audi's appearance more distinguishable, Audi provides buyers with sporty trim packages and parallel-spoke wheel designs.
5. Choosing Security and Safety Options on a Diesel Audi
Security and safety features help drivers, passengers, and fellow motorists stay protected while on the road. To minimise injuries during an accident, Audi offers buyers driver, passenger, and side airbags on some of their diesel models. Audi's Electronic Stability Programme (ESP) and anti-lock brake system allow drivers to keep control of their diesel cars in slick driving conditions. Security features on some diesel Audi models include anti-theft alarm systems and central power locking systems that unlock automatically if a car's airbags are deployed.
Buying a Diesel Audi on eBay Motors
eBay Motors provides diesel Audi buyers with an array of purchasing options that can match the preferences, driving styles, and budget of most buyers. When shopping for a diesel Audi model, buyers should remember to check critical information about a car, such as its milege, steering column placement, and transmission type. To help buyers make an educated purchasing decision, eBay sellers provide item specifics in their Audi product listings. These specifics include a car's engine size, vehicle type, and detailed model information. Buyers also list regulatory information about a car, such as its registration and road tax due dates, as well as the availability of a car's service history. The pictures that eBay sellers supply to buyers in a product listing allow buyers to get a sense of a diesel Audi's basic condition, but serious buyers should contact sellers to see if it is possible to arrange a test drive of a car before committing to a purchase.
Conclusion
Buyers who want increased fuel economy and the quality of German engineering can consider diesel Audis when they need to purchase a car. Audi has expanded its diesel offerings since the 1990s, so buyers have a number of different options when choosing which type of diesel Audi to purchase. Since buyers are often constrained by their budgets, they can opt to purchase new or used diesel Audi models. When shopping for a used diesel Audi, however, buyers should remember to check the condition of any potential purchases to assess the integrity and value of a car. Performing a test drive on a diesel Audi allows buyers to further appraise its condition and gauge whether the inclusion of a diesel engine has impacted the power that an Audi can provide.
Since buyers frequently spend considerable amounts of time in their cars, Audi offers buyers a variety of interior features that focus on increasing the comfort of drivers and passengers. Exterior features of a diesel Audi help to distinguish its style and provide useful benefits, particularly when motorists are driving in poor conditions. Audi has also improved the safety and security of its diesel car models by developing a range of features that keep drivers safe and minimise the threat of theft. Once buyers have considered all of their diesel Audi purchasing options, they can visit eBay Motors to find an extensive selection of Audi models that can meet buyers' expectations and budgets.