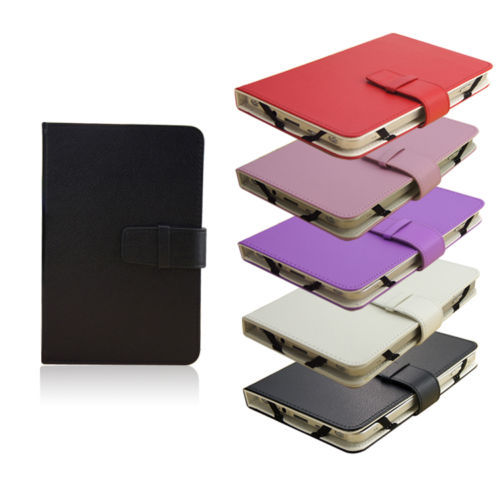 Whether using a tablet for staying connected during the workday or for listening to music and playing games while travelling, a tablet offers users all the functions of a computer in a smart handy package. As tablets are intended to be portable, they need cases and covers designed with this in mind. Look out for cases and covers that complement the natural stylishness of tablets with the strength and durability to handle life on the move, whether that is commuting, holidaying with family or friends, or networking.
Choosing Cost-Effective Tablet Cases and Covers
There are two factors that cannot be ignored when it comes to the issue of buying a tablet case or cover. One is the issue of price. With so many cases and covers on the market, there is a large price range, from relatively cheap to very expensive. While it may be tempting to choose a designer diamond encrusted case, there are a number of much more affordable options that still deliver heavily in the style stakes. Cost-effectiveness does not necessarily mean the cheapest option, however. To be cost-effective, a product needs to be both reasonably priced and fulfil all the requirements adequately. Cost-effective tablet cases and covers need to be fit well and be functional, as well as being robust, resilient, and reliable. When evaluated alongside comparable products, a cost-effective case or cover needs to offer excellent value for money rather than just a lower price tag. Below are five cost-effective tablet cases and covers that can offer reliability together with an attractive price.
Synthetic Leather Sleeves and Pouches
Synthetic leather sleeves are far more popular than leather sleeves. There are several reasons for this, but the most obvious one is a matter of price. Synthetic leather can be produced far more economically than leather and is, as a result, available both more readily and more cheaply. It is quite possible to find high quality synthetic leather tablet cases and covers at very reasonable prices, so don't necessarily go straight to the cheapest options. Synthetic leather also offers an attractive, uniform shine which stays looking new for longer. It typically has good resistance to various kinds of damage.
Synthetic Leather Production and Characteristics
There are several different types of synthetic leather, many made from plastics. The product description will often state which type is used for the cover. Some types of synthetic leather are described in the table below.
| | |
| --- | --- |
| Polyurethane (PU) | A popular option. High quality PU fabrics have an attractive leather appearance and also provide good protection against scratching and scraping as well as dust and dirt. |
| Bicast leather (PU leather) | Bicast leather is made from a split leather backing attached to a layer of polyurethane (PU). The split leather backing provides the product with the durable and resilient qualities of leather, while the PU layer provides a sturdy outer layering that offers superior protection against staining and scratching. The PU layer is treated and embossed to give a long-lasting, consistent sheen. |
| Terylene (polyester) | A lightweight synthetic leather with excellent resilience to creasing and losing shape. |
| Koskin | Koskin is a premium quality synthetic leather designed to have the same appearance and texture as genuine leather. It is often used for fine detailing. |
Sleeve Design
Which kind of tablet cover is preferable is largely a matter of individual taste. The traditional kind of sleeve cover is open only on one side, where the tablet is slid into the top end. This design can offer exceptional value for money and is great for those wanting sturdy protection for their tablets while they are being transported. However, because the tablet has to be completely removed to be used, they are not the best option for those that frequently use their tablet where there is a risk of dropping it. Sleeves may incorporate other materials in their design. They often have stud or clip fastenings to keep the tablet secure. A soft microfibre interior is typically placed inside the outer cover to provide padding and further protection.
Synthetic Leather Folio Cases
The second type of cost-effective tablet case is a folio case with the look and feel of leather. This type of cover is ideal for those wanting to convey a professional image while on a budget.
Materials Used in Folio Cases
Folio cases are made from various types of material. Synthetic leather is one of the more affordable and cost-effective materials, and it remains popular for those reasons. The same types of synthetic leather are used as above. Folio cases also usually have a hard interior shell, typically of polycarbonate. The sturdy shell provides excellent protection for the tablet against dropping and other impact damage.
Folio Design
There are two primary features to folio cases. The first is the folio design. The cover stays permanently attached to the back of the tablet, while the front cover can simply be opened up like a book. This means it is extremely easy to flip open the cover and use the tablet quickly. It also means that the tablet is still protected even while it is being used. Sturdy fasteners, often magnetic clips or sometimes Velcro fastenings, are included to prevent the front cover swinging open. The second basic characteristic of folio cases is the ability to convert into a stand. With the typical design, part of the back cover (the back of the tablet remains entirely covered) pulls back to allow the tablet to stand up on its side. Ideal for watching videos or presentations online, or for reading, this system converts the tablet-case combination into a kind of laptop computer, only with a touchscreen instead of a keyboard. Compartments may be incorporated into the design for pens and other accessories.
Shoulder Bags
Like sleeves, shoulder bags are designed to transport tablets safely and securely, but they do not provide any protection once the tablet is removed. Available in a wide variety of designs, shoulder bags can also be used to carry other items, making them an extremely cost-effective solution.
Silicone Gel Skins
Silicone skins have long been used for mobiles and smartphones, and they are also now popularly used for tablets and eReaders. Their continued popularity is based on several properties, including price and protection.
Silicone Characteristics
Silicone skins are one of the cheapest types of tablet cover available, which makes them very attractive purchases after spending out on an expensive tablet. Silicone itself is a very elastic type of material and provides good protection against scratching and other forms of damage.
Silicone Skin Design
Because of silicone's naturally stretchy and elastic properties, silicone skins fit tightly over the tablet. They are provided with cut outs for all charging ports and buttons, which means they are suitable only for specific tablet models. While this is one of the disadvantages of skin covers, because they are so inexpensive and so widely available, there are skins to fit all types of tablet and they can easily be replaced if the tablet is upgraded in the future.
Neoprene and Rubber Covers
Neoprene and rubber covers fit tightly around the tablet, giving it arguably the best protection of all the different types of cover against elements such as scratching, impact damage and shock damage as well as water resistance.
Find Cost-Effective Tablet Cases and Covers on eBay
eBay has numerous listings for cost-effective cases and covers for tablets, including all the types described above. To find them from the eBay homepage, scroll down to the Electronics & Technology tab and select Computers, Tablets & Networking followed by iPad/Tablet/eBook Accs. This page lists several different types of tablet accessories, from which Cases, Covers, Keyboard Folios can be selected. To find items within a certain price range, scroll down and use the price range slider. Because tablet cases and covers are designed to fit certain products, it is also best to select either the particular brand and model of tablet or the appropriate fit. These can be done under the headings "Compatible Brand", "Compatible Product Line" and "To Fit". Scrolling back up to the heading "Type", whichever type of case or cover that is required can be selected. Finally, the tabs also have options to specify particular colours or materials. To make listings more specific and relevant, it is often best to select as many criteria as possible. Another way of bringing up listings for tablet cases and covers from the eBay homepage is to use the search function. Located at the top of the screen, this can be used to search for specific product terms. For cost-effective tablet cases, terms such as "synthetic leather sleeve", "cheap tablet case" or "budget neoprene cover for tablet" could be used. Instead of "tablet", the name of the particular model of tablet can be substituted.
Conclusion
Cost-effective tablet cases and covers come in various designs, from sleeves and shoulder bags designed for secure transportation to folio cases and tightly fitting rubber covers and silicone skins. Synthetic leather, neoprene, and silicone are all popular materials for tablet covers due in part to their economical manufacture and wide availability. Always remember to select a cover appropriate for the particular model and compare prices to find the best deals.