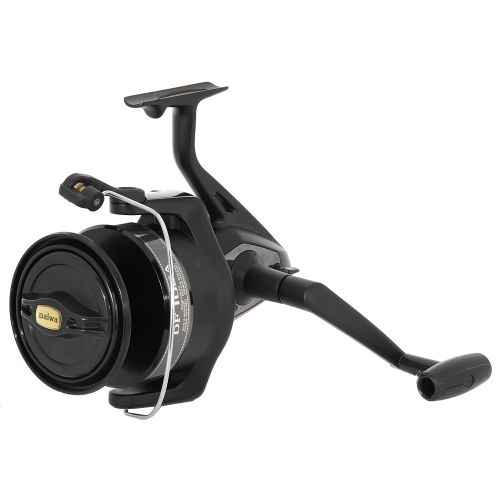 Carp fishing is one of the nation's favourite past times. Whether you're a leisurely fisherman or you fish for sport, the kit and equipment you have to use can be the difference between a successful and an unsuccessful fishing trip. Carp fishing continues to increase in popularity and this popularity means that there is an incredible amount of fishing gear on the market.
With this large volume of fishing tackle available it can appear overwhelming for any novice fisherman looking to purchase tackle items. There are 5 essential tackle items for any carp fishermen to own in order to have successful fishing trips: a decent set of Hooks, a good Reel, a set of Bite Indicators, Bite Alarms to suit and some Rod Pods.
On the internet, auction-based websites like eBay now sell an abundance of fishing equipment from rods and bait to clothing and tackle items. eBay offers the shopper the chance to bid for the item or purchase immediately with the 'buy now' option meaning that eBay is the perfect choice for any carp fishermen looking to purchase some new (or used) tackle equipment.
As the word 'Tackle' means "apparatus for fishing" it can be an all-encompassing term to describe many fishing items including:
Hook
Lines
Sinkers
Rods
Reels
Floats
Baits
Spears
Lures
Nets
Gaffs
Traps
Waders, wellies and waterproofs
Misc equipment such as scales, shelters, sleeping bags and buckets etc
Terminal tackle of course refers to the gear that is attached to the end of a fishing line (leaders, swivels, snaps, beads, spoons and so on). You may not need every tackle item on the list above, it will of course depend greatly on the type of carp fishing you will be doing and your individual experiences.
1. Hooks
Hooks are one of the most important factors in any kind of fishing so it is essential that you choose the right hook for your fishing style. Fishing hooks come in many different shapes and sizes but generally the most common sizes are between 4 and 12 (4, 6, 8, 10, 12).
The size of hook you choose will largely be down to preference- what has worked for you in the past, what you haven't tried but want to try- as well as depending on the type of bait you will be using.
For example; hook size 4 is the largest and is meant for whole Lobworms, bread crust and boilies larger than 20mm in size. Hook size 12 on the other hand is meant for bread flakes, sweet corn, nuts and mini boilies.
Besides the size of the hook, you should be considering other hook characteristics such as the sharpness and quality. Nowadays hooks can have cutting edge low-friction coating (for easy fish removal) or be coated in Teflon (allowing better camouflage underwater as well as being highly durable).
2. Reels
Any experienced fisherman will tell you that a fisherman is nothing without a good rod. And the key to owning a good fishing rod is all about the Reel. If you have a decent rod but the incorporated Reel is not so good then you will probably have lost a fish or two because of it. Advancements in Reel technology are one of the largest (and best) developments in carp fishing.
There are now five main styles of Carp fishing Reels:
Fixed Spool Reel
Free Spool Reel
Big Pit Reel
Centre Pin Reel
Closed Face Reel
Most fishermen will own a Fixed Spool Reel as they are the most common, affordable and versatile reel meaning that they can be used almost anywhere for almost any kind of fishing.
Free Spool Reels are a little more technical than Fixed Spool as they possess an extra drag system which allows the spool to turn under a set amount of tension. This is greatly advantageous to anyone fishing for Specimen Carp where the fish are notorious for picking up the bait and swimming off with them.
Big Pit Reels are used mainly when casting great distances as they have large handles (allowing great reeling power) and big spools capable of holding hundreds of yards of line.
Centre Pin Reels are designed only for fishing in free-flowing bodies of water like rivers or streams. Though these reels are one of the more traditional types they are still more effective than other reel types when fishing in a river as the rotating drum turns at the exact speed of the current you are fishing in.
A Closed Face Reel is similar to the Centre Pin Reel in that it is a specialist product for fishing in free-flowing water. However Closed Face Reels tend to be lighter in weight and easier to use for novice fishers than Centre Pin Reels.
The choice of reel that you opt for will depend greatly on your fishing needs and requirements. For example; if you only fish for leisure at your local fishing lake then it is unlikely that you will need a Big Pit or Centre Pin Reel, a Fixed Spool Reel should be ample. However if you already own a Fixed Spool and are looking to buy a new reel then a Free Spool Reel will provide you with a new style of fishing which will be transferrable when you go fishing in other unknown locations.
3. Bite Indicators
There's no use in having a great reel and high-quality hooks if you're not aware that you have a fish on the end of it. This is why Bite Indicators are an essential piece of tackle for any fisherman.· A Bite Indicator does exactly what the name suggests, indicates when you have a bite on your line. These simple gadgets are a real necessity for today's fisherman as unlike Bite Alarms a Bite Indicator tells you a lot more than you've got a bite. A Bite Indicator will do one of two things when you have a fish on the line:
Raises: Meaning that the fish has picked up the bait and is moving further away from you.
Lowers: Meaning the opposite; the fish is swimming towards you (visible by slack appearing on your rod)
As well as warning the fisherman about a potential fish, Bite Indicators also guide the fisherman about how to react- take up the slack prior to striking or just getting straight into it. This immediate simple advice can be the difference between landing or losing the initial bite- an invaluable feature of the fishing gadget.
There are many designs of Bite Indicators currently on the market from simple 'Bobbins' which clip onto a line to luxurious illuminated indicators that light up on interaction. The Bite Indicator you choose will depend on your available budget as well as the frequency of their usage- whatever these may be it is strongly recommendable for any Carp fisherman who likes to land their nibbles.
4. Bite Alarms
If you own a set of Bite Indicators then you should also have an accompanying set of Bite Alarms to work alongside them. Bite Alarms are an essential tackle item for any Carp fisherman because they make audible as well as visual notifications when you have a fish on the line.
There are two main types of Bite Alarms:
Rollers- these Bite Alarms will be activated once the fish pulls the line through the roller component alerting the fisherman that there is a fish attached to the hook.
Motion- this type of Bite Alarm is usually more accurate than rollers as they simply rely on vibrations down the fishing line to set off the alarm.
Bite Alarms that use roller technology are more basic than motion detector Bite Alarms and because of that they are more affordable. With Bite Alarms the choice greatly depends on budget as both types are equally functional, reliable and versatile.
5. Rod Supports
The final essential piece of tackle that a successful carp fisherman needs is a good set of Rod Supports. There are two types of Rod Supports:
Banksticks: The most common type of Rod Supports is Banksticks. These are the more basic type and work by simply screwing each stick into a Buzz Bar and sticking it into the ground.
Rod Pods: Rod Pods are less common but just as effective. This type works in a similar way but has a more substantial framework to rest your rods on.
Both types of Rod Supports will be sufficient for any Carp fisherman and offer their own advantages. Banksticks for example are simple, easy to use and more affordable than Rod Pods. However Rod Pods are more versatile as they can be used when fishing from a wooden platform for example- Banksticks as the name suggests, are only suitable for river banks. Banksticks are quicker to set up and more lightweight meaning they are easier to carry. Whichever type of Rod Support you choose, it will depend on what you are looking for; simple and lightweight or more durable heavier supports.
How to Buy Carp Fishing Tackle Items On eBay
eBay is a fantastic resource for any fisherman looking to buy any new (or used) fishing products and equipment. From chairs, tents and bivouacs to waterproofs, waders and wellies, eBay stocks anything and everything a fisherman could ever need.
Besides the variety and flexibility of the payment options on the auction site, eBay sellers are renowned for their competitive pricing and excellent service.
Finding the product you're looking for has never been easier with eBay's main search bar. Simply search the name of the product you are seeking along with any other important terms that will aid in finding your desired product. Conducting some prior research will often help when searching. For example; if you know the name of the manufacturer or model of the fishing hook you're looking for, you will find that the results are matched much more accurately.
As eBay is such an authoritative name in the online auction format there is almost always an abundance of information relating to the product you are buying. This includes a detailed product analysis/specification, photographs, comments about items condition and much more.
Alongside the product information will be the shipping information listing your options for delivery- you may even find that the seller is near you saving you even more money than your first thought.
There is also information about the seller (who/where you are buying the product from) to give you peace of mind and if there is something else you want to know that is mentioned, then you can always contact the seller directly via email. With all of this information in your fingertips it is highly advisable that you utilise it by reading all the information about the product.
Once you have found and decided upon the product you are looking for, you can purchase it by placing a bid, buying it now or with the best offer function. Next to all payments on eBay are through the secure third party payment scheme PayPal.
Conclusion
There are many different considerations to think of when buying essential Carp fishing tackle items. However with the help of this guide and the detailed product information provided on the website, eBay makes purchasing Carp fishing tackle easy. A set of high quality fishing tackle equipment that matches your needs will provide you with many years of happy and successful fishing to come. Buying essential carp fishing tackle items has never been easier with eBay.