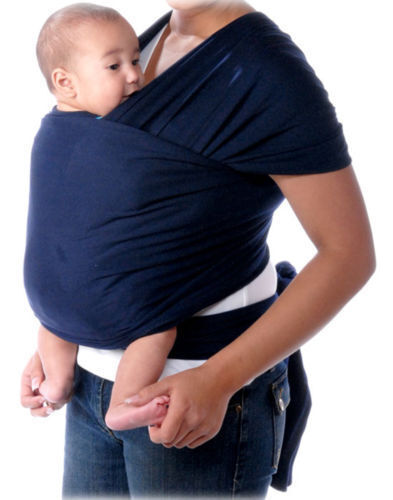 Baby carriers let parents keep their baby snuggled close to them while providing the added advantage of leaving their hands free to do other things. A baby sling is one of several types of baby carriers available. This type of baby wearing gear is essentially a swath of cloth that loops over an individual's shoulder and allows them to hold a child against their body as if they were cradling them in their arms. Slings are very versatile, and can be worn to carry a baby in the front, the back, or on the wearer's hip. As an added bonus, they can be worn in a range of positions to support different weights and preferences.
Baby slings come with many benefits, but there are also some things users must bear in mind. Their design makes them a legitimate safety hazard when not used properly. Furthermore, there are several types and brands from which to choose. When buying a baby sling, buyers must consider which best meets their needs; they should also investigate some of the best known brand names and become familiar with common features. Lastly, they must be aware of safety issues, and understand how well each type of sling meets safety standards.
Factor 1: Consider Which Type of Baby Sling is Best
With so many variations to choose from, baby slings are diverse enough to fully support the needs of newborns as well as older toddlers. Individual needs and preferences usually dictate which type is best for a particular situation. The three main types of slings on the market are pouch slings, ring slings, and wrap slings.
Pouch Slings
If there was ever a baby carrier primed to make a fashion statement, the pouch sling is it. Made to go over a single shoulder, pouch slings allow little ones to be conveniently slid in and out of the comfy pocket at the ends of the folded, sewn fabric. They are available in a variety of sleek and stylish prints made to catch the eye of fashionable parents. If there is a downside to the pouch, it is that the one-shoulder design can make it uncomfortable to wear for long periods.
Ring Slings
Most ring slings are made by threading a piece of fabric through two aluminium or heavy plastic rings to form a loop. Once placed over the shoulder, the garment can be fastened and adjusted by simply guiding the fabric through the rings. Theses slings are adored because they are versatile and easily adjustable. While they may take some getting used to, many parents find they prefer this design.
Wrap Slings
Wrap slings are made from a long piece of stretchable fabric that wraps around the body. The fabric is long enough to accommodate large wearers, yet can be wrapped to fit smaller wearers, as well. Wrap slings are specifically designed to ensure the child is held firmly and securely against the wearer. This style is especially popular with frequent users, since it can be worn comfortably for longer periods of time. Wrap slings are versatile, and come in several varieties; woven style wraps are one of the most popular choices.
Factor 2: Consider Baby Sling Brands
Once they have selected a particular sling style, shoppers can then decide if they have a particular brand preference. There are too many choices to list them all, but a few of the most popular brands are listed in the table below.
| | |
| --- | --- |
| Brand Name | Highlights |
| | One of the oldest manufacturers of baby wearing gear; known for quality, comfort, and versatility |
| | A Dutch company, their slings range from practical and simple to feature-laden styles made from elaborate fabrics |
| | Asian-inspired slings, manufactured in the U.S.; unique square or rectangular shape with a strap in each corner |
| | Unique in that their slings feature a ski buckle and safety strap; sweat free and fair trade company based out of Australia |
There are dozens of other companies, large and small, that manufacture baby slings. The table above mentions just a few of the most popular. Buyers should shop around to find the brand that best suits the needs of both the wearer and their baby.
Factor 3: Become Familiar with Baby Sling Features
Although baby slings are the simplest of concepts, they come with a host of different features. Shoppers should take the time to get acquainted with each of these features before selecting a baby sling.
Storage compartments
Many baby slings come with pockets that can be used to store car keys, bottles, and other essential items. While they are optional perks, most parents find these compartments very handy.
Size Adjustability
Some baby slings are designed to fit all body sizes. Others are not. Consumers should look for something that can be adjusted to fit the wearer.
Carrying Position
Most baby carriers can be worn in at least two positions. Consumers who want the ability to carry a child in the front, back, and on the hip must look for something that supports a third position.
Lumbar support
Waist belts and similar components help evenly distribute a baby's weight. This feature is very important, considering that baby slings affect the shoulders, back, hips, and other areas of the lumbar region.
Factor 4: Safety and Baby Slings
No consumer should purchase a baby sling without careful consideration of its safety aspects. Baby slings have been directly linked to a number of accidents over the years, with consequences that ranged from abrasions and contusions, to severe head injuries and death. This in turn, has caused numerous product recalls, including some of those produced by leading manufacturers.
Although an item is typically recalled because of a flaw in product design, the ease with which babies can be slid in and out suggests that some accidents may occur due to improper use. Buyers should familiarise themselves with safety features to get an understanding of how a particular sling works, preferably before making a purchase.
Factor 5: ASTM Standards for Baby Slings
ASTM (American Society for Testing and Materials) International, which establishes standards for baby products and other items, developed a set of standards that specifically apply to baby slings. These standards represent what the organisation deems to be the best practices in design, functionality, instructions, and other elements of such carriers. Although ASTM International is a respected organisation with a documented track record, it cannot enforce standards; it simply makes recommendations. Concerned buyers are encouraged to find out if the baby sling they are considering has been tested for the recommended ASTM standards.
How to Buy Baby Slings on eBay
With online shopping being common across the world, many people routinely visit a web store before they travel to the brick and mortar store in the local community. The convenience is unmatched, but when it comes to finding the right baby sling, shopping online can be a confusing process. Online shoppers may want to consider eBay for its numerous user-friendly features and easy site navigation.
Searching for an item on eBay is a straightforward and efficient procedure. The site has a simple layout that makes all the essentials easily accessible. Most visitors choose to use the search box, which is conveniently located on each page. A simple search for something like "baby slings" yields hundreds of listings, which you can browse to learn more about specific items. You can also filter your search by selecting from the various available options to target your results even further.
Getting to Know the Seller
A baby sling is such an important purchase that you may want to spend some time getting familiar with the seller and their policies before making a commitment. Perhaps you want to know more about the item's condition, when it was originally purchased, or if it comes packaged with instructions. Whenever your list of questions is prepared, you can easily send it to an eBay seller in a private message. In fact, you are free to inspect their selling history, compare them against other merchants, and ask as many questions as you like until you are confident in your decision.
Conclusion
Shopping for a baby sling can be frustrating. Because of their distinct build, they are often viewed as a category of their own. While that aspect gives them a few unique advantages, it also introduces some unique challenges. With slings, the line between a product that performs as expected and one that is more trouble than it is worth is perhaps thinner than some would like. The good thing is that following a few simple tips can make the selection process much easier.
People on the hunt for a baby sling should heavily weigh both the pros and cons that accompany this type of carrier. With a solid understanding of what to expect, shoppers can start looking at the different types, brands, and other factors that impact the decision of which baby sling to purchase. Consider the factors mentioned above to create a clear path to the best possible choice.