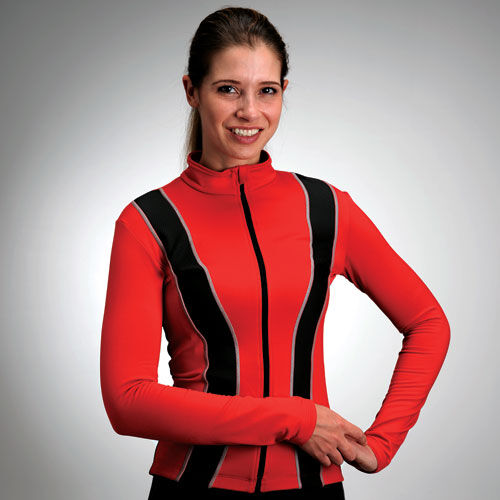 The sport of cycling is ever-increasing in terms of popularity in our modern society. It serves numerous functions: a brilliant way of keeping fit, an enjoyable leisure activity and an environmentally friendly, cost-effective means of short-range transportation. Cycling is a great option for many people. However, it is crucially important to be properly prepared for the exertion. It is possible to get too cold or hot whilst cycling, which can be a problem. Thermal bicycle jerseys offer an excellent solution to this problem.
This guide is setting out with the intention of providing the reader with details about thermal bicycle jerseys, so that they might make an informed choice when shopping for one. There are 5 important factors to consider when making this choice, which the guide will cover extensively. Further, this guide will explore why eBay is such a great place to shop for thermal bicycle jerseys online.
Thermal Bicycle Jerseys
This section of the guide will cover the main features and general information regarding thermal bicycle jerseys, including history and functions, to give the reader a solid grounding in the facts about them.
What Is a Thermal Bicycle Jersey?
The term bicycle jersey refers to a specially designed shirt intended to be worn whilst cycling. It has numerous specific design features that help optimise the cyclist's performance, which are outlined below. A thermal bicycle jersey is a shirt that is designed specifically with optimal insulation in mind, allowing the cyclist to maintain a comfortable temperature. This is usually implemented as a way of keeping the cyclist warm in colder temperatures.
History
Bicycle jerseys originated as aids to competitors in the prestigious Tour De France cycling competition. They served two functions:
Optimising competitor's performance
Serving as a space for advertising
They allowed the close relationship between sponsors and cyclists to be strengthened by providing something that both parties needed. Since then, cycling has become a far more popular mainstream activity, and so cycling jerseys have become available to the mass consumer market.
The Main Features of Thermal Bicycle Jerseys
Thermal bicycle jerseys have several important design features. These are as follows:
Material – the material from which a thermal bicycle jersey is made is of the utmost importance to its functionality. The jersey needs to provide ventilation for the rider as well as keeping body heat in. To this end, thermal bicycle jerseys are made from 'wicking polyester'.

This material catches sweat and moisture from the cyclist's skin, keeping them dry and comfortable, whilst at the same time preventing unwanted loss of bodily heat. The material is thin but effective.
Fit – thermal bicycle jerseys are designed to hug the skin extremely tightly, and there are two main reasons for this. Firstly, it streamlines the cyclist, greatly increasing their aerodynamic efficiency. Secondly, it prevents body heat from escaping through loose patches of material, where it does not contact the skin.
Long Zipper – an extra-long zipper is often included in thermal bicycle jerseys. This allows the cyclists to ventilate themselves extremely well, in the event that the opposite of the intended effect happens, and the cyclist overheats. This is a simple and elegant solution to a very real and serious problem.
Rear-mounted Pockets – the pockets (if any) of a thermal bicycle jersey will be invariably found at the back of the shirt. This is because front-mounted pockets are far more likely to result in a spillage of the contained item during the very physical, kinetic act of cycling.
Long Cut – the back of a thermal bicycle jersey will often be disproportionately long compared to the rest of the shirt. This allows the cyclist to bend closely over the bike without causing the jersey to ride up the back and expose the skin, which can be both a discomfort and a waste of bodily heat.
The 5 Factors
This section of the guide will cover in great depth the main 5 factors that are very important to consider when choosing a thermal bicycle jersey. These five factors are as follows:
Condition
Price
Size
Functionality
Aesthetic
Condition
The condition of the product being bought is obviously of great importance. Buying a new bicycle jersey will not create any issues in this regard, but when buying used it is definitely worth double-checking that the product being bought is in adequate shape to be used effectively.
Price
Price is always an important consideration when shopping. Thermal bicycle jerseys vary wildly in price depending on quality, brand and numerous other factors. Before shopping, it is a good idea to set oneself a budget based on the maximum the buyer expects to be able to afford, and on brief research done into the average price of thermal bicycle jerseys.
Size
Due to the very tight-fitting nature of thermal bicycle jerseys, it is absolutely imperative to buy one that is the right size for the cyclist. Buying too small will result in not being unable to wear the jersey at all, whilst buying too large will massively reduce the effectiveness of the thermal insulating technology with which the shirt is equipped.

The following is a comprehensive table of the different available sizes of thermal bicycle jersey. Bicycle jerseys are measured around the chest, in both inches and centimetres.
| | |
| --- | --- |
| Chest size (inches/centimetres) | Shirt size |
| 29/74 | 3S |
| 31/79 | XS |
| 34/85 | S |
| 36/91 | M |
| 38/98 | L |
| 40/104 | XL |
| 43/108 | 2XL |
| 46/118 | 3XL |
| 48/122 | 4XL |
| 50/126 | 5XL |
| 52/134 | 6XL |
| 54/138 | 7XL |
Functionality
There are different levels of functionality in any market, and thermal bicycle jerseys are no different. Higher end thermal bicycle jerseys will be perfectly fitting, strong, durable, breathable and stylish. It is wise to consider just how effective the product needs to be before buying, often in close conjunction with considerations of the price range available to the buyer.
Aesthetic
For many people, the most important part of buying any article of clothing is considering how that item of clothing will look when worn. Thermal bicycle jerseys should be no different; a good balance of style and functionality is the optimal desired result in this situation.

Thermal bicycle jerseys have a very distinct visual theme, appearing almost futuristic in their sleek design and colour schemes. There are, of course, many different styles available, and the style that is desired should be carefully considered by anyone thinking about how to choose a thermal bicycle jersey.
How to Buy Thermal Bicycle Jerseys on eBay
Using eBay, the reputable online bidding medium, is advisable for anyone intending to buy a thermal bicycle jersey. It offers an immense choice of products, in conjunction with an intuitive, easy to use interface, which makes the site accessible to anyone. This section of the guide will cover how to buy thermal bicycle jerseys on eBay.
The first step is navigating to the section in which thermal bicycle jerseys can be found. To do this, begin from the eBay homepage. In the left-hand margin of this page is a list of the widest categories of product available on eBay. Select Sports & Leisure from this list, which opens up a new list of sub-categories. From this list, select Sporting Goods.
Next, select the Cycling sub-category. Following this, choose Cycling Clothing from the next list of links, and Jerseys from the subsequent list. Finally, type 'thermal' into the search bar to specify that thermal bicycle jerseys are required. Alternatively, the search bar can be used in isolation for instant results. Simply type in 'thermal bicycle jersey' and press search.
The page should now display the 'item listings', which is a list of items relevant to the search. Entries in the list consist of a thumbnail image of the item, along with its name and a brief description. This list can be refined using the various filtering options found in the page's left margin. These include item type, brand, gender, size, colour, condition, price and seller's location. Further, the 'Auction' option lets users bid against other users for the product, whilst the 'Buy It Now' function enables instantaneous, on the spot purchasing of the product.
Clicking on either an item's name or its thumbnail image will relocate the user to that item's own individual page, wherein detailed information such as specifications about the item can be found. Information about the seller is also stored here. This information includes user ratings and feedback, as well as contact information.
The massive selection of products available, coupled with the accessibility and intuitiveness of the user interface, makes eBay a truly great place from which to buy thermal bicycle jerseys.
Conclusion
Cycling is truly a sport from the practical, modern, environmentally conscious era. It combines fun and exercise with cost-effective, efficient and clean transportation, making it an activity that is both loved and needed. Thermal bicycle jerseys are very important for maintaining the temperature, comfort and efficiency of the cyclist. This guide set out to provide 5 main factors to consider when choosing a thermal bicycle jersey. These 5 factors are:
Price
Condition
Size
Aesthetic
Functionality
This guide concludes that eBay, with its marvellous range of products and its superlatively straightforward website design, is the ideal online destination when shopping for thermal bicycle jerseys.