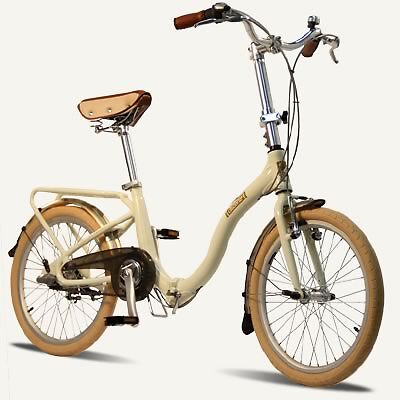 Cycling is a very popular method of transport that allows people to get fit, have fun, and save money. However traditional bikes are not very portable, which can lead to a number of problems for their owners such as: limited access to public transport, security when out and about, and storage issues at home.
Folding bikes can solve all of these issues by offering cyclists the ability to compact their bikes down into smaller forms that are more suitable for multiple modes of travel, and are easier to store at home or at work. Brompton and Dahon are two of the biggest brands of folding bike available to buy on eBay.
Why is Cycling so Popular?
The main advantages that cycling has over other methods of transport are related to health benefits, environmental issues, and cost-cutting.
Health Benefits
Cycling is a form of physical exercise that can help people to lose weight, improve blood pressure, reduce cholesterol, and build muscle stamina. Physical activity is also important to help the body produce endorphins to improve mental wellbeing.
Environmental Issues
Automobiles release pollution into the air that can be harmful for the environment. Every journey made on a bicycle is effectively reducing the amount of damage done to the environment.
Cost-Cutting
Other methods of transport can be very expensive. Cyclists do not have to pay for fuel, parking permits, bus fares, or train tickets.
What are the benefits of a Folding Bike?
The ability to reduce the size of a bike in a very short space of time affords the owner a number of significant benefits. For example:
Multi Modal Transport – A folding bike can be taken on the bus, the tube, or the train, which can seriously improve door-to-door times for commuters and casual cyclists alike.
Security – A folding bike is far less likely to be stolen because its owner can fold it down and carry it anywhere, reducing the need to leave it locked outside in public places.
Convenience – Because of its compact nature a folding bike can be taken on long excursions, even plane journeys, which allows the owner to enjoy the bike in a wider range of locations than is possible with a traditional bike.
Storage – A folding bike takes up very little space and can be stored indoors at home in order to avoid rusting.
1. Bike Purpose
When buying a folding bike it is important to consider what the primary purpose of the bike is going to be. Will it be used for commuting to work, or just for occasional visits to the park? Will it be taken on public transport, or more often packed into the boot of a car?
| Bike Purpose | Type of Bike |
| --- | --- |
| For travel on public transport | Very compact, very fast to pack, very lightweight |
| For long journeys | Larger wheels, suspension, slower to pack |
| For off-road use | Thick large wheels, suspension, slower to pack |
| For taking on planes | Very compact, slower to pack |
Generally speaking the higher the performance of the bike, the bigger it will be and the more time it will take to fold down. The key is to decide what type of folding bike is most appropriate and then consider the other factors involved.
2. Wheel Size
The size of a bike's wheels has a significant effect on its performance. Small wheels have lighter steering and a harder ride, whilst larger wheels give a softer ride but fold slowly and do not compress as much. There are four main wheel sizes: 24-inch (full-size), 20-inch, 16-18-inch, and below 16-inch.
24-inch+ (Full-Size Wheels) – Full-size folding bikes are useful for riders who like the ride of a traditional bike, but need the ability to transport their bike in the boot of a car, or who have little storage space at home. Because of the comparatively large size of full-size folding bikes, and the longer folding times, they are not as suitable for multi modal transport.
20-inch Wheels – Whilst slightly more portable than their full-size counterparts, folding bikes with 20-inch wheels also suffer from the same restrictions: larger to store, bulkier to carry, and longer to dismantle. However they do offer a very clean ride and have the ability to reach higher speeds than folding bikes with smaller wheels.
16-18-inch Wheels – This is the most common wheel size for a folding bike. Generally these bikes have very fast folding times and can be carried around on public transport with ease due to their lightweight frames and incredibly compact designs. Although the ride is a little tougher than a traditional bike, the wheels are still adequate for longer journeys of 50-100 miles if the bike is equipped with suspension.
Below 16-inch Wheels – The wheels at the smaller end of the spectrum are only suitable for short journeys as the ride can be tough. Often soft squidgy tyres are installed to give a more comfortable ride, but this comes at the expense of efficiency and can make pedaling a little more tiresome.
3. Folding Method
There are three predominant varieties of folding bike: half fold, triangle hinge, and break away.
Half Fold – These frames usually come in the shape of a traditional bicycle, but with a hinge point that allows the bike to be folded in half. Quick release clamps enable the seat pole and handle bars to retract.
Triangle Hinge – These frames are capable of folding down to very small sizes. Flip hinges allow the rear wheel to swing underneath the frame and the front wheel to flip above it. Quick release clamps streamline the process.
Break Away – These frames come in many different forms, but the basic principle is for the bike to be partly folded and partly dissembled so that it can be packed into a small suitcase. This process can be difficult and time-consuming.
It is important to be aware of the pros and cons of each method before purchasing a folding bike.
| Folding Method | Positives | Negatives |
| --- | --- | --- |
| Half Fold | Easy to dismantle, soft ride | Not very compact |
| Triangle Hinge | Easy to fold, very compact | Tougher ride |
| Break Away | Can be packed down very small for suitcases or air travel. | More complex to pack down and rebuild |
4. Suspension
Smaller wheels are naturally more susceptible to vibrations than larger ones because of the smaller surface area that they cover. In order to combat this jittery tendency folding bikes often have lower tyre pressures or thicker tyres to absorb the shocks.
The problem with low-pressure tyres is that they do not roll as fast, which leads to more effort for the cyclist, and the same is true of thick tyres, which are not necessary unless the bike is going to be ridden off-road.
Folding bikes that feature suspension mechanisms are generally more comfortable to ride. Although suspension adds weight to the bike, it can help to counteract the tough ride caused by the smaller wheels.
5. Frame Size
Unlike traditional bicycles that are made in all manner of sizes, folding bikes only usually come in one size. The majority of frames are very low, which means that the seat and handlebars need to be adjusted in accordance with the height of the rider.
Scientific studies have proven that in order to get maximum efficiency out of a bike the distance between the bottom pedal and the seat should be set at 109% of the riders inside leg measurement. If the seat is set too low then pedaling efficiency is lost, and if it is too high then the knee joint is at risk of injury from hyperextension. Many riders opt for a slightly lower seat height in order to create a more comfortable riding position.
For optimum efficiency, handlebars should be positioned around an inch lower than the seat, but it is important to feel safe and comfortable at all times, and for most people this means setting the handlebars a little higher.
It is important to note that most folding bikes are designed to fit people with heights of 4'10" – 6'4" (148cm – 193cm). Taller riders are advised to purchase a telescopic seat-post.
How to Buy a Folding Bike on eBay
There are hundreds of different folding bikes available at affordable prices on eBay. These products include:
Men's folding bikes
Women's folding bikes
Unisex Adult's folding bikes
16-inch folding bikes
20-inch folding bikes
24-inch folding bikes
Used folding bikes
New folding bikes
To browse through the products, visit the Sporting Goods portal, then click the Bikes link, and choose the category Folding Bike.
To find a folding bike with a specific colour, brand, or wheel size, click the eBay search bar at the top right-hand corner of the page and type in the query. For example: "Silver men's 16-inch folding bike."
When a suitable folding bike is found it is important to look at all of the pictures and read through the available literature on the product before making the purchase. This helps to give a good understanding of the exact condition and specifications of the bike. If more information is needed just Ask the Seller a question.
To buy the chosen folding bike, either place a bid, Buy it Now, or place your Best Offer. Most eBay payments are made with PayPal, which ensures that the transaction is safe and secure.
Conclusion
There are many factors to look for when buying a folding bike:
Bike Purpose
Wheel Size
Folding Method
Suspension
Frame Size
In order to make the right choice it is vital to decide what the main purpose of the bike is, and pick a suitable wheel size, frame size, suspension type, and folding method. A well-picked folding bike will allow the rider to keep fit, have fun, save space, and do their bit for the environment all at the same time. Buying the right folding bike is fast and easy on eBay.