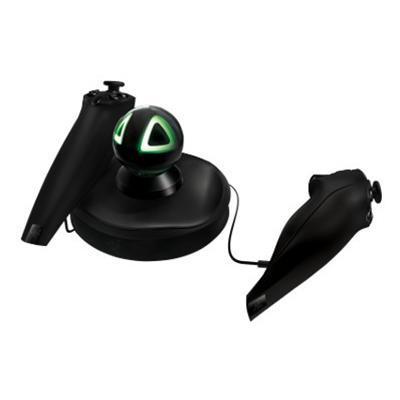 It is amazing how far technology has come in so many industries, including space exploration, the culinary arts, cars, airplanes, and even video games. Just a few years ago, a motion-sensor controller was unheard of in the gaming world. Now cameras and motion sensor controllers are relatively normal and preferred methods of playing video games, especially when the games involve body movement, such as dancing and fighting games. Some consoles, such as the Nintendo Wii, use a motion sensor console to detect movement from the controllers, while other consoles, such as Microsoft Xbox, use a Web camera to capture players' physical movements. Sony's Playstation 3 Move uses a motion sensor and a camera to detect movement from the players and translate it into real playing in video games.
Regardless of the game console, having good motion sensors and/or cameras to effectively play fighting video games is a necessity, especially as more and more motion sensing games are released. There are several features that every good motion sensor and camera should have for one's game console. When shopping for these video gaming accessories, these features should be prioritised. Motion sensors and cameras can be purchased in brick and mortar game and electronics stores and online using websites like eBay.. Between the two options, finding good accessories at a reasonable price is possible.
How the Technology Works
The motion sensor and camera duo work together to deliver accuracy and precision in translating a player's movements into live motion within a video game. In fighting games where a single non-interpreted movement can determine the outcome of a gamer's performance, accurate motion detection is imperative. Motion sensor controllers track the movements of the player and are detected by the camera attached to the game console. Some motion sensor and camera pairs only recognise motion, while others can recognise voice, as well, or even facial expressions and hand gestures. While the Xbox's Web camera does not require game controllers to recognise players in a game, other consoles, such as the Wii and the Move, require a game controller for each player in order to recognise the movement.
5 Key Features
There are all sorts of motion sensors and cameras for sale, but many players may not recognise what makes a gaming accessory good. Five features key features should be considered by every gamer who is shopping for motion sensors and cameras. For those who play fighting games in particular, having high-quality and intuitive controllers and cameras is essential. Being able to purchase good motion sensors and cameras at an affordable price is also important since video games and other equipment for one's console can certainly add up. Technology is always changing, so it is important to buy motion sensors and cameras that are compatible with one's console and equipment. All these features and more should be considered when buying video game accessories.
1. Easy-to-Use Controllers and Cameras
Perhaps the most important feature, game controllers and cameras should be easy to use. No one wants to spend money on a controller that makes playing video games more difficult. The purpose of using a motion sensor controller and camera is to make game playing more natural and accurate. If a controller lags or the camera and controller set-up is complicated, the accessories are probably not the best choice. Easy-to-use options are not difficult to find.
2. Affordability
Gamers already have to invest large quantities of money into game consoles and games, not including any necessary accessories. Why should they have to pay an exorbitant price on yet another accessory? There are affordable options for shoppers who want to purchase motion sensors and cameras to play fighting video games, and one does not need to sacrifice quality to achieve such a discount. Comparing the prices of the various brands of motion sensors and cameras gives shoppers the power to make good purchasing decisions. Knowing what features are available and the price tag for each option allows shoppers to determine how much they are willing to spend and for what level of quality.
Feature

Xbox Kinect

Nintendo Wii

Playstation Move

Microsoft

Nintendo

Sony

Required Hardware

Xbox 360 console

Kinect bar (camera)

Wii remote

Wii console

Sensor bar

Playstation 3

Playstation eye (camera)

Wand

Type of Motion Sensor

Web camera

Motion sensor controller and console

Motion sensor and camera

Connection

Bar is cable-connected to console

Bar is cable-connected to console

Wireless controllers

Eye is cable-connected to console

Wireless wands

What It Recognises

Voice, face, motion

Motion only

Voice and motion

Console Compatibility

Xbox 360 Slim

Older models require a power cord

Backwards compatible with the Nintendo GameCube

All Playstation 3 models

Quality of Gameplay

Fast and physically accurate

Slow, inaccurate, lags

Precise and no lag
There is not a lot of variation in the cost of the different systems when comparable elements are chosen. Each system is packaged and sold with different elements, such as a 4 GB Xbox 360 versus a 250 GB Xbox 360. A 250 GB Xbox 360 costs substantially more than the standard Wii with its relatively small hard drive, but when the features of two different systems are similar, the prices are very similar, as well.
3. Up-to-Date Game and Console Compatibility
While shoppers can easily purchase brand name motion sensors and cameras, it may be more affordable for gamers to buy video game accessories made by other brands. If this is the case, then it is important for shoppers to ensure that the motion sensor controllers and cameras are compatible with both the video game consoles and the video games that are to be played. Some video games require certain types of motion sensor controllers. Some compatibility issues are obvious. The motion sensor and camera for the Playstation 3 is not compatible with a Nintendo Wii, for example, but buyers have to pay careful attention when they buy off-brand items. Small details like this are important for shoppers as they browse for good motions sensors and cameras for their fighting video games.
Besides compatibility, technology is always being updated, and this may cause past products to become obsolete. It is important that the motion sensors and cameras that are purchased are still usable with current technology. Shoppers should especially check for console and game compatibility for older accessories to avoid purchasing obsolete products that may not be usable or returnable.
4. Level of Motion Recognition
Not all motion sensors and cameras recognise the same level of human interaction. Some motion sensors and cameras only recognise motion of the controller, while more advanced technology can recognise the facial expressions and hand gestures of the players. For fighting games, the more accurate and precise the motion recognition, the better. Fighting games require fast reflexes and accurate blows and strikes, so simplistic motion detection is insufficient for such a game. For those who play fighting video games often, it may be worth the investment in superior motion recognition game consoles and technology.
5. Good Gaming Quality
At the end of the day, a motion sensor and camera can be affordable while having an intuitive design and all sorts of bells and whistles, but if the motion sensor and camera do not yield fast, reflexive gaming quality, then they are not the best accessories for one's game console. Accurate game play is essential to excelling in a video game, especially if there is fighting involved. Shoppers can read reviews about the various models of motion sensors and cameras before deciding which ones to purchase. Motion sensors and cameras vary in design, price, quality, and playing capabilities. Cheaper motion sensors and cameras may sometimes have better gaming quality than higher-priced models. Doing some research is an invaluable step in the purchasing process.
When playing video games that require excellent, reflex-like technology, investing in good motion sensors and cameras could be the sole factor between making it to level 17 in three hours or three months. Whatever one's personal budget, there are affordable options for players in different price ranges. Finding good motion sensors and cameras for fighting games is easy to accomplish with the right information.
Buying Motion Sensors and Cameras for Fighting Games on eBay
Finding good quality motion sensors and cameras for your video game console is important when you like to play fighting video games that require precise movements and fast reaction times. Good motion sensors and cameras for fighting games can be purchased online using eBay's intuitive search tools. You can use the search box found on every page on eBay by inserting keywords like 'motion sensor for Xbox'' or ' PS 3 motion sensor and camera'' to find the right video game accessories to improve your playing. You can also specify budgets and other factors to narrow the search results. By specifying what you want, you can use the eBay search tools to find what you need in a matter of seconds.
Because video game accessories like motion sensors are generally high-priced technology, it is important that you thoroughly research the reputations of sellers on eBay by looking at their feedback from previous customers. Trusting the seller and the quality of the product is essential to guaranteeing a satisfactory buying experience.
Conclusion
Technology is an amazing thing, and improvements in the video gaming experience in recent years are particularly impressive. One of the most amazing changes in the video game industry is the introduction of motion sensors and cameras to enhance the game playing experience. Now that game consoles have the ability to register human movement as a means of controlling the game, action video games that involve sports, fitness, and fighting are more realistic than ever before.
The quality of one's motion sensor and camera directly affects one's playing ability, so there are certain features that should be sought when buying equipment to go with a console. The motion sensor and camera needs to be compatible with one's console and intuitive to the user. The level of motion recognition and affordability of the video game equipment is also essential for a satisfying gaming experience. These features and more help the gamer reach that new high score. Motion sensors and cameras for video games can be purchased in brick and mortar video game and electronics stores as well as online through websites like eBay.