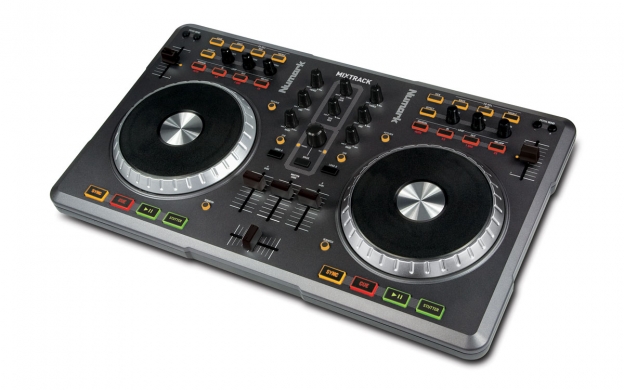 A DJ deck is an essential component for DJ-ing. They are used to play tracks, whether they are burned on a CD, stored in an MP3 player or etched into a vinyl record. There are a range of considerations that should be taken into account when purchasing a turntable, including the type of device and the format of the music being played.
Choosing a DJ Deck
There are a range of considerations that should be taken into account when purchasing a DJ deck. Buyers should determine whether to buy digital equipment or a unit for vinyl records and consider the type of DJ deck system or format. Additional considerations include the type of speed controls, as well as mixing and playback features. Features may range from output type, MP3 functionality, and other tools for manipulating and playing discs or records such as a tone arm or jog wheel. Finally, the condition of the DJ deck is an important consideration.
Digital or Vinyl
The first decision a buyer must make when purchasing a DJ deck is whether they will opt for digital equipment or a vinyl turntable. Traditionally, DJs have picked vinyl turntables to spin their records. As digital equipment has become more advanced, equipment for DJ-ing has become more compact and versatile. Digital DJ decks are smaller and lighter than traditional turntables. They also allow DJs to carry more of their music collections, either with smaller compact discs (CDs) or with digital data storage features for MP3s. When buying a DJ deck on eBay, digital decks are typically found under the DJ CD/MP3 Players listings and vinyl decks are listed under DJ Decks/Turntables. The table below compares digital and vinyl CD decks.
| | |
| --- | --- |
| Digital | Digital DJ equipment typically are CD players specially designed for DJ-ing. They feature one or more slots for compact discs and may feature a jog wheel, which allows users to manually speed up or slow down a song. DJ CD players may also feature pitch controls to adjust playback speeds, which is useful when beatmatching. |
| Vinyl | Turntables are used when playing vinyl records. At the centre of the unit is a round plate, which is called a platter. Records sit on the platter and are spun by a built-in motor. A tone arm is found on the site of the turntable. The arm carries a stylus or needle, which picks up vibrations from grooves on the record surface. These vibrations are converted into an electronic signal in the cartridge, which holds the stylus. |
Type of DJ Deck
Once a buyer has decided whether to go for a deck that plays digital or vinyl, the next consideration is the type of DJ deck system or format. DJ decks are available in several formats. For example, DJ CD players either feature one slot (tabletop players) or multiple slots for more than one disc (rack or dual players). Similarly, Turntables are classified depending on the type of drive that powers the device (that is, a direct drive or belt drive).
Turntable Type
Turntables are available with two types of drives depending on the motor system design. When buying DJ decks and turntables on eBay, choose the desired drive by selecting direct drive or belt drive under 'Drive Type' in the menu options for DJ Decks and Turntables in the Performance & DJ Equipment listings. Belt drive turntables feature a motor connected to the platter by an elastomeric belt. This type of turntable is affordable, making them a good choice for beginners. They do take time to get up to speed, making speed recovery an issue. This may limit how a record can be manipulated, especially when scratching where the delay in speed recovery affects performance. A direct drive turntable features a motor under the platter. The motor is connected directly to the platter. Given the location of the motor, direct drive turntables may suffer from more vibrations than a belt-drive turntable. As a result, it is important to consider whether to purchase a turntable with shock-absorbing material between the platter and the motor. Direct-drive turntables also feature greater torque, which improves speed efficiency and stability. Turntables will vary in their torque speed. The faster the speed recovery, the better the turntable is for scratching.
CD Player Type
The two main types of DJ CD players are tabletop and dual players. DJ CD players may also be known as digital DJ controllers. Tabletop players or single deck controllers are similar to traditional turntables and accommodate a single disc. Dual players feature two or more slots for multiple CDs. They may also be known as dual deck controllers or rack players. Dual CD players are useful for DJs who mix samples from multiple discs, while a tabletop might be helpful for users transitioning from a turntable given their similar appearance and functionality. Certain CD players include built-in mixers, which houses controls and features used to customise sound and create unique compositions.
Speed Controls
The ability to control speed is vital when DJ-ing. DJ decks feature a variety of speed controls. Each one provides users with differing abilities to manipulate and control playback speeds. Speed controls are found on digital and vinyl systems. When buying on eBay, listings for Performance & DJ Equipment can be refined depending on speed settings, pitch control and pitch range. The following table controls provides additional information on these types of speed controls.
| | |
| --- | --- |
| Speed Settings | Playback speeds are defined by the type of record being played. On turntables, settings are based on revolutions per minute or the number of times the record completes a revolution in a minute. Turntables feature playback speed settings for 33 RMP, 45 RMP or 78 RMP. |
| Pitch Control | Pitch controls allows users to decrease or increase the playback speed of a song. Additional pitch controls may also include a Key Lock or Master Tempo, which allows DJs to alter the tempo without changing the pitch. Pitch control is essential for matching tempos of one track with another, which is also known as beatmatching. |
| Pitch Range | Pitch is represented by a percentage. For example, a +/- 8 per cent setting means a user is able to speed up or slow down music by up to 8 per cent. Pitch ranges vary from one DJ deck to another, with common settings ranging including +/- 8, 10, 20 and even 100. |
Features
From tone arms to MP3 functionality, different features of a DJ deck play roles in the functionality and versatility of the device. These features have a significant influence on playing style and ability. The amount of features influences the cost of a DJ deck. Units with a wide range of features typically cost more than a basic turntable or CD player. The table below summarises some of the key features found on DJ decks.
| | |
| --- | --- |
| Tone Arm | A tone arm is found on a turntable. They are used to read vinyl records when playing music. Typically, tone arms are either straight or s-shaped. Straight tone arms minimise skipping and have tracking ability, making them great for scratching. S-shaped arms are deliver improved sound quality and are ideal for DJs who do not scratch records. They also protect records better than straight tone arms, which result in increased record wear over time. |
| Output | DJ decks may feature one or more types of output. Generally, DJ decks feature line, phone or digital output. Decks must be connected to other compatible equipment to produce, manipulate or amplify sound, such as mixers, pre-amplifiers and amplifiers, and speakers. Most turntables have phono output, which requires a mixer with a phono input. Digital output is useful when recording music to a computer, CD burner or other digital device. Line-level output sends pre-amplified signals to a mixer with line input. |
| Jog Wheel | On certain digital DJ decks such as a DJ player, a jog wheel may be included. The jog wheel is used to manually alter the playback speed. This component allows users to beat juggle and scratch tracks similar to a turntable. |
| MP3 Functionality | Some decks include MP3 functionality, including iPhone or iPod docks, USB ports and other data storage features. MP3 functionality helps save space and reduces the need to carry bulky collections of records or CDs. They are also ideal for mixing multiple samples on turntables or digital players with only one CD slot. |
| Mixing Features | DJ decks are available with a range of mixing and sound effect features. These are useful when creating unique compositions or mixes. Certain decks feature additional controls that allow DJs to loop, pan, phase, flanger, filter or transform. They may also include the ability to add sound effects, such as an echo. |
| Start/Stop Controls | While start and stop controls are basic features, certain DJ decks may include more advance settings and capability. Some digital players feature fader start and stop controls, which allow users to crossfade between tracks or channels. Start and stop buttons also may also permit users to set times to begin or end music, and adjust how quickly or slowly a track winds down. |
Condition
Whether a DJ deck is unused or previously owned will influence the price of the unit. Generally, used DJ decks are more affordable than new devices. This makes a used DJ deck ideal for a beginner or a DJ who wants to customise and upgrade an older device. Listings for Performance & DJ Equipment on eBay are categorised by New and Used. Additional options may include items that have been refurbished by a previous owner (seller refurbished) or the manufacturer (manufacturer refurbisher). These options may be selected under Condition on the left side menu found on listings for DJ decks, including turntables and DJ CD players. When buying on eBay, read about the unit's condition under item specifics near the top of the listing. Information should be included with respect to any damage or wear, and whether previously used and if any accessories are missing. If the condition of the item is unclear from the item description and photographs, contact the seller by using the Ask a question link on the listing.
Buying a DJ Deck on eBay
A wide range of Performance & DJ Equipment is found on eBay, including DJ decks. To purchase a DJ deck, visit eBay's homepage. Select the Sound & Vision link from the Shop by Category tab. From the Sound & Vision page, Performance & DJ Equipment from the All Categories tab. Use the menu options on the left side of the listings page to refine results. Select DJ CD/MP3 Players or DJ Decks/Turntables to find digital and vinyl based devices. Alternatively, use the search bar on any eBay page to find DJ deck by entering specific keywords. Search results may be refined according to the type, brand and condition of the DJ deck, as well as the features found on the unit.
Conclusion
The type and condition of a DJ deck are key considerations when purchasing a new turntable or digital player. In addition, the type of features such as speed, playback and mixing controls must be taken into account. These controls will determine performance and cater to different playing styles. In addition to these five considerations, cost will also influence the type of DJ equipment that is purchased. The type of device, the unit's condition and its features will influence the cost of a DJ deck. For example, more expensive units feature stronger motors and a large suite of features.