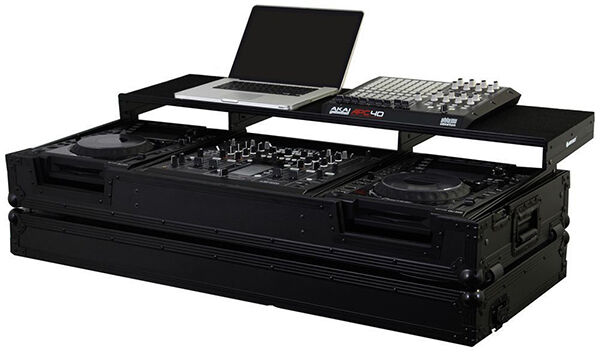 Portability has become one of the highest priorities for gadget fans. The emergence of multifunctional mobiles has not erased the need for specialised audio equipment that can be carried effortlessly from venue to venue. For professional and amateur DJs, the acquisition of an MP3 player merely lays the foundation required to turn portable media players into fully functional audio technology capable of keeping crowds satisfied.
1: Adapting DJ MP3 Player Accessories to Personal Requirements
DJ MP3 players receive most of their versatility from the accessories used to adapt them for an array of diverse functions. The core extras that allow portable media players to compete with audiophile-calibre equipment are docking stations, cables and speakers. These three components contribute to the sonic character, clarity and detail of the audio these players express. Other accessories help to hone these gadgets for niche functions such as those calibrated for car sound systems, as portable companions to take to the gym or purely to collect and store lengthy playlists.
2: Speakers
Portable media players that are limited to MP3 formats play compressed audio with reduced sound quality. Buying audiophile-quality speakers for these devices would be a poor budgeting decision. There are players capable of playing lossless formats with the same level of detail and clarity that CD players achieve. Investing in high calibre speakers for these devices rewards listeners with high fidelity sound that is delivered precisely as the musician intended. The digital audio world is further divided into Mac and PC users. Apple has provided several streaming options through the introduction of AirPlay wireless speakers which are suitable for both Mac and PC iTunes users.
| | |
| --- | --- |
| AirPlay | Wireless audio streaming sends sound signals to multiple speaker docks hooked up to a single wireless network. Album images and track data are stored with music files. iTunes users can set speaker volumes individually and audio quality is higher than that of Bluetooth speakers. |
| Bluetooth | Wireless speakers using this technology are compatible with Apple and PC devices. They are limited to usage in smaller rooms, since their reach extends to a maximum of 30 feet. While these speakers are known for their diminished audio quality, premium models combine high resolution sound with portability. The addition of subwoofers powers low frequencies separately. |
| Tethered portable speakers | USB connectivity makes capsule speakers a portable option that improves on the audio quality of typical desktop components. Larger satellite speakers can achieve surround sound and booming volumes through stereo USB packages. Heavier USB speakers achieve a wider sound stage. While their bulkiness reduces their portability, this problem is resolved by the inclusion of zip up pouches. |
| Docking Stations | The boundary between speakers and docking stations often blurs but generally, the latter are devices that act as both speakers and PMP chargers. They are usually lighter than standard speakers, weighing an average of three pounds. Those with satellite speakers, subwoofers and tweeters are capable of achieving wider frequency response. |
3: Headphones
Bluetooth technology has evolved to the point where many wireless headphones achieve audio quality that is almost as good as that of wired options. Headphone prices are some of the most diverse in the audio component market, with models appropriate for a range of different listening categories.
| | | |
| --- | --- | --- |
| Earphones | Easily portable earbuds are the lightest and most budget-friendly devices for listeners on the move. | In-ear styles isolate audio output by blocking external noise. Ear buds are standard inclusions with MP3 players, offering the lowest budget and weakest sonic quality. Look for those with flat response, as they achieve a more layered sound stage with heavier bass. |
| Headphones | Closed and open cup designs power a stronger bass response with defined treble and midrange frequencies. | Low frequencies are a challenge when a freestanding subwoofer is not in use. Those with balanced treble, bass and midrange frequency response are more accurate. Look for closed models, as these keep audio free from the influences of ambient external noise. |
| Noise-Cancelling Headphones | White noise is cancelled out by inverse sound signals, which are sent through the headphones. Sealed designs passively reduce noise. | Large, closed designs that use passive and active noise cancellation technology are most effective. |
| Wireless Headphones | Bluetooth audio streaming sends compressed stereo signals to portable headphones. Infrared or RF technology enable the transmission of signals over long distances. | Younger Bluetooth headphones enhance audio to make up for quality loss caused by compression. Choose models with plenty of headroom. MP4 players are better served by those with digital optical inputs that manage surround sound. Bluetooth headphones work best with closed back or in-ear designs that keep sound isolated. |
| Production-Quality Headphones | Larger headphones cover the entire ear to keep audio signals isolated. Increased impedance ratings and high frequency response make these ideal for recordists working with power amplifiers. | Look for a minimum of 250 ohms and an headphone amplifier with above 1.5 watts. Mixers prefer closed back designs which prevent external noise from leaking into microphones. |
4: The Finer Details of DJ MP3 Player Accessories
| | |
| --- | --- |
| Protective case types | Covers released by MP3 player manufacturers are sculpted and designed specifically to enhance functionality. Hinged covers with sleep/wake features and viewing stands save battery power while enabling easy video viewing. Silicone shells and sleeves are moderately protective and usually do not offer additional features. Carrying packs make MP3 players and their accessories more portable by accommodating a range of components. |
| Adaptors | Wireless transmitters and adapters allow DJ MP3 players to function in vehicles without the need for inbuilt docking stations. RCA and line-in ports deliver excellent stereo quality. |
| Software | Programs and applications can be installed directly onto players or computers to convert formats, download tracks, improve filing and rip CDs. Firmware upgrades keep players up to date so that they can support new features and formats. |
5: Bargain Hunting on eBay
For those with limited budgets, eBay has a host of tools that help audiophiles to unearth better prices. Generally, those who bid for electronics on auction tend to receive the best deals but for buyers seeking instant purchases, there are other ways to find better offers.
| | |
| --- | --- |
| Best offer listings. | Items that fall under the Buy it Now category can be bought at below the listed price by choosing the 'Make Offer' button. This may result in an acceptance, a rejection or a counteroffer. Buyers are obliged to purchase items they have made offers on if they are accepted. |
| Using unpopular auctions. | Actively seek out auctions that are receiving less attention than others. eBay's local shopping tool often leads to items that must be collected personally. These auctions receive fewer bidders, which keeps their ultimate prices down. |
| Assess buyer behaviour. | Researching DJ MP3 player accessories, the prices they have fetched, and which have not been successfully sold on auction helps buyers to determine an appropriate bid or offer. |
| Understand the jargon. | Sellers often use tags that may indicate items of particular value. Listings with the acronyms 'VGC' and 'BNIB' indicate that the products in question are in mint condition. While the price tags listed on similar items might be lower, these labels usually signify better value for money. |
| Learning patience. | During high seasons, technology is often priced higher to suit increased demand. Waiting until the holiday rush has ended is bound to bring prices down. Similarly, accessories that have recently been released onto the market will become more affordable within a matter of months. |
| Look for free shipping. | Some sellers offer free packaging and shipping. Searches can be refined to include only these items by checking off the Free P & P option under the 'categories' title. |
Find DJ MP3 Player Accessories on eBay
eBay's categories tab helps users to hone in on the brands, features and components they need. The Electronics tab leads to the Sound & Vision section. Selecting iPods & MP3 Player Accessories generates broad listings of the most commonly searched for components. The Accessory Bundles link lists sets of accessories at more affordable prices. Bundled items can be defined further by selecting the 'More Refinements' option, which makes finding compatible models and brands simpler. The list of related categories at the top of the page allows searches based on models and generations. Compatible Brand selections allow users to search for universal, Apple or iPod compatible accessories.
Conclusion
DJ MP3 players have evolved rapidly since their inception. Their increased storage capacity and ability to play uncompressed files has drawn attention from audiophiles and professional recordists alike. Recent additions to the market can come at a steep price but bargain hunters are quickly learning that auctions and eCommerce sites offer more affordable products, often with warranties, free shipping and bundled accessories. Portable media players become far more practical when a range of accessories is used to make them adaptive to a variety of functions. Whether they are used in the car, at the gym or from the home, DJ MP3 players need to be protected from wear and tear. Enhanced portability can be achieved with a range of lightweight carrying and listening devices, while headphones and speaker systems work towards boosting audio quality for a higher intensity listening experience.