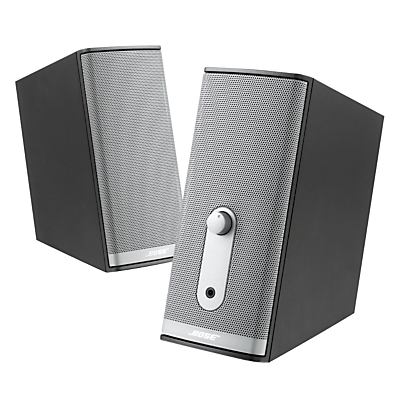 Any electronic entertainment device, from televisions and karaoke machines to iPods and mp3 players, requires a speaker in order to produce sound. External speakers connected to these assorted input devices are often able to produce a higher quality sound than the integral speakers of the device. Speakers are produced for a range of purposes, facilitating uses from portable to commercial, and so vary greatly in size, power output, and price. Thousands of different speakers are available to purchase on eBay. Features to consider when buying speakers include configuration, form factor, connectivity, condition, and brand.
About Speakers
The most common speakers for home use are designed to work with electronic appliances such as hi-fis, televisions, and computers. They can be purchased either as single units, or in a system, for example, surround sound or stereo packages. A speaker will contain one or more drivers, dictating the range of frequencies the speaker is able to reproduce. Purchase a separate subwoofer speaker for greater emphasis of bass notes produced at very low frequencies. Review individual items to be sure of the specifications of a speaker, and compare seller feedback to be confident in making a purchase on eBay.
5 Features to Consider
There are many things to consider when buying speakers, including whether the aesthetics of the speaker will suit the style of the home environment and whether the volume will be sufficient to drown out all other sounds. However, there are five essential features to consider when buying speakers on eBay, and these are outlined below.
1: Configuration
When used with home entertainment devices, speakers are often described in terms of their configuration; for example, as a single speaker, or as five speakers plus a subwoofer, often written as 5.1. A smaller space will generally require fewer speakers to distribute the sound. Surround sound systems require sufficient speakers to balance output around the given space. Consider the main use of the speakers and the available space to help identify the most suitable configuration. Use eBay subcategories to refine listings by configuration type.
| | |
| --- | --- |
| Single speaker | A single speaker may be a separate subwoofer or wide-range speaker, producing a greater range of sound frequencies. Less common are specified limited-range speakers such as tweeters and woofers, but these are also available. A single unit may hold more than one speaker; for example, a stereo portable speaker will have at least a separate left and right speaker. |
| 2.0 | Stereo sound can be achieved with a 2.0 configuration, which is usually a left speaker and a right speaker. This system type is common for hi-fis, computer speakers, and portable speakers. Adding a subwoofer creates a 2.1 configuration. |
| 5.1 | A surround sound system is typically a 5.1 configuration, with one high quality central speaker and four additional satellite speakers: left and right front, left and right back, and a subwoofer speaker. 6.1 configuration also has a back centre speaker to balance the front centre speaker. |
| Other | Other multiples exist, described in the same way, so a 10.2 system features ten speakers plus two subwoofers. |
2: Form Factor
The form factor describes the placement of the speakers in the home. Assess what space is available and compare products to identify the most ideal speaker style. Refine eBay listings by selecting the required form factor from the subcategory menu.
| | |
| --- | --- |
| Bookshelf | As the name suggests, bookshelf speakers are designed to sit on a shelf or other flat surface. Unwanted reverberations are sometimes caused by vibrations of the speaker on the surface. |
| Floor standing | Floor standing speakers produce a deep, rumbling reverb effect for lower frequency sounds, whereas higher frequencies are played at an optimum height. However, this option requires sufficient floor space. |
| Satellite | Most common with surround sound systems, satellite speakers are fixed by mounts or brackets to walls or ceilings, maximizing available space and producing sound from any angle. |
| Sound Bar | Designed to enhance television sound quality, sound bars contain several speakers angled in different directions, creating a multi-directional sound effect in a compact unit. |
| Outdoor | Weatherproof outdoor speakers are ideal for events such as parties and music festivals and are available in a wide range of sizes and styles with an assortment of fittings and fixtures. |
| Other | Other possible form factors include in-wall or in-ceiling speakers, flat panel speakers , and portable speakers. Read individual item descriptions for further details. |
3: Connectivity
Ensure that the speakers purchased have suitable connectivity with the existing audio input device. In other words, read item specifications to be certain that the electronic device, e.g. television, hi-fi, or mp3 player, is compatible with the chosen speakers. A variety of input connections are available, though not all speakers will facilitate every possible connection. Use eBay subcategories to refine listings by connectivity and audio input availability, and read item descriptions carefully to confirm speaker specifications.
| | |
| --- | --- |
| Wireless | Wireless connectivity enables greater freedom of placement of the speaker, as there are no wires to hide. Wireless networking facilitates use of a sound system from any room in the house. Read item descriptions for details. |
| Banana Jack | The most common audio input is via banana jacks , which are usually coloured black and red (although can be any variety of colours); this can help identify which cable ought to be connected to which speaker. |
| Docking Station | Smaller devices, such as mp3 players and iPods, can be 'docked' directly into a speaker unit, known as a docking station, featuring a design-specific connector. |
| USB | Enabling electronic audio media to be played with ease, some speakers facilitate USB connectivity. |
| Other | A wide variety of connections are available to facilitate an assortment of input devices. Read individual item descriptions and product specifications for further details. If more information is required, contact the seller before completing a sale. |
4: Condition
When purchasing speakers on eBay, listings can be refined by the condition of the item. New speakers are as would be expected when purchasing from a high street retailer, i.e. in original, sealed packaging and completely unused. While it is often reassuring to purchase a brand new item, this is the most expensive way of acquiring speakers. Often the guarantees or warranties associated with a brand new item offer a buyer peace of mind; this can be the compromise of saving money by purchasing a used item with no such security. Items that are nearly new may include speakers that have been display models or otherwise only encountered very minimal usage. There may be some aesthetic damages or parts that have been replaced or refurbished. Be sure to carefully read descriptions and view pictures to gain a clear understanding of the condition of the speakers. A good-quality set of speakers ought to provide many years of use, and so buying used speakers can be a way to minimise expenditure. However, it is important to clarify the condition of any second hand items. View the speaker before completing a sale where at all possible, and contact the seller to gather any further information about the item for sale. A speaker can be irreparably damaged by misuse; for example, by repeated playing at excessive volumes. Any damage to the driver is likely to have serious, irreversible adverse effects on the sound quality. Some speaker repairs are achievable, such as replacing the grill or fabric of a speaker, repairing the foam, or replacing the cables. Speaker parts and repair kits are available to purchase on eBay.
5: Brand
There are several manufacturers of speakers, with some brands being more renowned than others. While purchasing a well-known brand offers some security of meeting quality expectations, smaller brands may also produce high quality products but with much lower price tags. It is therefore important to research brands and review individual items to compare product quality versus cost. While some larger brands may offer a product warranty, many eBay sellers will offer a product satisfaction guarantee or will refund faulty items. Read sellers' return policies and review feedback scores and comments to be confident in making a good quality purchase from a trustworthy seller.
Buying Speakers on eBay
Thousands of speakers are listed for sale on eBay. Use subcategories to refine listings to match individual specifications. Read descriptions carefully, and view pictures to fully understand the details of the speaker, including connectivity and condition. Speakers are delicate items, so ensure the seller offers suitable postage and packaging. Confirm delivery and payment options before agreeing a sale. Compare listings to identify a good quality item at a high price, and read feedback comments to identify a trustworthy seller.
Find Speakers on eBay
From the eBay homepage, highlight the Electronics & Technology tab, then click on the link for Sound & Vision. On the new menu, select Home Audio & HiFi Separates, followed by Speakers & Subwoofers. Browse listings or use subcategories to refine results. Alternatively, find specific items by entering words or terms into the search field at the top of any page.
Conclusion
A speaker produces the sound element of any electronic audio device. External speakers can improve sound quality. A range of speakers are produced by a number of manufacturers for a variety of uses. 5 features to consider when purchasing speakers on eBay include configuration, form factor, connectivity, condition, and brand. Compare sellers and listings to be confident in making a good quality purchase at a competitive price.