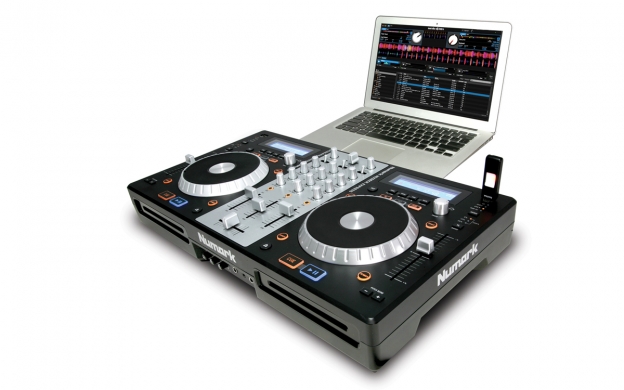 There are several components and features to consider carefully when buying a DJ CD player on eBay. Each CD player offers users differing degrees of functionality depending on the type of features. Various components are used to manipulate sound and songs in order to create entertaining performances and diverse mixes. When buying a player on eBay, various options allow buyers to identify player features and narrow searches based on individual requirements and specific features.
About DJ CD Players
A DJ uses a range of sound and playback equipment to play music, mix tracks and create compositions. While traditionally a turntable for vinyl records has been the equipment of choice to spin and manipulate tracks, lightweight digital equipment is increasingly popular given their relative compactness. Digital DJ equipment also has the advantage of being able to save storage space when using smaller compact discs and if they feature data storage capability. CD players are an alternative to traditional turntables. Rather than play vinyl records, these devices are used to play and manipulate compact discs (CDs).
DJ CD Player Features
There are a number of key features and components to consider when buying a DJ CD player. Each feature or component plays an important role in influencing a DJ's playing style and performance. The type of features will also define the functionality and flexibility of the CD player, and the DJ's ability to mix and compose tracks. The main features to consider include the number of CD slots, the type of pitch controls, memory storage capability, whether a jog wheel is present, and the type of mixing and sound effect controls. The following section outlines some considerations when looking at these features.
CD Slots
There are two main types of CD players used for DJ-ing. Technically, both types of players are similar. The main difference is their ability to play multiple discs. The type of CD player is defined by the number of slots on the device, which are used to insert and play compact discs. The following table compares common DJ CD players.
| | |
| --- | --- |
| Tabletop | A table top or single CD player features one slot for a single disc. Tabletop players are similar to traditional turntables in appearance. DJs who are transitioning from traditional turntables to digital players may prefer a tabletop player before moving on to dual or deck CD players. |
| Dual Player | A dual CD player is also known as rackmount or deck players. These players have two or more CD loading slots or trays. Players with multiple CD slots are useful when mixing tracks from different discs, particularly when the player does not feature memory components to store songs. |
| Combination | A combination player features a CD player with one or more slots and a mixer unit. The mixer features additional controls to manipulate sound when mixing tracks and creating unique compositions. |
When buying a CD player eBay, find specific types of players by selecting options under Type on the left side menu of listing pages for Performance & DJ Equipment. If the number of slots is not clear from the product description, contact the seller directly for more information.
Pitch Control
DJ CD players are available with or without pitch control. Players with Pitch control allow users to slow down or speed up a sound sample or song. Digital CD players provide DJs with a great deal of flexibility in terms of pitch control and the ability to manipulate playback speed. The following table provides an overview of common controls found on CD players with pitch control.
| | |
| --- | --- |
| Pitch Control Fader | Pitch control faders allow users to adjust playback speeds to slow down or speed up a CD or song. |
| Pitch Bend | Pitch bend buttons allow DJs to make precise adjustments to the playback speed or pitch. |
| Key Lock | Also known as the master tempo control, a key lock gives users the ability to alter the tempo of a song without affecting the playback speed or pitch. |
On eBay, find DJ CD players with and without pitch by selecting options under Pitch Control on the left side menu found on listing pages for Performance & DJ Equipment. If pitch control features are not specified in a product description, contact the seller directly to seek additional information.
Memory
CD players help reduce the occurrence of skipping, which often happens when a needle on a traditional turntable is suddenly shifted when the unit is bumped or if the floor shakes in a crowded venue. Most CD players feature shockproof memory to prevent music from skipping a beat. This is a particularly important feature when DJs are performing, although it is less important for casual users who are using DJ CD players for personal use. Certain CD players are also equipped with data storage components or capability. Data storage is helpful for users wishing to store their music collection and reduce the amount of equipment when travelling to and from performances. Data storage is also helpful when storing cue and loop points when mixing tracks. Memory can be in the form of built-in memory, removable memory cards, a USB connection for data sticks, or an iPod dock. When buying a CD player on eBay, verify the amount of storage space to ensure it meets individual requirements. Whether a unit has shockproof memory should also be included in the product's description. Alternatively, select desired features from the Features section on the left side menu found on listings for Performance & DJ Equipment. If data storage and memory information is not specified on the listing, contact the seller by using the Ask a question link.
Jog Wheel
Certain CD players include a jog wheel. Similar in appearance to a platter on a traditional turntable, the jog wheel is situated close to the centre of the player. This component is used to speed up or slow down a song. It allows DJs to manually manipulate a disc similar to a traditional turntable. A jog wheel is useful when scratching or beat juggling.
Mixing Features
When selecting a DJ CD player, it is important to understand the type of features used to manipulate tracks and sound. Mixing features on a CD player cater to specific playing styles and techniques. When buying a player on eBay, pay close attention to the product description to understand what mixing features are available or contact the seller for more information. The table below compares common features used for mixing and manipulating tracks.
| | |
| --- | --- |
| Fader Start/Stop | Certain CD players will include a fader start and stop feature. This allows users to crossfade to a channel without pressing the play button. This feature is useful when manipulating two or more samples or tracks, which is known as beat juggling. |
| Looping | Looping controls allow DJs to extend a track in order to create a unique mix of a song. This feature includes the ability to select specific sections of a track by setting start and end points to play, which are also known as cue points. CD players may also have a reloop button, which allows users to play the section multiple times. |
| Sound Effects | CD players include a range of effects to enhance or mix tracks. Effects may include echo and filters. Players may also feature controls to phase, flanger, transform or pan songs or samples. |
Finding a DJ CD Player on eBay
To buy a DJ CD player, visit the eBay website and select Sound & Vision from the Electronics & Technology tab. From the All Categories tab, choose Performance & DJ Equipment. On the listings page for Performance & DJ Equipment,, select DJ CD/MP3 Players. Refine search results by selecting the desired type of player, as well as the desired playback, sound and mixing features. Alternatively, use search bars on any eBay page to find a DJ CD player. Enter specific keywords on the search bar, such as "new dual DJ CD player" to find unused players with two CD slots.
Conclusion
The choice of CD player generally depends on several key factors, including sound and mixing features, the number of CD slots, playback and pitch controls, memory, and the presence of a jog wheel. These features and components influence a user's playing style and the ability to perform certain DJ-techniques. The cost of a CD player is typically influenced by the amount and type of features on the device. A basic player with some mixing and playback features typically meets the needs of beginners and personal use. More expensive players with a range of advanced features are generally used for performances and by professional DJs.