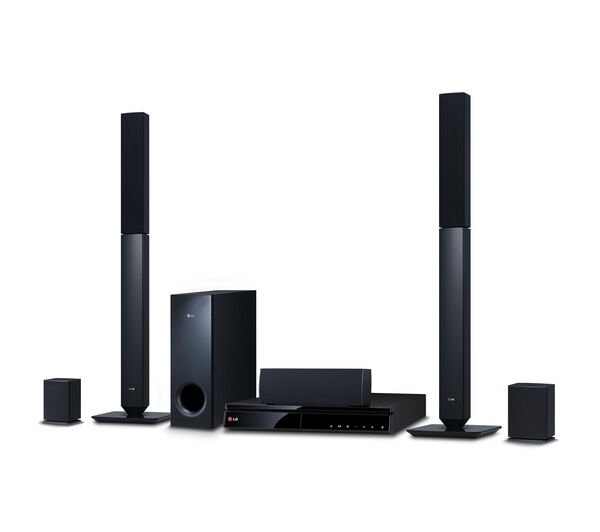 This article provides guidance towards buying a home cinema system from the eBay website and 5 features that should be considered before committing to a purchase. These features pertain to the decision of whether to buy a pre-packaged setup or separate components; whether to have surround sound; how many speakers to use; whether to purchase a projector with the system, and how many inputs are required for the intended use.
1: Pre-Packaged Setup or Separates?
Home cinema systems are available as an all-in-one package, containing all of the necessary components, such as speakers, subwoofer and cables, or as separates. Separates are standalone components that are bought individually in order to be combined into a full, customised system. The decision between what kinds of purchase to make can be difficult, though it is generally easier for the layman to rely on an all-in-one package rather than separates, as no technical knowledge is required regarding compatibility and specifications. Despite this, purchasing separates can be beneficial, as this allows buyers to customise their system to a greater degree. Furthermore, all-in-one packages often cut costs by using cheaper quality wiring, which can negatively affect sound quality.
2: Is the Intention to Have Surround Sound?
Surround sound is the technology used by public cinemas and involves positioning speakers in various places around a room in order to immerse the audience within the experience. Speakers are generally placed at the front, next to the television set or screen, and at the rear too. Most all-in-one stereo systems offer setups that are 2.1, 3.1, 5.1, or 7.1, which is a direct reference to the number of speakers that are included in the system. The most basic systems use 2.1 or 3.1 setups, meaning that either 2 or 3 speakers are included. In this case, all of the speakers are positioned at the front near to the television set. More expensive systems that fall under the 5.1 category position the 2 additional speakers at the rear, which creates surround sound. 7.1 systems also allow surround sound, although not all media is currently capable of fully utilising these systems.
3: How Many Inputs Are Needed for the Intended Use?
A varying number of inputs may be needed depending upon the intended use of the stereo system. For simple television output, just one connection is needed. However, if the intention is to connect the stereo system to multiple sources, including video gaming consoles or music players, then more connections will of course be needed. For every additional connection, an extra cable will also be needed. To avoid disappointment and delay in setting up the full system, it is important to make sure enough cables are bought alongside the system to fully connect to all sources.
4: Purchasing a Projector for the Cinema System
Although home cinema systems commonly include large television sets, perhaps an even more authentic experience is to purchase a projection system for inclusion in the home cinema. These units project an image in the same manner as public cinemas and are available in 720 and 1080p for full high definition pictures. The drawback to these systems is that additional space is required to ensure that the minimum required space between the projector and its screen is feasible, and, of course, there must be a large enough space for the screen too. However, it is worth noting that the projectors can often be mounted to a ceiling in order to conserve space.
5: How to Position the System in the Home
The positioning of the home cinema system will depend upon what is purchased. In terms of speakers, 2.1 or 3.1 systems always position the speakers by the television or projector screen. For 5.1 and above, two or more speakers are positioned at the rear. These may be positioned in any way desired, though the optimum setup is to set these on a speaker stand or other unit where there are no nearby obstructions that could affect sound quality.
Buying an Item from eBay
After searching for and discovering an item that one wishes to buy, it is time to make the purchase. However, before doing so, it's very important to understand the processes behind a sale and the steps that must be taken immediately after making a purchase in order to ensure that the seller receives good communication and service.
Listings
Sale listings are either hosted as an Auction or as a Buy it now listing, which determines the way that buyers may purchase the item. Auctions require buyers to compete in bidding against one another to win the item when the timer expires, whereas Buy it now sales allow buyers to instantly purchase and pay for an item. With this type of listing, sellers can indicate whether the wish to demand instant payment for a purchase.
Purchasing an Item
By winning an item with the highest bid or accepting the set price, a buyer accepts responsibility for paying for the item. In the former case, the minimum accepted bid is listed beside the product's images. In Buy it now listings, the page redirects to a confirmation, with an emailed receipt for the sale, and prompts the buyer to make payment.
Making Payment
The majority of eBay traders, both buyers and sellers, opt to use PayPal, an e-wallet website, as their means of sending and receiving payments. This website is linked to a UK bank account and can be preloaded with funds before making a purchase. Alternatively, the website can simply request a bank transfer when a request is made following a purchase. It is a very safe and secure way to make and receive payments, not just on eBay, but also on a huge range of other websites online. It is advisable to make immediate payment to a seller following a purchase of one of their items. Not doing so within a reasonable amount of time could lead to a seller becoming concerned and filing a non-payment complaint.
Leaving and Receiving Feedback
Feedback on eBay is a result of positive and negative remarks left by buyers and sellers on one another's profiles. The mark is often accompanied by a comment that serves to provide more information on the transaction. The feedback system is intended to be a guide for future buyers so that it is easy to identify the sellers that provide high-quality service and who are trustworthy. Though there are few unscrupulous sellers on eBay, those with a reasonably large amount of negative feedback are generally not as reliable.
Delivery of an Item and Postage Costs
Delivery charges and delivery times can vary between sellers and products. For delivery charges, it is the responsibility of the seller to stipulate a cost. This cost is then displayed alongside the item's price to purchase so that buyers can make an informed decision on their overall costs to pay. Most sellers are reasonable in this area and only charge the absolute necessary price to send the item, and some sellers, particularly those who sell in bulk, can remove all postage costs. Delivery times also vary, based largely upon three main factors: the weight of the item, the physical size of the item and whether or not the item has to travel international borders during the delivery process. Hong Kong, for example, who are a major supplier of many of the clothing and accessory items on eBay, often send deliveries that can take up to 15 or 20 days to arrive in the UK.
Finding Home Cinema Projectors on eBay
On the eBay website, buyers can find home cinema systems in a pre-packaged system or as separates. This affords buyers choice in whether to customise their own setup or opt for a full system setup in a box. Fortunately, these are very easy to find on the eBay website due to all products being categorised into sections that are easy to find. Home cinema systems can be found under the Electronics & Technology area of eBay, more specifically under Sound & Vision. This category leads to a number of subcategories pertaining to other accessories that may be needed to supplement the system, such as projector systems and surplus cables.
Conclusion
Buyers seeking a home cinema system should consult eBay to find a large range of products to choose from at competitive prices. These are offered by reliable and experienced sellers, so there is no reason that a buyer cannot place as much trust in eBay as they would in any other retailer. There are several points to consider when researching a potential purchase of a home cinema system. These include whether or not to have a surround sound system and how to position the system to achieve the best sound quality. Home cinema systems are available on eBay, which is a very easy to use platform for finding competitively priced items from a wide range of sellers. These particular products are listed under Sound & Vision, a category within Electronics & Technology.