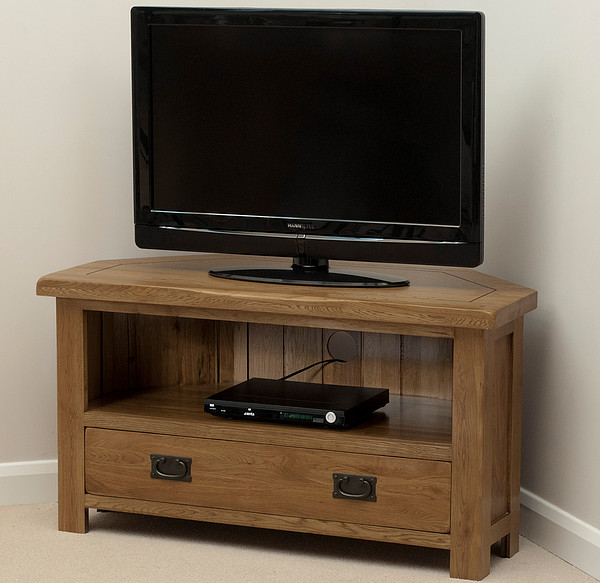 A TV cabinet can be one of the most prominent and practical pieces of furniture in the home. A wide range of models and brands are available, and they all have different features, styles and functional uses. Research the different types of TV cabinet and how to buy them on eBay to find a piece of furniture which will last for years and support the home's entertainment needs.
About TV Cabinets
The purpose of a TV cabinet is to house a television set, along with other consumer electronic devices. Some cabinets are small, simple models which simply act as a stand for a television with a supporting shelf or a small built-in cabinet underneath. However, larger models act as huge entertainment hubs which can store many different electronic devices, wires, plugs, DVDs, video games, etc. There is a huge range of different designs available, and each style reflects the different fashions and decors of a home.
Choosing a TV Cabinet
When choosing a TV cabinet, it is important to factor in personal taste as well as functionality. There are several different factors to consider before buying a TV cabinet on eBay, and they can affect what the cabinet is used for and how suitable it will be in the home.
Size of Television
Television sets come in a wide range of different shapes and sizes. Although flat screen LCD or plasma televisions are more popular, some homes still have cathode tube television sets. These older televisions have a significantly wider base, and a matching cabinet will need a larger surface top to accommodate the increased size. Although flat screen televisions have a much smaller base, the viewable screen size is much greater and a set can be more than 60" in size. Despite the fact a large television can fit on a smaller cabinet, it can be aesthetically distracting if the size of the television is much wider than the cabinet. Also, many flat screen televisions can be wall mounted instead of being placed on a stand. Some brackets have tilt and swivel features so the television can be adjusted to create a better viewing angle. TV cabinets are available with a cantilever adjustable stand to support a mounted flat screen television.
Area of Placement
To determine the size needed for a TV cabinet, it is important to look at where the furniture will be located. The cabinet's depth and height needs to be considered in relation to the room that it will be placed, and there must be space to accommodate the width of the television set. Also, there must be additional room if the television needs to be at a certain position or angle. Rectangular and square shaped cabinets are most common, but triangular units are available so they can neatly fit into the corner of a room.
Storage Options
Storage is important when looking at TV cabinets. Many homes use a TV cabinet to house other electronic devices as well as hide unsightly wires and power units. There is a wide range of different storage options, and models can come with drawers, cabinet doors, and shelves. Think carefully about what the TV cabinet will be needed for and whether additional storage will be useful when looking at different models on eBay.
Closed or Open Design
Some TV cabinet models have a completely open design. This means everything is on show and can be easily accessed. This can be more useful if the storage compartments of the cabinet will be in regular use or if any electronic devices need room for disc trays to be ejected. Also, an open unit is important for the ventilation of some electronic devices. Games consoles and other media devices generate heat over long periods of use, and it is important that their fans and vents are not blocked. Alternatively, a closed style TV cabinet with doors and closing drawers will better hide the contents and make the unit appear tidier. Also, a closed TV cabinet can minimise the build-up of dust as well as stop young children from playing with the unit's contents.
Material and Colour
TV cabinets come in a wide range of different styles and designs. The material the TV cabinet is made from can make an important difference to the aesthetics of the unit. With wood, glass and metal designs, owners who want to match their TV cabinet to the rest of their furniture can search on eBay for a unit which will match their style. Also, cabinets come in many different colours as well as matte or gloss style finishes.
5 Features to Consider When Buying a TV Cabinet on eBay
By considering the aforementioned different factors when choosing a TV cabinet, the following five features can help refine the search for an appropriate unit on eBay. These features will help find a cabinet that is stylish as well as functional.
1. New or Used
If an item is described as new, the buyer is guaranteed that the item will be in excellent condition. However, new TV cabinets are likely to be more expensive than refurbished or used cabinets. Like other used items on eBay, the quality of a pre-owned TV cabinet will vary between listings. Some materials, such as glass, soft wood, or glossy metal, can be easily scratched when moving electronic devices or installing them in the unit. Always look at the item description or item photographs to check the condition of a TV cabinet. If the listing description is vague or there are no photographs attached to the listing, the seller can be contacted for further details of wear and tear. Also, if a used TV cabinet has been dissembled for sale, it is important to check that the seller has all the parts and whether suitable instructions for assembly and installation are available.
2. Size of the Unit
Determining the size of a TV cabinet is important to see whether the unit will fit in the desired location in the home. Measure the depth and width of where the TV cabinet will be located in the room, and remember that additional space may be required for wiring, plugs and television movement. Also consider the size of the television set that will be placed inside or on top of the cabinet. Check and compare eBay listings to find a cabinet with the required dimensions and size.
3. Storage Capabilities
The storage capabilities of a TV cabinet will depend on what the cabinet will be used for. Drawers and shelving can be useful for DVDs, remotes and peripheral electronics, such as remotes and game console controllers. If several electronic devices, such as set-top boxes, consoles and DVD players, are going to be housed inside the cabinet, additional shelves will be needed so there is plenty of room. Compare different eBay listings to see TV cabinets with a range of different storage options.
4. Mounted or Free Standing
Cantilever or mounted stands allow for additional shelf space on the TV cabinet, but some units have restrictions on the maximum television size that they can support. Also, trailing wires can be unsightly if a cantilever unit doesn't have a wire management covering built into the stand. However, cantilever stands are a much easier way of mounting a television set than physically installing a bracket on the wall. Some cantilever TV cabinets also support swivel and pivot brackets. Conversely, a free standing TV cabinet can be much easier to assemble as the television set simply needs to be placed on top of the unit. Although space on the top surface area of the unit will be taken by the television set, free standing TV cabinets have a wider variety of styles, designs and storage options.
5. Delivery Options
Delivery of items is important when buying a piece of furniture on eBay. A heavy item like a TV cabinet can carry significant postal charges for an individual seller. Therefore, it will be likely that non-business sellers will offer a local pick-up option. Although this will significantly reduce the amount of search results, a TV cabinet on offer in the nearby area can be cheaper to personally pick-up. However, if the cabinet cannot be dissembled, finding suitable transport to pick-up the cabinet from an individual seller can be difficult. Alternatively, there are dedicated sellers of TV cabinets in eBay Shops. These shops offer a range of new, refurbished, and used pieces of furniture. The majority of eBay shops offer competitive postal options or free economy delivery. Using an eBay Shop can be easier for delivery if local pick-up is unfeasible or the delivery charges are too expensive on other items, but most shop sellers use the Buy It Now option. This means that, although the Buy It Now price may be cheap, there is no opportunity to win an item at a bargain price like at an auction.
Find TV Cabinets on eBay
To find TV cabinets on eBay, click Shop by Category at the top of the home screen. From the drop down box, select Home & Garden, followed by the All Categories link. From All Categories, click Furniture and then TV & Entertainment Stands. The search bar at the top of the screen can be used to search for specific TV cabinets or keywords. Alternatively, use the pane at the left side of the page to refine search results by material, brand, features, screen size, or condition.
Conclusion
There are many different types of TV cabinet available on eBay. Compare listings to find a TV cabinet with features that are appropriate for the television set that it will be supporting. Also, consider other requirements, such as storage space, design and size, to find a TV cabinet which will last for years and suit the existing décor and style of a room.